The Value of Experience: Add a Teaching Practicum to Your Online TEFL Certification!
By Krzl Light Nuñes
April 23, 2021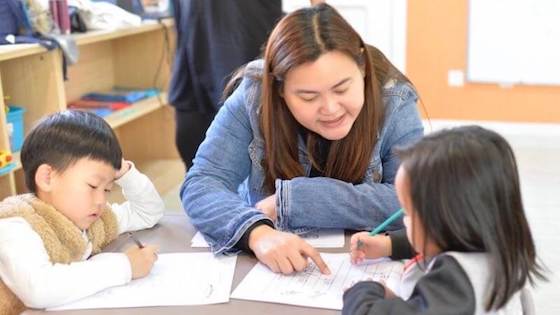 After earning your TEFL/TESOL certificate, how ready are you to set out into the real world? While your course prepared you to become an English teacher, you may worry about your next moves, from seizing job opportunities without any experience to beating stage fright when you teach for the first time. Don't fret! You can prepare yourself for these by completing a TEFL practicum. Let's look at how you can benefit from a teaching practicum as a newbie in the field.
What is a TEFL practicum?
When you embark on your own TEFL adventure, there's no doubt that a lot of opportunities await you. Whether you're looking to teach English online or work in a real classroom, you'll definitely get to apply the theories and methods that you've learned in your TEFL/TESOL course. However, if you haven't set foot in a real classroom or given online classes, you may wonder when you'll be able to finally showcase your skills.
Instead of waiting for the chance to show what you've got as an English teacher, you can do it immediately by taking a TEFL practicum! A tangible way to show employers that you have real teaching experience, a TEFL practicum is an on-site or online training program that includes hands-on teaching work, mentorship, and reflective tasks that aim to hone trainees' teaching skills.
Why do you need a TEFL teaching practicum?
If you want to get a great head start in your English teaching career, a TEFL practicum is the way to go! Here's what's in it for you.
1. Gain teaching experience
You may see that some TEFL job offers abroad or online require applicants to have experience teaching in a real classroom. If you're just starting out, you may not have that background; however, you can still meet this requirement by completing a teaching practicum.
Read about other ways to get ESL teaching experience.
2. Boost your confidence
Being in the spotlight in front of eager students for the first time may sometimes be nerve-wracking – you definitely want to start off on the right foot and be ready for whatever lies ahead. With a TEFL practicum, it's possible to take your teaching-related jitters away! As you will give classes to real students, you'll get a feel for teaching as well as for working with various materials and technologies.
In addition, practicums prepare you for different issues that may occur while you're teaching, from dealing with various kinds of learners to solving tech issues when teaching English online. With practice, you'll become more confident that you can manage these situations and improvise, if necessary.
3. Enhance your teacher profile
Even if you are a newcomer to the English-teaching field, you can still get an edge when you start applying for TEFL jobs or marketing yourself as a freelancer by adding your teaching practicum to your resume or online profile. Don't forget that you can also rock interviews and attract potential students by mentioning your practicum experience!
Get tips on how to create an attractive English teacher profile.
During the Practicum in Teaching Engish Online, you'll even craft a portfolio of your recorded teaching sessions, which you can showcase in your professional profile and to potential employers. Nowadays, many schools or online ESL companies require you to submit a teaching demo or a self-introduction video during the application process. If you've already created this during your practicum, you won't have to worry about recording it later on.
Sophia, a graduate of the Bridge Practicum in Teaching English Online, created this introduction video before landing a tutoring job with Cambly.
4. Get professional feedback
It's not uncommon for trainees to have concerns about improving their craft, and these could even be as specific as incorporating games in class or teaching specific grammar concepts. There's no better way to address these and learn without pressure than by getting professional feedback during a TEFL practicum.
Throughout your practicum, you'll get guidance from both a mentor and a tutor, who will comment on your performance during your program and answer your queries before you give real English classes. Additionally, the students in your demo classes will also give feedback, and this can similarly help you recognize your strong suits or aspects to enhance as an English teacher.
5. Assess your skills
Finally, a TEFL practicum can serve as a jumping-off point to analyze firsthand the teaching abilities you've acquired or can develop further. Through journaling and self-assessment tasks during your training, you can reflect on your strengths and weakness, the types of learners you want to teach in the future, and the techniques that work well for different classes. Evaluating these will definitely help pave the way for you to become a better teacher.
How does a classroom-based practicum work?
You can complete your practicum at a teaching location in your area by taking Bridge's 20-Hour Specialized Certificate: Guided Teaching Practicum course. A blended, hands-on training, you can take this course anywhere in the world for a maximum of three months.
Requirements
To enroll in this course, you must:
Be TEFL/TESOL certified (recommended)
Have regular access to a computer
Have or be able to arrange a teaching position (paid or volunteer) in which you work with groups of English language learners
Have or be able to arrange an on-site mentor at that teaching position, who agrees to observe your teaching
What's included in the coursework
The program is composed of the following components:
You'll complete online reading and reflective writing tasks and/or videos.
Other teachers will observe your in-person classes.
You'll practice teaching under the observation of your mentor, followed by completing reflections in a teaching journal,  lesson reports, and teaching narratives.
At the end of the course, you'll have a verifiable portfolio of your work and earn a teaching practicum certificate.
Is there a practicum for online English teachers?
Yes, there is! The 60-Hour Specialized Certificate: Practicum in Teaching English Online, in fact, aims to provide you with firsthand experience in giving virtual English lessons and mastering the use of software and digital tools commonly used for teaching online.
You can take this English teaching practicum separately after earning your TEFL/TESOL certification or in conjunction with a 120-Hour Teaching English Online Certification.
Requirements
You're eligible to take this course if you:
Have a TEFL/TESOL certificate
Have regular access to a computer with a working Internet connection
What's included in the coursework
You'll get to practice teaching real learners through an online learning platform.
You'll experience doing other tasks, such as planning lessons, administering tests, and using various online tools for teaching English.
You'll record your online teaching sessions, which you can add to your teacher portfolio and later use for submitting job applications or assessing your teaching performance.
Throughout the course, a personal tutor will provide feedback on your coursework and help you with your teaching needs.
You'll be able to engage with your personal tutor and other trainees worldwide through an interactive platform.
At the end of the course, you'll obtain a teaching practicum certificate.
Being new to the TEFL field shouldn't be a major setback when it comes to gaining experience or growing as an English teacher. By taking a TEFL practicum, you can get your foot in the door and work your way to become the best teacher you can be, regardless of whether you plan to teach in a real classroom or online.