The Value of Experience: Add a Teaching Practicum to Your Online TEFL Certification!
By Jennifer Collis
November 17, 2015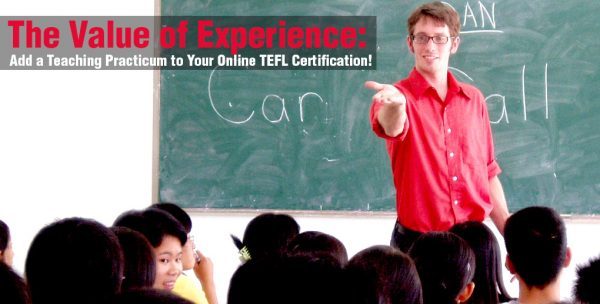 Online TEFL courses have made careers in teaching English as a foreign language within reach of just about anyone. These courses are affordable, convenient and widely accepted by schools worldwide. What online courses usually lack, however, is the kind of hands-on TEFL practicum you'd get in a classroom-based course. However, there is a way to add that training: the Bridge Specialized Certificate: Guided Teaching Practicum.
What is the Bridge Guided Teaching Practicum?
Our Guided Teaching Practicum provides a tangible way (a 20-hour certification) to show employers you have experience in a real classroom. The goal of the program is for trainees to improve their teaching skills by observing others teaching, journaling, completing reflective tasks, practice teaching, and working with online and onsite mentors.
Why would I need a Guided Teaching Practicum?
To get a teaching job in a country where experience or a teaching practicum is required
Schools in some countries (South Korea, for example) and some regions (such as Western Europe) can have a teaching experience requirement or preference. Classroom-based TEFL courses include a practicum, so graduates of those courses would not need this certificate. However, online TEFL course grads would need to add a practicum.
In order to boost your resume
Whether or not it is technically required by a job, having documented teaching experience gives you an edge over other candidates for any position to which you are applying.
To gain confidence as a teacher
Graduates of online TEFL courses have good training in methodology but may have never stepped foot in front of an actual classroom of students. Guided Teaching Practicum gives you a chance to hone your teaching skills before your first job, building your confidence as a teacher.
Who can sign up for the Guided Teaching Practicum?
To enroll in this course, you must:
TEFL certified (recommended)
Have regular access to a computer
Have or be able to arrange a teaching position (paid or volunteer) in which you work with groups of English language learners.
Have or be able to arrange an onsite mentor at that teaching position, who agrees to observe your teaching.
How do I find a teaching location?
If you already have a paid or voluntary job teaching English to groups, you're ready to begin the coursework. If you do not, you'll need to set one up. Community centers, churches or public schools often need volunteer teachers, so that can be a good place to look for a teaching location.
Keep in mind that wherever you teach, you'll need to establish a verifiable onsite mentor who is willing to sign off on your work and observe your practice teaching. This person can be a fellow teacher or a center administrator.
How exactly does the course work?
The 20-hour course consists of the following components:
10 course units you'll complete online, including reading and reflective writing tasks and/or videos (10 hours)
Onsite observations of other teachers in the actual classroom (5 hours)
Practice teaching under the observation of your mentor, followed  by your reflections in a teaching journal,  lesson reports, and teaching narratives (5 hours)
At the end of the course, you'll have a verifiable portfolio of your work and a 20-hour Specialized Certificate: Guided Teaching Practicum, making you eligible for even more jobs abroad!  Learn more about the Guided Teaching Practicum here.