Returning Home After Teaching Abroad: Caitlin's Experience
By Caitlin Peterson
August 4, 2016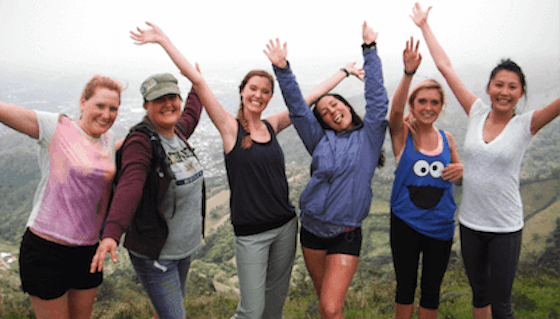 There are many hard things about coming home after living abroad. Think about it…you've been experiencing a new culture and language, and your way of life and worldview are now completely different. Coming home is scary, not to mention what you will do job-wise. There are a lot of options and depending on your qualifications, you can do pretty much anything. I chose to stay in adult education, but there are paid teaching jobs available at many language institutes and volunteer jobs tutoring kids and adults.
After a year and a half abroad in Costa Rica, teaching for two language institutes and online, and taking advantage of everything living in a new country had brought me, I decided to return back to my hometown in the United States. All my friends wanted to know, Why? You get to go to the beach or rainforest or even travel to another country on the weekends…why come back? And mainly, What will you do now?
I was lucky to have a guaranteed job upon my return home from teaching abroad. Before going abroad, I had been volunteering at a literacy center in Flagstaff, Arizona, teaching classes, and working with people from around the world. Then, in 2012, I left Flagstaff to complete my IDELT certification course (TEFL) with Bridge in Santiago, Chile, which was followed by my year-and-a-half stint as a teacher in Costa Rica. The literacy center in Flagstaff actually offered me a job three months before I was due to come home from Costa Rica to the States!
I have been back in the U.S. for two years now and I'm currently still working at the Literacy Center as the Program Assistant and I just got another part-time job working with the Adult Education department at a community college. I still get to use my Spanish too, whether it's translation for a website, talking with students, or helping them with homework. I wouldn't have had these opportunities without being a teacher or having experience teaching English abroad.
A lot of the time, like with my literacy center job, it was luck and timing. You can teach and branch out to other lines of work after teaching. A lot of teachers I know are still in education and are teaching in another country. Some are working at different educational institutes, and most are back in the United States or their native country working in different capacities, like administrative work or even going back to school to enhance what they've already learned teaching abroad.
Another great option is online teaching. EF Englishtown is the company Bridge helped me find and I now work for Open English, which is a great company. They work with students from Latin America, Spain, and most recently, Turkey. The nice thing about online teaching is you don't have to lesson plan! The topics are fun and you don't even have to change out of your pajamas most of the time-only private classes have a video option! Both companies I've taught for have been so much fun and the great thing is, you can do this anywhere! I know it saved me financially in Costa Rica when the institute I was working for didn't have enough classes for me to teach.
The best advice I can give any English teacher returning home and looking for work is, be patient! Apply for anything you feel like you're good at and you will eventually be able to succeed.
Your TEFL career doesn't have to end when you go back to your home country. Check out this post for our ideas on how to use your TEFL certificate after returning home.