From TEFL Course to Teaching Job: Caitlin Peterson Shows Us How It's Done!
By Jennifer Collis
February 20, 2013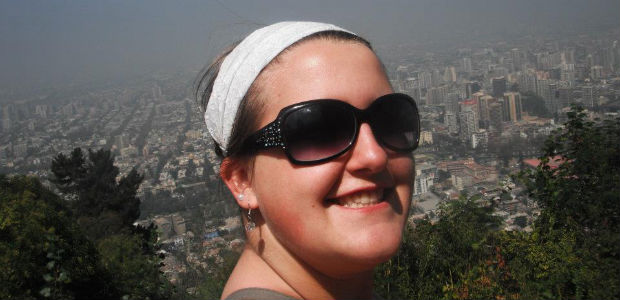 Have you fantasized about leaving your predictable job behind and learning a new skill, like teaching English as a foreign language?  Have you imagined the amazing places that certification might take you? Well, we should warn you, Caitlin Peterson is living your dream! Caitlin signed up the IDELT teacher training course in Santiago, Chile and after acing the course, is now teaching English in Costa Rica. We love checking in with Caitlin to hear about her adventures abroad, and we thought you might like to hear from her, too, since her path to adventure is not only inspirational– but well within your reach, too!
What made you decide to teach abroad?
After I got my bachelor's degree, I wanted to make sure I was using my Spanish degree.  I had been volunteering at a literacy center where I lived in Arizona, and I loved seeing the progress of the students that I tutored.  I was also tutoring Spanish at the time, and I knew that at least for the next couple years, I wanted to try teaching either English or Spanish. I read the book Three Cups of Tea and knew then that I wanted to teach abroad.
Why did you pick Costa Rica? 
I had been there twice before, once with my parents and then for a month in the summer to study Spanish at the Universidad de Costa Rica. I loved my experiences when I was there and wanted to get more of a taste of what it was like to actually live and work there. Knowing a couple people helped a lot and made the transition a little easier.
What kind of job do you have and how did you get it? 
I am an EFL (English as a Foreign Language Teacher) at a language institute called Máximo Nivel in an area of San José called San Pedro.  After taking the IDELT course in Santiago, I started looking for jobs in Latin America.  It's thanks to Bridge that I have this job!
Where do you live, and how did you find that housing? 
I live in San Pedro in a neighborhood called Vargas Araya. I live in a house with two roommates and I love it.  Everything is close…it's about a 20-minute walk from my house to work and there are supermarkets, restaurants, and anything else I need really close by.
I found this place after my Tica roommate actually reached out to me on CouchSurfing when I posted on a discussion board that I was looking for housing in San Pedro.  We get along great and it's really nice to have a local to ask questions or get advice from.
What was the hardest thing about the job when you first started? 
The hardest thing about teaching was getting used to the differences in styles. Even though Bridge and Máximo are similar in style, there are some techniques I used in the IDELT course that Máximo doesn't use (for example, repeating the mistake when error-correcting).  Its been a little difficult for me to change techniques.
Did you have any culture shock? 
I did have culture shock the second week I was here.  It was a little unexpected, to say the least, because I thought since I had been to Costa Rica twice before, the transition period wouldn't take as long as it did. After the first month, I felt a lot more comfortable.
What advice do you have for new teachers? 
Don't worry too much about teaching "the perfect lesson." You will have good lesson plans that work and some that won't. Be flexible and ready to improv! Also, adapt your students' interests into your lessons…it will make it easier, more fun, and more memorable for them and they will probably remember the grammar/vocabulary easier when it comes to quizzes or tests.
Interested in teaching English in Costa Rica? Learn more!