How to Set Up Your LinkedIn Profile to Get More Students
By Alex Asher
October 13, 2022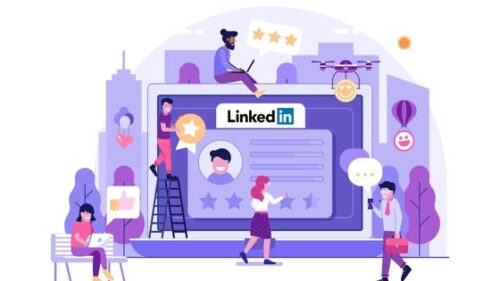 Are you looking to teach Business English or another language to professionals?
Teaching professional students and/or selling Business to Business corporate language services (B2B) is a very lucrative and fulfilling business. The market still offers significant growth opportunities, and in this article, Alex Asher, CEO of LearnCube, explains how to set up your profile to win more business on the number one social network for professionals, LinkedIn.
Alex draws on both his decade-long experience on LinkedIn and exposure to the success of LearnCube's customers on LinkedIn; many are highly successful B2B language companies.
Why is it important to get your LinkedIn profile right?
If you're going to be teaching professionals or selling your language services to businesses, then it's essential to get the fundamentals, like your LinkedIn profile, right.
Many teachers and entrepreneurs misinterpret their profiles on LinkedIn as a way of distributing their CVs. They will focus the readers' attention on what experience they have from school to their current job. What many people fail to acknowledge is that their profile is not about getting hired by the next employer – it is about getting hired by their next client.
Alex's Tip: Put yourself in the shoes of your customer when completing your profile. Do you clearly and quickly communicate how you help people (like your customer)?
People buy on emotional impulse, not just through logic, so it's important to sell not just your experience but your personality, story, and personal brand.
You'd be amazed at what someone can learn just by skimming your LinkedIn profile page for 10 seconds. Clients need to instantly understand if you can gauge their needs and solve their problems.
Learn how to start an online English teaching business without breaking the bank!
How do you successfully set up your LinkedIn profile to grow your business?
Let's address the critical aspects of your profile, starting with your profile picture, all the way down to recommendations at the bottom of the profile page.
1. Profile Image
Your profile picture doesn't need to be taken by a professional but should look professional.
Remember:
Have your face clearly visible and eyes looking a the camera.
Edit the photo so it's in a square format, and ensure that your face takes up 70%+ of the available space.
Wear in the photo what you would wear if you were to meet your ideal customer.
You will have to judge how formal or informal you come across, but I like the idea of dressing up 10% more than your customer would at a conference.
Consider the example above; doesn't Wilim's mustache give a unique, interesting yet professional look?
2. Banner Image
The banner image should make it easy for prospects to see what you do in a heartbeat.
Far too often, people waste this space with a landscape image that their customers would not identify with and that wouldn't resonate with their prospective clients.
Ideally, use this as a way of visually presenting how you help your customers, and don't be afraid of using a line of text to communicate your main marketing message.
You can use platforms such as Canva to design a banner image – and remember to incorporate text as well as imagery to clearly showcase your work.
Don't forget that the optimum dimensions for LinkedIn banner images are 1584 x 368 pixels, so aim for that!
3. Role Name
Try to avoid generic descriptions such as "teacher."
When it comes to describing your role, you can write anything, so try to explain what makes your service unique, how you help others, and what sets you apart from the competition.
For example, rather than writing "Online English Teacher," write "Online English Teacher | I help young tech professionals in Vietnam get their dream job through inspiring confidence in speaking English. Learn with me now at [your website].com."
Alex's Tip: There's a new feature that is being rolled out by LinkedIn that allows your clients to discover your services underneath your main profile section. Check out how to add your service to your profile.
4. Number of Connections
Connecting with others is the whole point of LinkedIn, and the more connections you have, generally the greater your reach will be and the more trustworthy people glancing at your profile will think you are.
Saying that, LinkedIn generally only indicates "500+ connections," even if you have 10,000, so if you'd like a goal, go for 501 connections as quickly as you can and then worry about the quality of those connections.
To get there, try and establish a routine for spending time each day/week to find useful connections and invite them to connect.
5. About

The About section is your opportunity to sell yourself and your service. Don't just list a chronological account of your experiences and education. Make this section engaging and write as if you're speaking directly to your ideal customer. If you're not sure where to start, begin by thinking about your unique selling point (USP) – what is special about you and your service that others may not have?
6. Featured
Below is an example of the "featured" part of your LinkedIn page: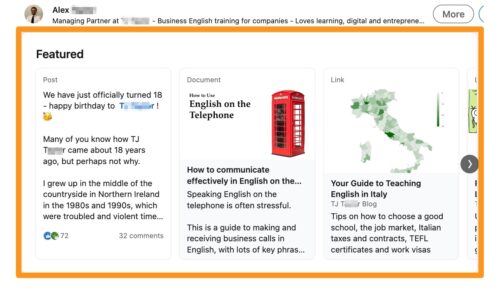 This is where you can promote your best content, which will give you more credibility. Use the most visually interesting and relevant content pieces you have. This is how people can get a taste of your service and style. Perhaps include one piece of content on your teaching style, one testimonial from a client, and one piece to show off your expertise.
In the above example, the visitor can choose between clicking links to your related content, reading a document, or reading your recent posts.
7. Activity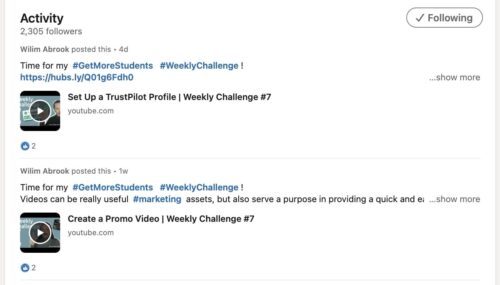 Position yourself as an author, a contributor, and an expert through your activity. Post to reach more people, add value to your network, and prove that you're active and open for business.
If you are too busy to post, then like and comment wisely. Your likes are also shown publicly, so be conscious about what to engage with in order to curate the shown likes on your page.
8. Experience
When showcasing your experience on LinkedIn, be authentic and honest about the highlights of your work history. Aim to use short sentences or bullet points to outline key work and milestones so it's easy for page visitors to read.
Avoid long paragraphs and blocks of text, as the reader might have a tendency to skip over these and not properly read about your experiences.
9. Education
Check out the example above. This is a good example of a concise overview of this person's education, with lists of key highlights rather than long, descriptive paragraphs.
Make it easy for visitors to quickly see that you're qualified. It makes sense to include information from degree level upwards, and don't get too bogged down trying to list every single academic achievement. Focus on what the client needs to know, not what you want to tell.
If you're new to teaching, you'll want to get initial training and qualification with a TEFL certificate. You can explore our online TEFL courses to get started!
10. Skills
This is another way for you to help visitors scanning your profile to know what your strengths are and if you can help them.
According to LinkedIn, users who list at least five skills are contacted on average 33 times more by recruiters. This could indicate, then, that listing five skills is also important if you're looking to be contacted by more clients.
What are the five skills your customers would expect of you?
You can also showcase your qualifications and skills by adding digital badges to your LinkedIn profile, email signature, blog, and more. Find out exactly how to use these 21st-century credentials!
11. Languages
When it comes to the language section on LinkedIn, you may be tempted to put down languages that you have a very basic grasp of, but this might damage your credibility if you do not have at least A1 proficiency in the languages listed.
Focus instead on those you really can speak with a degree of confidence.
12. Recommendations
This is the bonus category that really deserves a place right at the top of the page. This is where you provide your social proof, and the more you have the better.
Don't be afraid to ask others for recommendations – the worst they can say is no!
Include the best ones you receive, and if you want to go one step further, try writing a recommendation on behalf of the person, and then just ask them to confirm it. This way, you do the hard work of writing the recommendation and can then ensure genuiness by asking the client or friend to check the content and acknowledge it.
Check out the example below for some inspiration:
So, there you have it! You should now feel confident about how to get started with your LinkedIn profile to get more students.
Remember:
Provide a clear, professional profile photo of your face.
Include a persuasive, interesting banner image to visually describe how you help others.
Focus on what the customer needs to know, not what you want to tell the world.
Keep things concise so your profile is compelling and easy to scan quickly.
Gather recommendations and social proof to build trust with future prospects and connections.
Good luck with LinkedIn! Feel free to check out my profile here for inspiration and/or feedback.