A Comparison: Teaching One-on-One vs. Group Online English Classes
By Jalena Johnson
June 17, 2020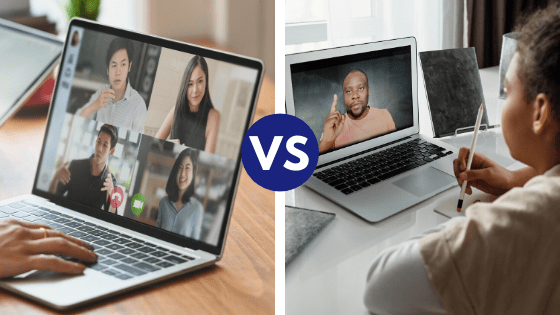 If you're an online English teacher or hoping to become one, you'll likely teach both individual classes and group English classes, whether you work for a company or become a freelance tutor. While the general teaching methodology is the same, there are some differences to be aware of, including the time allotted to teach classes, content adjustments you may need to make, and the process for student feedback. Let's compare teaching one-on-one vs. group online English classes.
If you're new to teaching, you'll want to get initial training and qualification with a TEFL certificate. You can explore our online TEFL courses to get started!
What is a group class when teaching English online?
Teaching group classes with a company
Of course, you're probably already familiar with the concept of teaching one-on-one English classes online, meaning one student at a time, and this may be what you're expecting when you teach English online for a company. However, many companies also require tutors to teach group classes. By "group" classes, most companies mean classes with more than one student, but the average group class is typically no more than four students.
Teaching group classes as a freelancer
It's possible to teach much larger classes with some online tutoring companies, and you may also choose to teach large classes if you work independently as a freelance English teacher (and thanks to video conferencing solutions like Zoom, the sky's the limit as far as capacity!). But in this article, we'll focus on teaching group classes with a company, as this is the most popular starting point for most online teachers.
Do I need a different teaching platform for group classes?
Luckily, when you teach online with a company, they provide the teaching platform (and the curriculum), and that platform is the same regardless of whether you're teaching group or individual English classes. Typically, the system automatically adjusts the classroom size and lesson content to accommodate the number of students being taught, which makes teaching the session easier for the tutor.
Is a typical group class session longer than a one-on-one class?
For most companies, group and individual classes are allotted the same amount of time per session, which is usually 25 to 30 minutes. Now, you may be wondering, "How will I be able to focus attention on each student in a group class if I still have the same 25-30-minute window!?" Good question! Let's look at class dynamics and lesson content next.
How are the dynamics of individual vs. group classes different?
Students who take online group classes understand that this type of learning environment is different from that of a one-on-one class. While you won't be able to give an extended amount of attention to a particular student in a group class, students can still interact and work together in various activities, which wouldn't be possible in a one-on-one setting. You'll do your best to help each student in the group as much as you can, make quick corrections, use concept-checking questions, and finish the classes at the designated time.
Are there any lesson content adjustments for each type of class?
Warm-up session
Regardless of the kind of class you're teaching, warm-up activities have the same goals: to make students feel at ease, especially if they're new to the class, and to get their minds started thinking in English. There are slight differences in warmers for one-on-one and group classes though.
For instance, small talk is a common warmer, but small talk with an individual student is usually brief and more focused on their lives. On the other hand, even one warm-up question posed to a group of students could instantly become a class discussion and will definitely last longer. For example, let's say you start your group class by asking a student what his favorite movie is. Then a classmate comments about the film or mentions another one she likes. Considering this, you have to manage your class time very well to make sure your warm-ups won't take over the entire class!
Aside from small talk, the first part of the class is also a good chance to play simple games like charades or guessing games. You can even make these competitive for your group classes to make the warm-up more dynamic!
Lesson Content
During the actual lesson, you'll typically go through a series of slides (provided by the company you work for) with your student or group class, and this presentation is designed to occupy most of the class session (25-30 minutes). These teaching slides may have the same content for both group and individual classes; however, depending on the class level, you may be given additional lesson slides for one-on-one classes because they tend to finish faster than a group class.
To be on the safe side, it's always good to have a handful of extra practice activities up your sleeve for those instances when you end up with extra class time after finishing a lesson. Use this great opportunity to break out some kid-friendly ESL songs, flashcards, games for teaching English online, or make conversation to give the student more English practice. I mean, even if you're a breakdancer, the kids will love it! Just be creative and have fun with it!
How is the student feedback given at the end of group vs. one-on-one online English classes?
Group classes
The feedback process is by far the biggest difference between the two types of classes. At the end of a group class, it's common for online tutoring companies to require that you provide feedback on each student, such as by filling out online forms above each student's name on your screen. The feedback process for group classes is fairly quick and can be completed in less than a minute. The forms might include:
Each student's overall grade for the class (such as an A, B, or C)
A participation rating
An attention rating
Feedback on specific issues (if the student was late to class, had a bad connection, had inappropriate behavior, needed a lower/higher lesson, etc.).
One-on-one classes
Contrary to what you might expect, for one-on-one classes, the feedback process takes a bit more time (but just a few more minutes, usually). This is because students in one-on-one classes receive more in-depth feedback. For example, the first part of the feedback form might request the same information as the group classes; however, there might also be a section where the teacher can comment on his or her experience with the student and provide more details on what the student did well or needs more work on. Also, for difficult classes in which the student might be misbehaving, the teacher can give a better explanation of the behaviors that occurred, and this can be further reviewed by the company or the kid's parents.
How does the workload compare when teaching individual vs. group online classes?
Does teaching a class with more students mean more preparation and work? The truth is, it doesn't! You might be surprised to learn that the amount of work needed for an online class of 2-4 students is not very different from that for a class with a single student. Why? The online tutoring company you work for will provide a tailored curriculum to accommodate the number of students you're teaching. Plus, the very intention of the group class dynamic that students interact with one another – not rely entirely on you for interaction, as they would in a one-on-one class.