Bright Future International Training and Services (BFITS), the latest Bridge Preferred Employment Partner, aims to connect English teachers to schools across Thailand through a proactive approach to the learning experience. BFITS delivers educational programs that cater to the needs of Thai learners while working in partnership with client schools. Program Managers Giselle Alano and Matt Krupa spoke to Bridge about teaching with BFITS and about the different perks of living in Thailand as an English teacher.
What services does BFITS provide?
BFITS is an education provider that works with over 25 partner schools to provide English programs across Thailand. We teach conversational English as well as content subjects like math and science in English.
What kind of schools do BFITS teachers work in?
There are two different types of schools: government schools and private schools. Schools also vary in location. We have schools in the northeast and the south, which consist of mostly rural areas, and we also have a lot of schools in inner and outer Bangkok.
How is teaching a unique experience for English teachers?
Here in Thailand, you can arrive with a professional background, for example in math or science, and apply that to being a teacher. So, it's a good entry point to being an educator compared to other places.
Also, the stress level is comparatively lower than in other places. If you wanted to teach in a place like South Korea, the demands on the teacher might be higher. While here in Thailand there's still a high level of expectations, the environment is a bit more relaxed, like the rest of the country overall.
Learn more about teaching in Thailand, including the requirements, typical pay, and typical TEFL jobs.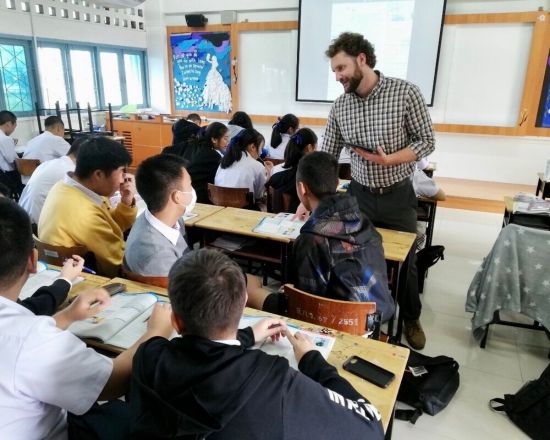 What are some of the main advantages and challenges in English teaching and learning in Thailand?
Generally, Thailand falls relatively low as far as English language levels go. It's odd because many people have to communicate in English here, just maybe not at the highest level. As a company, we try to make things less by the book, but rather a more engaging learning experience for the kids so that they're able to be more motivated to learn English.
These days, English proficiency levels are higher than they were in the past, so as we continue to teach, testing results will be much higher over time. This recent growth may be attributed to increasing motivation to become more global citizens.
One thing teachers may consider is that, as a foreigner coming here, they'll really enjoy the adventurous lifestyle. On a teacher's salary, we're able to enjoy a comfortable way of life here. We can eat what we want and do some traveling.
Read about six ways that teaching abroad can optimize your personal and professional growth.
What's the usual profile of a BFITS teacher?
Schools require teachers to come from countries where English is the native language. So, we can give work permits to citizens from the US, Canada, UK, Ireland, Australia, and New Zealand. Most teachers are American, and teacher ages vary greatly, from 23 to 55.
The typical profile we want is somebody who is competent, engaging, passionate about teaching, and able to adapt to the culture.
How long is the application process for teachers?
If you have all your documents ready, then it's only about a week. As soon as you send an application to us, it takes about 24 hours to receive an interview request. After the interview, an offer is made by the next day. It will take another day or two for the background check and final screening, and then a contract is sent. If you accept the contract, you have about two days to sign it.
One of the advantages of BFITS is that recruitment happens year-round. Teachers don't have to wait for the start of the school year.
What can English teachers expect if they work with BFITS?
There are two kinds of BFITS programs: Elevated academic learning with the English Program (EP) and the Intensive Communicative English Program (ICEP). The EP program has a primary focus on math, science, grammar/literature, and secondary subjects like social studies, health, digital English, and ICT. On the other hand, the ICEP program focuses on practical and academic English communication skills, emphasizing speaking and listening. ICEP also dedicates time to grammar, reading, and writing.
Subject teachers will generally work with about 25 to 35 students, while English teachers usually have classes of 35 or more. For both programs, students range from kindergarten through grade 12. Subject teachers work on a 12-month contract, and make a salary of 40,300 Thai Baht (roughly 1,125 USD) a month, with a 500 THB bonus per hour of overtime. Additional stipends are added based on each position's location, qualification requirements, and workload.
English teacher contracts are for six to 11 months (which can be extended), and they earn 35,300 Thai Baht (roughly 986 USD) each month, with 500 THB per extra hour of overtime. BFITS Thailand will provide all necessary curriculum and classroom materials.
Find out more about typical TEFL salaries when teaching abroad or online.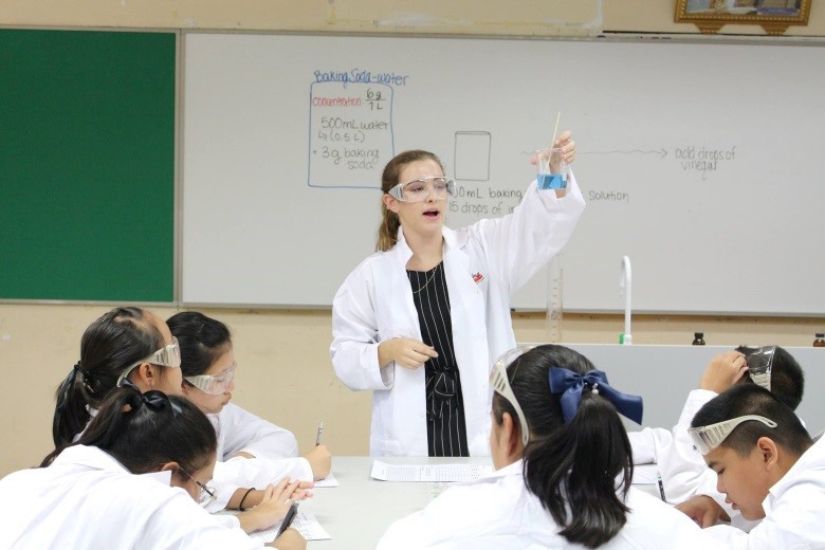 Can you elaborate on the support and resources that BFITS provides to teachers during their time in Thailand?
The support really starts from the moment you join BFITS. We provide help with visas and logistic questions. We don't provide accommodations, but we will connect our teachers with recommended apartments and condos. We also have airport pickups for our teachers, and once they're in Thailand, we have a dedicated support team in HR.
When teachers begin working at their schools, they will have a program manager and head teacher or senior teacher to guide them there. We also have a Thai coordinator at every school to help with translating, coordinating with Thai school staff, and submitting school requirements such as grades and exams.
What should potential candidates know about the BFITS methodology and curriculum?
All of the curriculum documents are submitted to the school. So really, the teacher just follows that blueprint. We supply all the textbooks, all the lesson plans, and the slides when applicable. The teacher just provides the actual instruction in the classroom.
What English teaching certifications does BFITS accept?
All of our teachers are required to have a TEFL certificate. One of the perks of partnering with Bridge is that teachers who apply with BFITS get a 50 percent discount on all Bridge courses. We're trying to highlight this feature to new applicants.
Learn about Bridge's most advanced TEFL/TESOL certificate course, the 150-hour International Diploma in English Language Teaching (IDELTOnline™).
Can you share some tips for applicants to help them pass the interview/hiring process?
Show up with a positive attitude and a willingness to learn. We've found that we're very good at providing the necessary support and training!
How long can a teacher remain at BFITS?
There's no limit. We have three teachers who have been with us for 17 years now. You can stay till retirement age.
What significant contributions can a teacher from BFITS make toward achieving Thailand's English language learning objectives?
We try to move students from an A2 level up to a C2 level on the CEFR scale. We have also noticed that, on many occasions, teachers will come in and think they need to do all the talking. I think teachers need to take a step back and focus on guiding students through the language, thus allowing them to demonstrate and practice their skills.
Learn more about the significance of CEFR language levels for English language teaching.
What's next for BFITS?
The long-term goal for BFITS is to expand to other neighboring countries. In the short term, we want to reach as many students in Thailand as possible. We started 21 years ago with only two schools, and we are now placing teachers and running our programs in 25 schools and counting.