This article was written by Johanna Kawasaki, a junior high and high school English teacher in Japan, who recently enrolled in the Bridge Teaching English Online TEFL/TESOL course to help as she transitions to teaching her students online.
As one of many global teachers facing the same challenges around the world right now, due to coronavirus, I am currently moving my English classes online. Parallel to teaching, I am also taking the Bridge 120-hour Teaching English Online TEFL/TESOL course to adapt to the virtual classroom. And just in time, I'd say, as the course is teaching me valuable new skills along the way – skills that I can immediately apply to my online classes (especially as a not so tech-savvy person). Here are some teaching strategies I've learned from my course that might also help you make a successful switch from the classroom to teaching online.
Understand the difference between synchronous vs. asynchronous and hybrid classes
When teaching English online, you will come across some new terms that are now frequently used within the global TEFL/TESOL community. The most important terms are the ones that describe the type of classes you are teaching online: synchronous, asynchronous, or hybrid.
Synchronous classes
During synchronous classes, you and your students meet at the same time online via a virtual learning platform (often called teaching in "real-time"), using video conferencing software such as Zoom or Skype. Synchronous classes are suitable for both children and adults.
Pros of synchronous classes
Easy attendance check: You can see your students.
Students can ask questions directly.
Student Talk Time (STT) can be increased by real-time conversations.
You can see your students and their facial expressions – are they happy?
You and your students can stay flexible throughout the lesson and change something spontaneously if everyone agrees.
Cons of synchronous classes
If you have a group class, you need to ensure fair STT for each student. This can be difficult if you have both shy and active students in your class.
Shy or nervous students might have a hard time talking to you during one-on-one lessons.
You have to look professional and stay lively and friendly, the same as during a real-life class. Remember, you're on camera!
Asynchronous classes
During asynchronous classes, your online students do not meet you at a specific time; they work offline but complete assignments within a deadline set by you.
Asynchronous classes are more suitable for adult students, due to the concept of deadlines and lack of direct communication. Children might have a hard time managing a set submission schedule.
Pros of asynchronous classes are
You will have everything prepared and it's 'out of your hands' until your students hand in their work.
Students can work at their own pace (within a deadline).
You can correct your students' assignments on a more flexible schedule.
You don't have to wear professional attire or smile throughout the whole lesson.
Cons of asynchronous classes are
It is harder to ask concept-check-questions or reply to your students' questions one email at a time.
Attendance check will rely only on submitted assignments.
Unless your students are handing in recordings of their speaking, STT is less.
Students will not have the practice of real-life conversations with you.
You cannot see your students' faces and read their moods or feelings. You have to rely on their written feedback to check their satisfaction with your class.
Hybrid classes
During hybrid classes, your students may prepare offline for your online class. Later, you and your students meet online at the same time to review the prepared offline tasks.
Hybrid classes need the preparation for both synchronous and asynchronous parts of your lessons. It may take a little more time and effort to set everything up, but once you and your students are all ready, hybrid classes are a great solution for teaching English online.
The great thing about hybrid classes is that you can accumulate the pros from synchronous and asynchronous classes and omit quite a few downsides at the same time. The biggest plus is that your students can practice all four learning skills: speaking, listening, reading and writing, and you can build your synchronous activities and asynchronous assignments around those skills!
Prepare your students for synchronous and asynchronous online classes
As I'm learning in my course, each of these types of classes requires its own preparation to be successful! These are some of the ways you can plan and deliver successful classes.
How to prepare your students for synchronous online classes
Set up an online learning management space (LMS) that works for everyone. Video conferencing software such as Zoom and Skype are great for one-on-one classes and group classes alike.
Give your students a list of things they need to prepare ahead of class: headset with microphone, web camera, and a laptop or computer are the minimum requirements for a successful online class.
Check the bandwidth requirements for your chosen online platform and communicate the minimum requirements with your students. Make sure everyone is up to speed when it comes to stable Internet connection.
Make the first contact memorable. When you teach your first synchronous class, allow some time for technical difficulties from both sides. Keep it light, fun and engaging and make sure everyone is comfortable in the virtual classroom.
Make sure everyone is aware of time zones and schedules. Agree on which time zone you will be referring to when you set deadlines and schedules.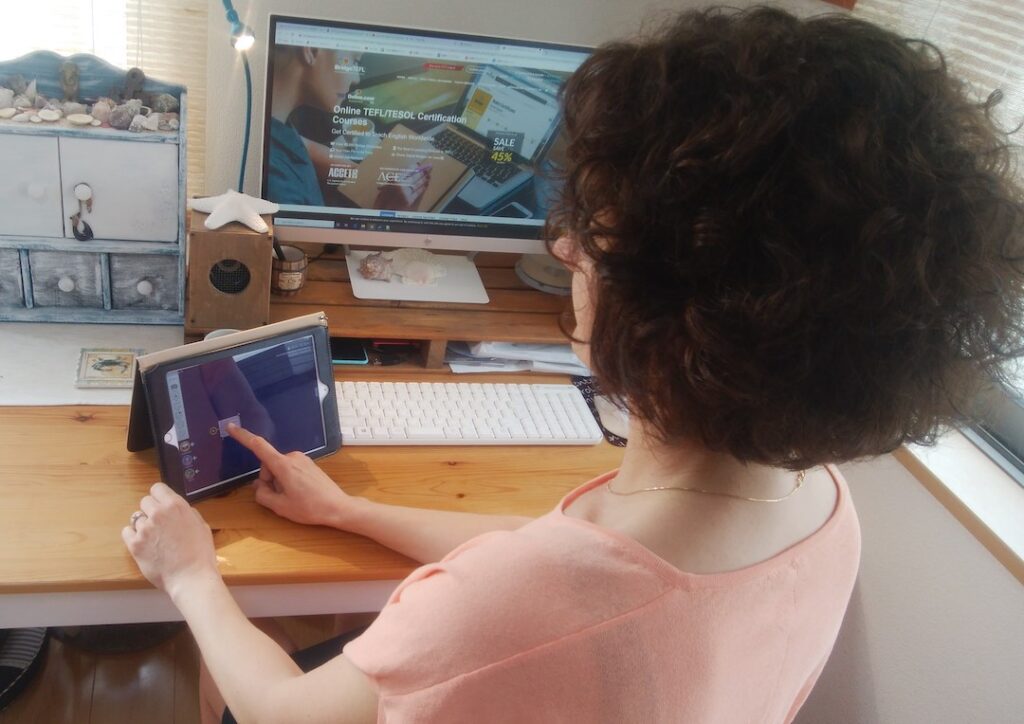 How to prepare your students for asynchronous online classes
Agree on a way to communicate with your students: email, Facebook, or other social media messaging services that are common in the students' countries. Everybody needs to be able to communicate with you, so you might have to look into country-specific rules and restrictions.
Communicate clearly from the start what times you are available to reply to your students' questions. Again, consider time zones.
Set up an inbox dedicated to your students' assignments. You don't want to get mixed up with private emails.
Agree on the maximum bite-size format for assignments. You don't want 10 2MB pictures cramming your inbox.
Establish a system for feedback to and from your students.
Follow up on missing assignments so your students know you are keeping track!
Motivate your students for their first online lessons
The most important thing when transitioning your classes to a virtual classroom is that your students enjoy themselves while learning with you. Especially children get bored easily, so keeping them in front of the screen for a 45-minute class can be challenging.
In my TEFL/TESOL course, one of the tools I've learned about is live streaming software, such as ManyCam, which is a great way to keep your students motivated and engaged. ManyCam includes many video tools such as 3D masks, effects, and virtual backgrounds. Giving your students a glimpse into what their lessons will look like will motivate them for their first class.
Apply different teaching methods in the virtual classroom
Take a look at these four methods for teaching English online, for example, which are explained in much more detail in the Bridge Teaching English Online courses.
Audio-Lingual Method
This method uses oral drills to make students' responses to teachers' questions automatic. Praise is given for correct responses and negative comments for incorrect responses until the student easily produces the correct form.
Direct Method
This method does not allow for any translation in class; all teaching is done in the target language. Students must speak in everyday language, and grammar is taught inductively.
Communicative Language Teaching (CLT)
Students learn language through real-world task assignments and problem-solving under this method. CLT focuses largely on communication activities, not isolated grammar lessons.
Total Physical Response (TPR)
Under this method, often used with other approaches, students are encouraged to act out the language to express meaning, combining physical and intellectual analysis.
Use voice or video recordings and movies in the online classroom
If you are teaching asynchronous classes, it's important to keep your students listening to natural English and to have them practice speaking. Sending students your own voice recordings, videos, or other movies can result in excellent assignments.
Voice or video recordings
For example, you could give students an assignment in which they watch a video or listen to a recording of you speaking, allowing them to read the script afterward. Then, then submit a similar task in which they write a passage, read it, record it, and send it back to you for grading.
Movies
Using movies is a great way to have your students practice writing summaries, listen for the main idea, listen for details and for handing out quizzes. Netflix, YouTube, or even store-bought DVDs and Blurays can serve you well here.
Gain skills in creating engaging, video-based ESL activities by taking a Bridge micro-credential course in Teaching English Using Video.
Apply your non-technical skills when teaching online
Apart from great people skills, which you already have since you decided to be an English teacher, other non-technical skills are important when shifting to online teaching. Good verbal and written communication, effective time management, creativity, patience, public speaking abilities and sales and marketing skills go a long way when it comes to being an effective online English teacher.
Learn more about how your non-teaching skills apply to teaching English online. 
Transitioning my classes to online teaching was daunting to me at first. However, within only a few weeks I got the hang of it, and I am really enjoying my – mainly asynchronous – online classes with my students. I have learned many new skills along the way and even after things go back to normal, I will be able to apply new technology and methods to the real classroom that will motivate and engage my students.