Filipina College Instructor, Juicy Mae, Now Thriving as an Online Teacher
By Krzl Light Nuñes
May 11, 2020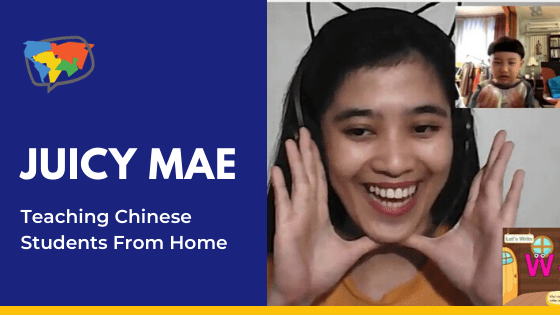 Hailing from the Philippines, Bridge graduate Juicy Mae Ligad is a full-time college instructor and part-time online English teacher. Currently paused from her college job because of the coronavirus crisis, she is now offering more online lessons through the ESL tutoring company she works for, to meet the growing demand for virtual classes. She shares how teaching Chinese students online has sparked both her creativity and interest in learning about different cultures. 
You come from a multilingual country. What languages do you speak?
Cebuano (a language spoken in the southern part of the Philippines) is my mother language and Filipino and English are my second languages. I am also learning the Korean language but right now, I only know some basic expressions in Korean and how to read and write the Hangul, which is a written alphabet in Korea.
How did you start in the teaching field?
Two years ago, I graduated with a degree in Bachelor of Secondary Education and I majored in English. My first professional job was teaching English online. After my university graduation in 2018, I applied as an online English teacher at CCClass Online Inc. A year later, I got hired as an English instructor in a college institution in Davao City, where I live. My full-time job is an instructor and I am a part-time online ESL teacher. I am also currently enrolled in my Masters of Education in Language Teaching.
Had you ever taught English before you worked as a professional ESL teacher?
During my university years, I used to tutor my niece and nephew in speaking English. Right now, I'm teaching both of them in person and online.
Why did you decide to teach English online?
Teaching English online helps me realize the world is vast and I need to explore more of my capabilities. The world is changing and so is education. I always think that the future of education will be with the use of online technologies and I want to be more expert in this field. Moreover, I find it awesome to talk to people from different nationalities and learn about their culture and lifestyles.
Where are you working now and who are your students?
I am working for CCClass Online, which is located in Davao City, Philippines.  This company has a partnership with Hujiang Educational Technologies, which is based in Shanghai, China. They hire office and home-based teachers that are currently residing in the Philippines.
I teach kids, adults, college students, and business professionals from all over 50 cities in China.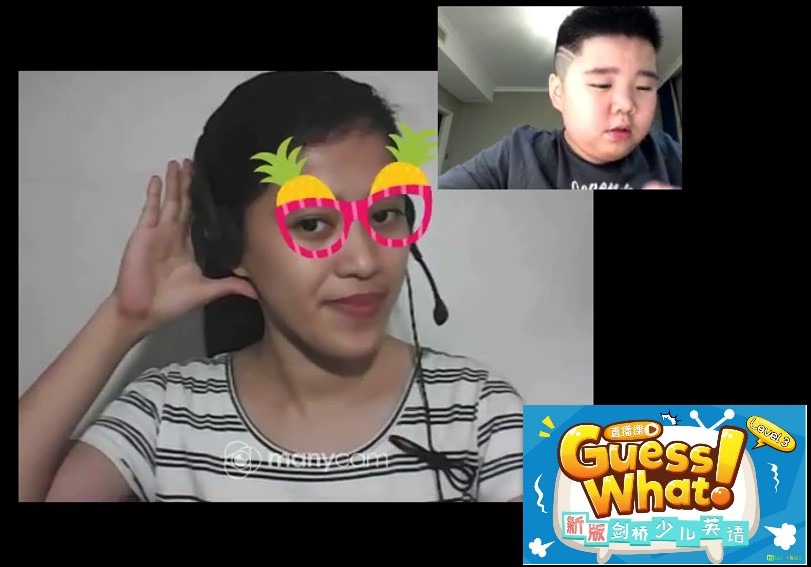 Can you tell us about the application process at CCClass?
For office-based teacher candidates, CVs or resumes can be sent to their official email address, submitted to their office, or forwarded through a friend who has referred them.
These candidates first go through a resume screening then a face-to-face interview which includes English proficiency, typing, and pronunciation tests. Afterward, they have to record an initial and a final teaching demo. When they pass these, they sign a service agreement then go through the orientation and training processes before finally signing the work contract.
For home-based applicants, they may submit their CVs or resumes through e-mail. Their home-based teacher applicants undergo the screening process, interview, and pre-job training online. They also go through the Internet and system check. The application for home-based usually lasts for one week, depending on the situation.
When I applied for the office-based teaching job back in 2018, it was really quick. I finished the application process in just a day and I started teaching the day after the application. Then, I switched to home-based work due to the crisis that we are facing now.
Learn how to write a stellar online English teacher resume.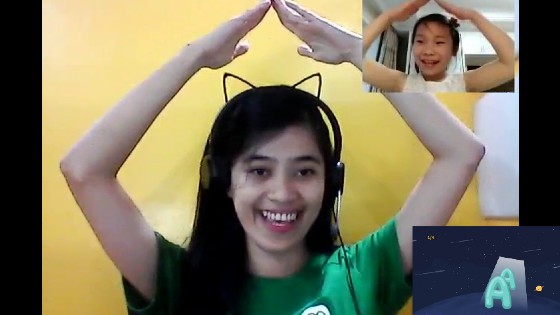 What's your schedule as an online teacher?
We have a fixed schedule during peak hours. We have to teach four hours a day, five days a week. My fixed schedule is from 6:00 p.m. to 10:00 p.m. Aside from this fixed schedule, we can also open as many hours as we can. We have to plot three weeks ahead to ensure a higher rate of bookings. Their business hours are from 8 a.m. to 12:00 a.m.
What are your favorite online class activities or strategies?
Here at CCClass, I teach both kids and adults. Adults classes only have live PowerPoint and audio, no video included, while kids' classes have videos, audio, and live-interaction PowerPoint.
Since I only use audio in my adult classes, the activity that I like the most is the role play where we can act out a conversation with given role cards. I feel like we are actors and actresses in this time. What I like to do when we reach the role play part, is change the tone of my voice depending on the role that we are talking about. For instance, if I need to act like a man, I change the tone of my voice. At the end of every role play, I provide feedback about the student's performance during the role play by citing their strengths and which areas they need to improve in terms of grammar, pronunciation, vocabulary, and fluency.
As for my kids' classes, I like using the Total Physical Response technique, animated effects such as a cat face mask, realia, and giving my students fish and stars as rewards.
Can you update us on the current coronavirus situation in the Philippines?
Right now, the situation in some regions in the Philippines is getting better and better. There have been fewer cases reported recently. As of May 7, 2020, the number of reported cases so far is around 10,000.
Looking at the brighter side, more people have recovered in my country too, which is around 1500. In my city, we are required to stay at home, and most business and tourism establishments and educational institutions have to be closed. Some workers can't work since businesses have to be closed. I even have relatives and friends who are contractual workers who don't get paid if they don't work. So, their plight is very challenging. Gladly, the government is doing its best to provide us some assistance such as food every week and social amelioration, which is around 5,000 PHP (100 USD). Hopefully, there will be alternative solutions to this crisis so we can go back to our normal life.
Read about other teachers' experiences with the coronavirus worldwide.
How has the COVID-19 virus crisis affected your work as an online English teacher?
I am now working home-based at CCClass so it doesn't really affect me that much. The number of bookings has increased since January since more people in China are staying at home.
What's the biggest challenge about teaching online, especially in the current situation?
Currently, the biggest challenge is when you suddenly have a connection problem and you have to contact your Internet service provider but their responses are so delayed since they have a lesser workforce due to COVID-19 situation.
On the other hand, what the best thing about it?
Even though I am staying at home, my work isn't affected. I still earn money and support my family amidst the current condition in the economy.
CCClass Online, in partnership with Hujiang Educational Technologies, offered us a free TEFL certification so we could teach kids. I took the TEFL course last January 2019 and finished it in February 2019.
How did this course prepare you for the virtual classroom?
The course helped me in various ways. First, it was like a refresher for me. Back in my university, my major was English Education. We were taught of some strategies and methods on how to deal with students inside the classroom.  When I was in my university, they only taught me ways on how to teach students in a traditional classroom, but my TEFL course helped me to be more equipped on handling learners via virtual classrooms and what strategies and methods I can use to make my classroom more interactive, engaging and practical. They have also suggested various websites and learning materials that can help me in my virtual classes.
What are your plans for the next weeks or months as the world deals with the global pandemic?
If the situation doesn't change at all, I would continue working as an online ESL teacher. Hopefully, I could also hire some teachers whose jobs got affected due to the crisis and help them get hired in the company. This is the least that I can do to help them with their finances and get employment.
Do you have any advice for people new to teaching, who are now looking at teaching English online as a job option?
For those newbies out there who want to venture out in this new field of teaching, give it a try! I assure you it's going to be a roller coaster ride – exciting and challenging. You'll get to meet different people with different cultures and personalities. Just brace yourself during the ride and enjoy every moment. Try your best to look for effective strategies to make your students more interactive with you.
In my opinion, enrolling in TEFL/TESOL courses can also help you in widening your knowledge regarding online teaching, and it will also help you land more teaching jobs with higher pay.