IDELTOnline Q&A With Instructor, Katrina Schmidt
By Bridge
March 24, 2021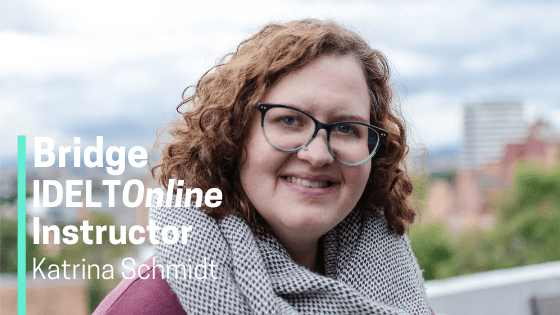 In a recent Bridge info session, we interviewed Katrina Schmidt, an instructor for IDELTOnline™, Bridge's graduate-level TEFL certification course. A former university professor with a Master's in TESOL, Katrina shared how she shifted from teaching ESL to training English teachers, about her role as a trainer in the IDELTOnline, and what trainees can expect in the course.
How did you get into the field of English language teaching?
I first got into teaching English in New Orleans as a volunteer. I wanted to volunteer in my community, and I actually wanted to volunteer with literacy because literacy rates are a big issue that we have here in Louisiana. But I didn't find a volunteer job doing that, luckily because I found a volunteer job teaching ESL to adults in the evenings. And I loved it so much, I ended up getting a job with the non-profit I volunteered with, and then I got my master's later on.
Tell us why and how you earned your master's degree in TESOL. 
I decided to get my master's degree when I was still finishing my undergraduate degree, and that's because I was teaching English already and I knew that I wanted to work in universities. Because of that, I decided to get my master's.
I ended up going to get my master's degree in New York City. It was a partially in-class, partially online experience. So, I had one semester in New York and the rest online learning, so I know what it's like to be an online learner. And sometimes it's more rigorous taking classes online.
Is getting a master's degree worth it for you? Find out.
How did you make the transition from English language teacher to teacher trainer?
At first, I thought I would just stay and work in the United States, but then I decided, in the end, to teach English abroad, which I'm very happy about.
When I moved abroad to Colombia, I taught at a university that asked me if I would like to coordinate some English language courses. So, I had a couple of English classes that were kind of my responsibility, and so I trained the English teachers who were teaching that course and helped them with the materials and the exams.
From there, I was presenting at English teaching conferences. One thing I really like to do for ESL professional development is to attend and present at conferences.
Later on, I became an English language fellow, and that's a program with the U.S. Department of State where you apply and you go anywhere in the world. I went to Mexico and I was training English teachers and content teachers at a university in Mexico.
Meet another language fellow, Loren, a graduate of Bridge partner university, SIT.
Based on your background, what skills do you bring as an IDELTOnline instructor?
I personally see my role as a facilitator for the online TEFL course. I help answer any questions and help students if they need extra help, or I like to point them in the direction, to a lot of really good articles or videos online that kind of supplement with their learning online.
I also think that I bring a lot of different teaching contexts – I've taught in many different places and taught different types of students. And I like to talk about my teaching experiences with the trainees in the IDELTOnline class to give them a different perspective.
Can you tell us about some of the ways you've assisted or advised IDELTOnline students? 
I'm constantly helping students with questions, but one thing that I really love is the live tutorials. There are four for each class and I create a presentation for each tutorial, but I'm really there to talk about whatever the trainees would like, which is often the class and how it's going.
I really like that because I get to meet the students face to face. And I also love hearing from them towards the end of the course about what they're learning is translating into either teaching or looking for jobs, or also just hearing from them after the course. Some of them will add me on LinkedIn and tell me, "I found a job!", and things like that, so that's always really exciting.
In fact, in the last tutorial that I gave, I talked about looking for jobs – how to do that, where to find jobs, and different tips I have for that. So. that's one of my favorite things that I like to do to help the trainees.
Browse open TEFL/TESOL positions online and worldwide on the Bridge Job Board.
Trainees in the IDELTOnline interact with classmates around the world. How does that work and what benefits does it offer?  
I think one of the richest things about this class is the interaction with the trainees. There are several different ways that they do this.
Every week, they have discussion boards where they will read each other's discussion board posts and comment on them.
They have a peer editing part of a lesson plan project that we do, where two students will work with one another to help each other with their lesson plans.
Finally, we all get together at the live tutorials so they can meet me and each other.
Oftentimes, at the end of class, I want to stay in touch so I create WhatsApp groups.
I think there are a lot of different benefits to this interaction:
It helps him reflect on what they're learning and they're able to digest the material that they're learning each week by talking with one another.
Also, we always have a group of trainees from all over the world, so we can talk about our different languages or the languages we've learned.
Some of the trainees are already teaching or maybe have tutored before or maybe have taught a different subject. So, we can all talk about our experiences and learn from them.
Meet Jasmine, an IDELTOnline grad, teaching in Bahrain. 
What makes a trainee successful in the IDELTOnline course?
Just like any class, you really get out of it what you put into it. But this is a graduate-level course, so there is plenty of work to do, including reading and writing assignments.
I always suggest to all the new trainees to create a calendar and a schedule for all the work that they need to get done so they can just do a little bit every day. I think it's easier if you work on it this way, just like I did when I was a master's student!
The IDELTOnline includes a final project in which trainees develop a "philosophy of teaching" statement. Can you tell us why it's an important exercise for future teachers?
What I always tell the trainees to do is take what they've learned, including the research that they've done, and translate it into how they would be in the classroom – and give a portrait of themselves as a teacher.
I think all of the projects we do are really practical, but this one is especially practical because you can take the philosophy of teaching and use it when you're applying for jobs. Oftentimes, if you apply for an English teaching job, they'll ask for your teaching philosophy, or you can take your philosophy of teaching and translate it into a cover letter.