Meet Jasmine, Bridge IDELTOnline Grad Teaching in Bahrain
By Bridge
January 29, 2020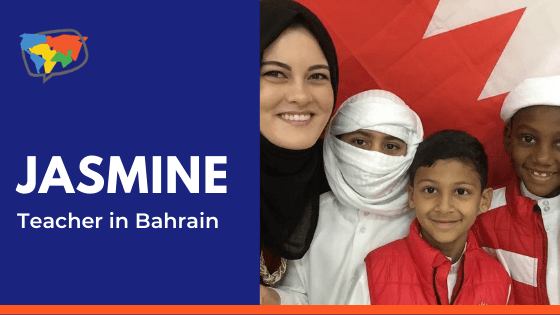 Jasmine is an IDELTOnline Diploma graduate who earned her certification in order to qualify for teaching jobs in Bahrain, where she is working on her graduate dissertation. We asked her about her experience and she shared her unique insights into what it's like to teach in Bahrain. 
Can you tell us a bit about yourself and your background?
My name is Jasmine Smith and I am a Thai-American teaching English abroad in Bahrain. While working on my Master's in Islamic Studies, I decided to take time to work abroad as I work on my dissertation.
As a native speaker with a love for the English language and experience working as a peer writing tutor and a professor's assistant in my college, I decided that teaching English as a second language would be the ideal career to have abroad. It would allow me the ability to travel, explore a new culture, learn a new language, all while earning an income!
You're a graduate of the Bridge IDELTOnline program. Why did you choose that more advanced-level TEFL certification course? 
I chose the IDELTOnline course because it gave me flexibility with the course load during my M.A. program and allowed me to work from the comfort of my dormitory and coffee shops rather than the confines of a classroom.
How do you feel it has helped in your career?
As I learned more about basic teaching strategies, got an introduction to child psychology, and various academics who truly changed the way education operates around the world, I realized my passions for the pedagogy of Maria Montessori and the importance of student-centered learning. The IDELTOnline sparked this interest and passion for education in my career and I am so glad that I took advantage of the opportunity to learn the difference between teaching English to native speakers and teaching it as a second language.
You currently teach in Bahrain, an island country in the Middle East. How did you find your position?

I actually found my first job in Bahrain through LinkedIn. I was searching for Bahrain, specifically. I got in touch with the school owner through the networking site, and she asked for my CV and certifications. I gained experience for 2 years in this kindergarten until I eventually shifted to a larger school. At the latter institution, I was able to gain experience teaching primary English. When this school closed for unforeseen circumstances, I applied at my current school by dropping off my CV in person. Once a teacher is living in Bahrain, the application process is much easier.
Tell us about your teaching position. 
Currently, I am teaching primary school in British curriculum for 2 sections of Grade 3 boy students in English. While I also teach Math and Science, more emphasis and focus is given to language lessons due to the fact that the school is British curriculum and the other two subjects are also taught in English. Therefore, the foundation and a grasp of the English language is a must for students even though they are learning it as a second language.
As the world becomes more and more knowledgeable of English and technology makes the world a "smaller" place, students are aware of the importance of fluency in English.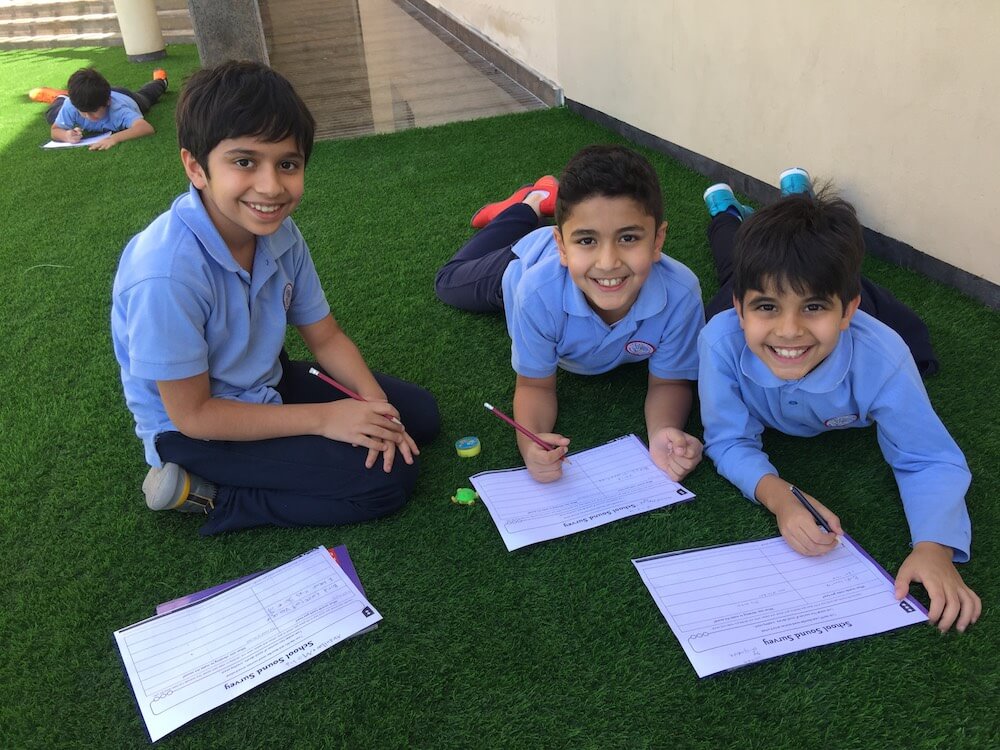 Some of Jasmine's students at work 
What's a typical workday like for you?
The typical workday is greeted with a hot cup of coffee before students arrive for homeroom period. Throughout the week I will have two double periods of English, and one period of English for the rest of the days. I will also have three Science periods a week and Math once a day, every day.
Do you enjoy your job?
Although all jobs have their challenges, I find teaching English to primary learners an exciting and unique experience. As students are learning about the world through technology, social media, and entertainment, their awareness of colloquialisms and cultural references also increases, which offers the teacher the opportunity to present English language learning in fun and creative ways.
How would you describe life in Bahrain?
Bahrain has a very relaxed lifestyle, especially when compared to the other GCC (Gulf Cooperation Council) countries. The local people are welcoming and hospitable as they enjoy entertaining guests with traditional foods, like machboos and harees, and sweets like helwa (date cake), served with Arabic cardamom coffee.
Although the island is small, there are different activities available throughout the island, like water activities, sports, and a vibrant nightlife. Moreover, Bahrain is a very tolerant country that has many expatriates from around the world, from various religious backgrounds, working on its shores including Africans, Americans, Asians, and Europeans.
What are your long-term career goals? 
My long-term career goals are to hopefully pursue a Ph.D. in Middle East Studies, focusing on either history and philosophy, or contemporary Arab art. Both are very interesting and exciting topics now, and I am so glad that I can be within a culture that allows me to experience some of my studies in person. And even though my IDELT will most likely not be my lifelong career path, it continues to give me the opportunity to experience another part of the world through the eyes of children eager to learn and shape the future for generations.
What advice would you give to others who may be interested in teaching in Bahrain? 
Schools in Bahrain often start looking for staff in the months of February-April. Last-minute positions may be available during July and August. Sometimes even during September if a school experiences a sudden vacancy.
My advice for anyone who wants to move to Bahrain is to be careful because the longer you live here the longer you'll want to stay.