Jonathan, From Argentina, Business English Trainer and Materials Developer in Brazil
By Krzl Light Nuñes
December 14, 2020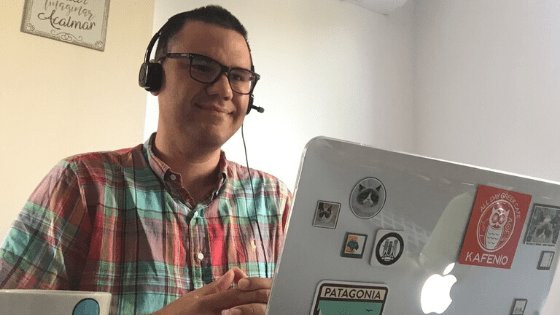 In the midst of the pandemic, Bridge grad Jonathan King, from Argentina, has benefited from his TEFL certification and is thriving as an online English trainer for professionals in Brazil. He also develops teaching materials and virtual workshops. He offers insight into working with learners from various cultures, talks about his current educational projects, and discusses how he has adapted to teaching English online.
Hi, Jonathan! Can you share a bit about yourself?
I was born and raised in Argentina, so Spanish is my mother tongue. However, a part of my family comes from the U.S., and my dad and grandpa spoke to me in English since I was very little. I also lived in the U.S. for a while. So, both languages share the same space in my heart. I'm presently living in Florianopolis, Brazil.
I've been teaching for eight years now. I'm currently working in online corporate English training for two companies and digital material design for workshops and webinars for two other companies. I love teaching languages (English and Spanish) and learning phrases in my students' native language. I'm also learning French and Italian at the moment.
When and why did you relocate to Brazil?
I moved here 45 days ago. The cost of living is lower than in Argentina, the culture is very welcoming and cheerful, and I get to live three blocks from the beach.
How has your knowledge of Spanish helped you as an English teacher?
Being a bilingual teacher is a plus because you give many learners the opportunity to feel more comfortable knowing that they can ask you how to say things. It's helpful not only in regard to translation and grammar but also (and many times, most importantly) functionality. The majority of the people I work with like to know what the best way to communicate is, keeping in mind the cultural aspects. I'm also looking for opportunities to learn phrases in their mother tongues to understand my learners' way of thinking.
Why did you decide to get into online English teaching?
I've always loved teaching, so it was easy to move from face-to-face to online teaching when I saw that the job market had a high demand for it.
Here are 9 reasons to teach English online.
How did you land your online EFL teaching jobs and get involved in your other projects?
I found the teaching positions online. I saw the job posts, applied to them, and went to a couple of interviews.
Regarding the projects, they came from different sources. I have some contacts on LinkedIn who wrote me proposing ideas to work together. But the projects I'm currently involved in mainly come from my personal network, as I'm more of a face-to-face person. I love to learn from other people's experiences and professional skills. This means I actively show interest in others and have frequent conversations with colleagues and other professionals, asking them many questions. This creates the right setting for me to be able to collaborate on different projects.
Browse English teaching jobs online and abroad on the Bridge Job Board.
What companies do you work for?
I'm currently working for the European company Learnlight, teaching English online, a local Argentinian company called Pensaris, giving webinars and online workshops, another from Europe called M2i, which is currently in a Latin America expansion project, and Fundación Telefónica Movistar, where I do a few tutorials.
Find out what types of jobs you can get with a TEFL/TESOL certificate.
What is one of your favorite activities or strategies to use while teaching English online?
I'm still learning since there are many different techniques and approaches to teaching virtually. But so far, one of my favorite ones is the use of simulations. Learners practice real communication skills, have fun, and improve their use of language all in one activity. And, I find that they really appreciate it when the topics and activities are adapted to their current professional needs.
Learn how to develop online activities for adult ESL learners by taking a short Micro-credential course.
Can you tell us more about the educational projects that you're working on these days?
These days, I'm busy with online group and individual lessons and webinars. These are focused on English use and business skills, such as multicultural group management and effective communication through virtual media. In some of these, I have the opportunity to design materials and activities, having the learners' needs and goals in mind.
Specialize in designing materials for English classes by taking a short Micro-credential course: Materials Development for the EFL Classroom.
What do you like about teaching and working with people from various countries?
I love the opportunity to work with different people from all around the world. I literally have students from four continents. I see that the best way to work with all of them is by adapting the lesson dynamic to their culture by being attentive and thoughtful. The process in which you get to know the learners and their learning style and see how the techniques that you apply from the TEFL/TESOL course actually work is priceless. It obviously takes time, but it's most rewarding.
How do you juggle your time between teaching and working on different projects?
Well, to be honest, it isn't easy. I need to start the day early (when I'm more inspired since I'm a morning person) and have a set hour to stop working. I also leave one weekday free to do other things. I found out that I'm more productive that way. Instead of working 24/7 all week, having a clear and defined time to rest and get distracted makes the time I spend on all these projects more dynamic. Moreover, I have a fresher approach to the tasks I need to complete.
I think it's very important to separate work from other activities, especially now that we could be spending the entire day sitting in the same chair.
Read these top tips on how to avoid burnout when teaching English online.
How has the COVID-19 crisis affected you as an English teacher?
Now, with the pandemic, all the work is done online. However, it's difficult for me to work 100% virtually. I miss conducting workshops and face-to-face lessons so much. But the truth is that it is much more convenient to teach online, and I have to admit that the demand for certified English teachers has peaked since the start of this pandemic. Also, the chance to work for companies from all around the world has been certainly boosted by the COVID-19 crisis.
Simply put, it seemed like the right choice. The syllabus looked very thorough and flexible at the same time. I didn't want to become an expert in teaching only one type of learner or using a short range of techniques. This certificate offered different tools and points of view on teaching in different environments, and I'm happy to see that it was the best choice.
How has this course helped you professionally?
Thanks to Bridge's certificate, I got my first job teaching online. I got the job two weeks after finishing the course.
While completing my online TEFL certification, I learned about the complete scope of the online teaching market. So, at the end of the course, it wasn't only about getting a job teaching English but rather where you would be in the bigger picture. I value that knowledge as a key to being a true professional in any trade.
How have you used your Bridge digital badge for this course?
It's proudly exhibited on my LinkedIn profile page.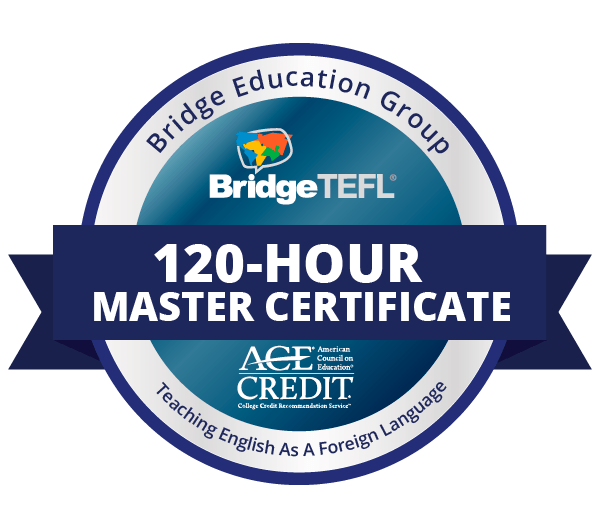 What are your plans for the next weeks or months as the world deals with the pandemic?
I'm looking for future opportunities to relocate to another country. I love to meet new people and learn from other cultures. I'm just waiting for the chance to fly away when things settle down a bit.
Do you have any advice for people new to teaching or who are now looking at teaching English online as a possible job option?
The demand for committed teachers is very high now. Don't hesitate to get your certificate and enjoy the exciting experience of meeting and working with people from all around the world!