Jorge Vergara was studying engineering when he decided to switch career paths and pursue his passion for teaching English and using the language to inspire change. A confessed lifelong learner, he shares his experience with the many TEFL/TESOL certification courses he has taken, including the graduate-level IDELTOnline™, and describes how he has adapted as a freelancer in Chile amid the current global pandemic.
Hi Jorge! Can you tell us a bit about yourself?
I am Chilean. I live in Machalí, a couple of hours from Santiago. I studied industrial engineering, and I must say it is a brilliant career, but something was wrong because I felt incomplete – something was missing among the universe of numbers and calculation. In the second year, I dropped out of the engineering world then decided to learn and teach the knowledge and wisdom of this beautiful language, which I've been teaching for more than four years now.
Why did you decide to join the teaching field?
I decided to join the field because I fell in love with this language and its endless source of knowledge, from its grammar structures to the history behind its evolution. Studying it led me to discover new books, new relevant people, and many masters – among which I want to highlight Master William Blake and Master William Shakespeare. I saw myself involved in an overwhelming universe without boundaries. My motto is, "If you want to learn, you must teach."
Had you already taught English before you got certified?
Yes, I had. I started doing classes by myself without any formal contract in 2017. Most of my students were from universities and institutes looking for specific support to pass a test or for research subjects. After that year, I was hired by Tronwell institute with a formal contract. By then, I was finishing the 120-Hour Master Certificate on the 22nd of July 2019. After that, another opportunity appeared, and a Technical Training Office hired me and that was the entrance to great companies like Nestlé.
I had great experiences teaching in different industries, among them the supply chain team of one of the factories of Nestlé in Chile. In the mining industry, I had the great opportunity to share my classroom with the after-sales service manager of Epiroc, Javier Vásquez, which was one of my most exceptional experiences.
Because of the virus situation, I quit my last teaching job and now working in an ambitious project to create my own business, but step by step, patience is the key.
I began with the 120-Hour Master Certificate, which was my first experience studying at Bridge. It was a great start, a great beginning encouraging me to go further. Then, I decided to take the IDELT course (International Diploma in English Language Teaching) because it is necessary to keep improving and it was a challenging step because I knew the IDELT had a beautiful complexity.
At first, my plan was to travel to Bridge in Denver, Colorado to take it, but I was forced by the COVID-19 situation to study online. I cannot complain at all. When you love what you do, the hardest challenges are priceless.
How was your experience with the IDELTOnline?
My experience with the course was fantastic. Each unit encouraged me to go deeper and deeper into the art of teaching. The structure of the course also has a great organization: the assignments are clear and the interaction with the platform is not difficult at all.
Did you interact with your instructor or other trainees in your courses? If so, in what ways?
I had the tremendous opportunity to study with excellent teachers, and I want to take this opportunity to give thanks to Katrina Schmidt, my IDELT teacher, to Terry Mclean, my Business English teacher, and Karina Zew, my Master Certificate teacher. I love you, dear teachers, thank you so much for your patience and constant support in each step, they helped me to improve and learn from my mistakes.
Get to know Bridge course tutors.
How has the training you've taken helped you professionally?
It helped me focus on how important it is to create a good plan and organized class, taking into consideration the physical and psychological environment to ensure effective communication. The IDELT encouraged me to be aware of the constant changes and challenges of teaching English and the importance of developing strategies to reach an effective learning process.
How have you used your Bridge digital badge for the courses you took?
I shared my badge on LinkedIn and Facebook.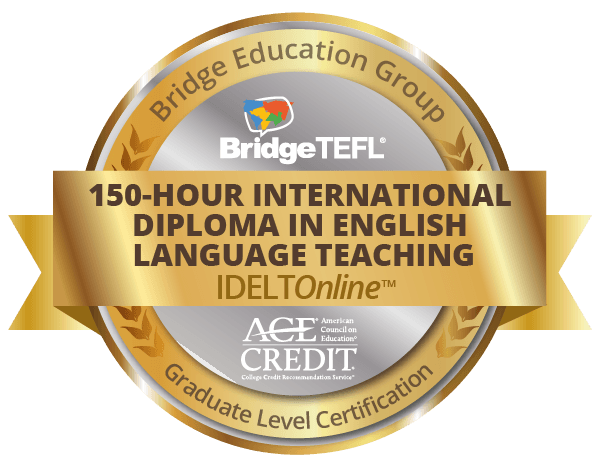 I decided to take this micro-credential course to learn more strategies and procedures to succeed in a multicultural classroom.
I also think that this course is essential to go further. I mean, saying "global" involves several cultures. As a teacher, we must generate a powerful strategy to teach this language in a transversal way and to integrate every single culture with respect.
Browse the growing portfolio of free Bridge Micro-credential courses!
How have you adapted to the COVID-19 crisis as an English teacher?
Because of the crisis, I lost a great project in a huge company. Nevertheless, I immediately put my mind to learning new strategies to teach online to find new students. Adaptation to the pandemic is vital to success. I started developing ideas on how to use a virtual classroom and the teaching techniques involved with it.
I tried several platforms, and the more comfortable one for online teaching was Zoom – its technical features help to cooperate with the class' interactive factor. As soon as the technical matter was solved, I felt more relaxed and confident to develop courses, and I created advertisements, sharing them on Facebook and LinkedIn, as well as with friends, to promote my classes.
Coming up with a marketing strategy, I decided to offer classes on English grammar, which I believe is one of the most crucial factors in the language. The results were excellent; my cellphone was constantly ringing with calls from students asking for more information and details about the courses.
Learn the business and marketing skills to launch your own teaching business in the Bridge Teaching English Online as a Freelancer Course.
You've recently gotten new students! Can you tell us how you found them?
I was recommended by one of my students! It was a great surprise because I never expected it. If you start with only one student doing your best, your work will soon be noticed by people because knowledge and wisdom always create an impact immediately, creating a substantive and gradual change in students' lives.
Chile is slowly coming out of lockdown. How do you think this will affect your job prospects?
The case of Chile is quite unusual since unfortunately to a large percentage it is a culture quite far from being organized and prepared for emergencies. As a matter of fact, a high percentage of the population in Chile got infected because of their irresponsibility. In front of this lack of organization by the government and the people, I focused on recursiveness in developing online classes, which I believe has an essential projection in time to be the primary source of professional training and meetings.
How would you like to develop your teaching career?
Step by step, I am starting as a freelancer, and of course, every opportunity is essential. If I get a chance to work for a company, I will take it.
I want to develop my career by teaching based on andragogy principles. From my personal and professional perspective, teaching adults is vital because our children are always learning from us, not only from our verbal and cognitive assignments and classes but also by our actions and behavior.
As a teacher, I always keep in mind the words of the great Master Pythagoras of Samos: "Educate the children, and it won't be necessary to punish the men." My compromise with the language is not only to prepare professionals in the technical matters but also in the cultural and psychological aspects within.
Do you have advice for English teachers who want to teach in Chile?
For foreign teachers, I would recommend them to have patience, a well-structured, positive attitude, and an open mind because Chile, compared with other countries, has been shattered in terms of the language culture. There is a significant lack of government attention to the new generations and teachers must work hard to create a substantial change.
Great students in Chile always prefer to study abroad and start their lives in another country because they hardly get recognition and a chance to develop in professional terms. If we take the decisive attitude about this situation, it will create an opportunity to encourage students to create a significative change, with intelligence as the primary tool and culture as the essential factor to develop great ideas and projects.
Here in Chile, there are a lot of students and professionals with serious problems with the English language. This is why I recommend all teachers show how beautiful and powerful English language communication and its culture are, and to create a real and positive change.