Are you a freelance online English teacher trying to attract more English students? Whether you're promoting your tutoring services via a teacher marketplace platform or you have your own business, creating an eye-catching online teacher profile can do the trick! If you haven't made yours yet, or the one you made needs improvement, here's a guide on how to make an online teacher profile students will notice.
What is an online teacher profile?
When you make the leap to teaching English online, one of the crucial first steps to succeed is finding students and building your client base.
Aside from posting ads or relying on word-of-mouth recommendations from existing students, you can also use the power of an online teacher profile as a marketing tactic. Your teacher profile provides potential students with a snapshot of who you are and what you have to offer. It can include elements such as your photo, bio, TEFL certifications, fees per hour, and student ratings. Think of your online teacher profile as a living document that can turn you from a faceless ESL teacher to one that students will want to take classes with.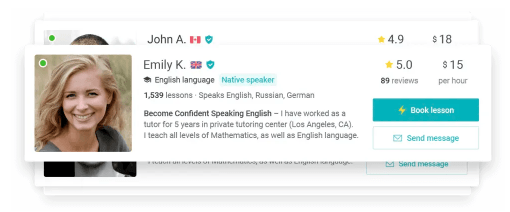 Engage and retain more students as a freelance online ESL teacher by following these tips.
Who should make an online teacher profile?
An online teacher profile substantially benefits any online English teacher who wants to spread the word about his or her classes. In particular, these TEFL/TESOL teachers need an online teacher profile to give their career a boost:
Freelance teachers with their own tutoring business
Getting your English tutoring business out on the online market means that you're introducing yourself and creating an impression to prospective or new students. Therefore, providing a teacher bio, image, and introduction video gives them a picture of who you are and how your work as an ESL teacher.
Teachers using a marketplace
Freelance teachers often promote themselves through teacher marketplace websites. On these sites, which act as a sort of agent between teachers and potential students, you post your profile in hopes that students choose you as they browse through possible tutors and select the one they want.
When a marketplace advertises English tutors on their platform, an online teacher's profile description is the first thing that potential learners see. With this, having an eye-catching teacher profile is key not just to let students know about you but also to grab their attention.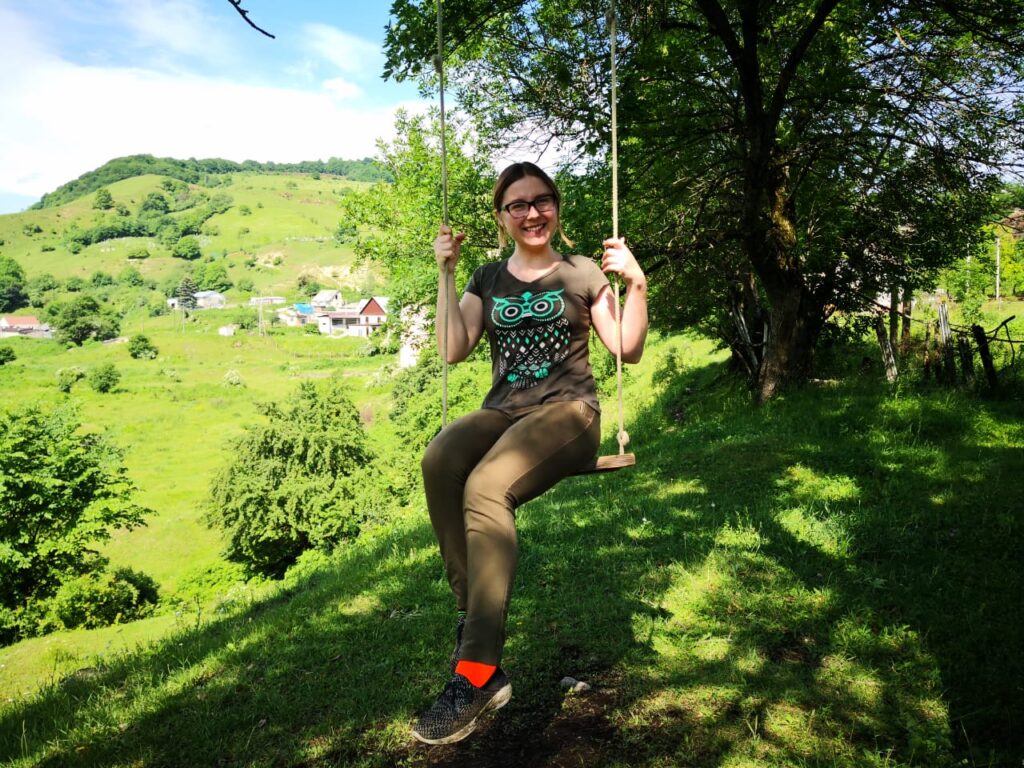 Teachers applying through a job board
If you're applying to online teaching jobs through job board sites, you might have to make an online teacher profile, too. Although you may be asked to upload your resume on their platforms, recruiters only have so much time to read through applicants' resumes. For this reason, job boards sometimes require you to make a teacher profile and use it to apply to jobs you're interested in.
Where do freelance online English teachers have profiles?
As a freelance online English teacher, there are various websites and platforms where you can connect with students, and these are all places where an eye-catching teacher profile can help you stand out. Let's look at some of them.
Online teacher marketplace platforms
Teacher marketplaces require you to make an online teacher profile when you create an account. Besides a bio, a photo, and a summary of your professional teaching work, you may also be asked to upload a self-introduction video on the marketplace's platform.
Personal website
It's also common for freelance online English teachers to launch their own websites for their online ESL business. In this case, the teacher profile can be posted on the main page or on a separate one that prospective students can easily see.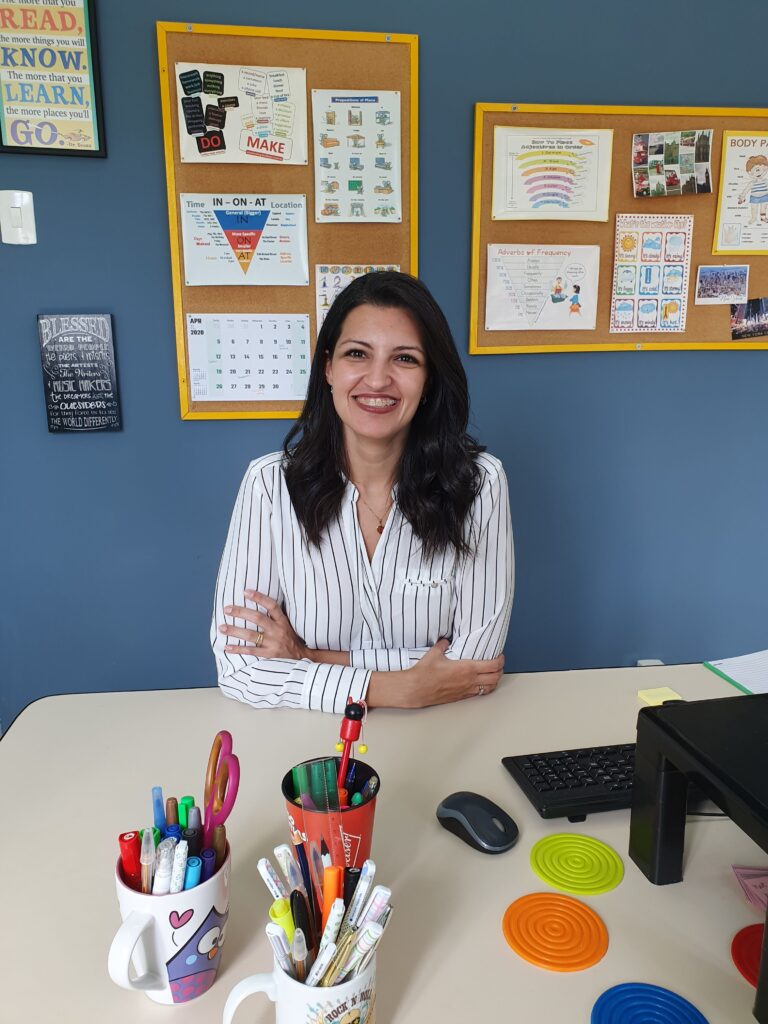 Social media sites
You can also advertise yourself as a freelancer to a wider audience by creating a LinkedIn account or a professional page on Facebook and Instagram. Once you've made your online teacher profile on these platforms, it's easy to share your profile's URL link to online groups or communities or to your personal website.
Read about other ways to market your freelancing business through social media.
Freelancer sites
A lot of independent online English teachers these days also look for students or employers through freelance websites like Upwork, Fiverr, and Freelancer. On these platforms, you'll have your own freelancer profile page where you can easily add your online teacher profile description.
Why is it important to make a good online English teacher profile?
Regardless if you're a freelancing newbie or if you've been running your ESL tutoring business for years, a strong teacher profile offers many advantages.
With an engaging online teacher profile, you can cut through the noise and set yourself apart from a sea of English tutors – even if you're not a native English speaker or an experienced teacher.
Even if you're an English teacher whom learners have never met in their life, having an eye-catching teacher profile can spark their interest in learning with you.
With a great professional profile, you will not be overlooked by employers when you apply to online teaching jobs, meaning you can have a better chance of scoring an online teaching position in a company.
By showcasing your qualifications and expertise in an attractive way, you can convince a student that you're a perfect match for their English needs, especially if they're looking to learn a specific subject such as business English or IELTS prep.
Your teacher profile is the first impression potential students will have of you. It's your chance to let your personality shine through.
How can you make an online teacher profile that stands out?
Here are tips on creating a well-crafted online teacher profile or improving the one you have.
Choose a good profile picture
The first impression you give students and parents starts with the profile picture.
As a rule of thumb, you should appear professional yet friendly in your photo.
A smiling face makes you look approachable and confident, plus it instantly sends out positive vibes.
Wear appropriate clothes. If you're targeting to teach adults, for instance, go for a business casual look. On the other hand, choose to wear bright colors if you want to attract young learners or their parents.
Opt to have a clean background in neutral colors.
Your profile picture should show your face from the shoulder up.
Make sure that you're posting the most current photo of yourself.
Write a strong bio
Generally, your teacher bio, in which you introduce yourself and describe what you have to offer students, should not be too long (around 3 paragraphs) and should be formatted in a way that's easy to read (such as with subheadings for the different categories).
Choose the most relevant information to include in your bio, like your teaching certification, a brief description of your ESL teaching experience, and your unique strengths.
Check that the language you use is easy to understand. Remember that a lot of your teacher profile readers may not have a proficient English level yet. For example, avoid using slang or technical teaching terms.
Don't be afraid of writing your bio creatively, such as using humor or speaking to some of the "pain points" students have in a relatable way!
Use a warm, conversational tone in bio to sound friendly and make students feel more welcome. (Just be wary of writing in an overly casual way.)
Add some fun tidbits about yourself, such as your hobbies or interests.
While you want to present yourself as a professional in your teacher profile, remember that you also have to be able to make a connection with learners and convey that they would feel comfortable taking classes with you.
Summarize your qualifications and experience
You don't have to chronicle all your teaching achievements in the last years. Instead, you can simply choose the most important details to mention, such as:
The type of TEFL/TESOL certificate and other relevant credentials you possess.
Your bachelor's degree, if applicable.
The number of years of English teaching experience you have.
The kind of clients you've worked with in the past.
The types of classes you specialize in.
Highlight specializations and teaching niche
Do you have specialized TEFL/TESOL certification in fields such as teaching Business English, teaching kids, or preparing students for language certification exams like TOEFL and IELTS? Don't forget to put these qualifications in the spotlight, too!
Additionally, you can include the expertise you developed in your past careers that gives you an edge in specialized areas of English teaching. For instance, you can mention you have a background in accounting and offer to help students learn finance-related terms in English.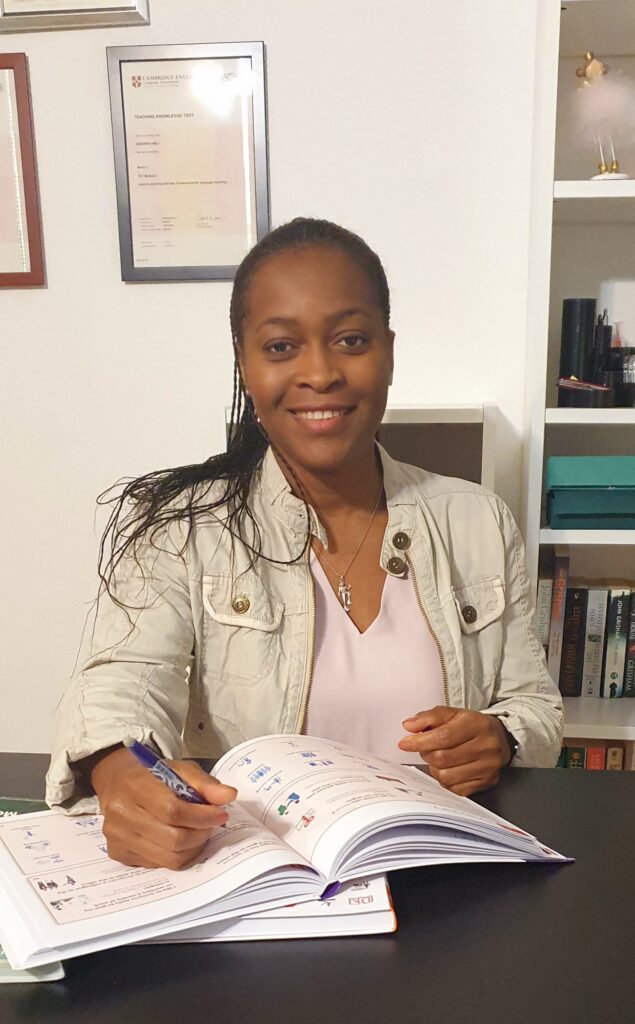 Add a self-introduction video
An intro video is an essential piece of the puzzle when it comes to attracting students. In general, this one-to-three-minute video should spotlight your qualifications, while building rapport with prospective learners.
Record your video in a quiet and well-illuminated place.
Make it a point to speak clearly and slowly in your video.
You can write a script for your video, but don't read it while filming.
Don't forget to smile and be confident!
Check out more tips on crafting a stellar introduction video for teaching English online and see a sample.
Upload your resume
Although students, parents, and employers can learn the most important information about you from your freelance teacher profile description, some of them may still require your resume.
Your resume should look clean and reader-friendly. Use fonts that are easy on the eye and don't use more than two colors for the text and background.
Organize your job responsibilities, achievements, and skills in a bulleted list.
Avoid abbreviations, jargon, and flowery language.
Learn more about writing a stand-out online English teacher resume and see a sample.
Mention other relevant services you offer
Feel free to mention any expertise you have in other areas related to the English language, like translating, copyreading, or blog writing. Who knows, a student might just be looking for an English teacher who can also do translation work!
Add digital badges
Showing the digital badges you've earned from your online TEFL certification courses makes your credentials easily visible to students and recruiters alike. Clicking these badges also allows your profile viewers to read about the programs you've taken in detail.

Include student reviews
Adding reviews of the students you've taught in the past not only adds to your credibility as an English teacher but also gives potential clients an idea about the quality of your work.
If you're working for a marketplace, students can write their comments or testimonials about you in the review section provided on the platform.
If you're working for yourself, you can ask students to write a review about your tutoring business on your Facebook page, Yelp, or the comments section of your website. Afterward, you can add the link to the reviews or copy some of them to your online teacher profile.
Contact information
Finally, be sure that interested students can contact you easily. Provide clickable links to your email address, website, and work phone number (if possible) on your teacher profile, and make them visible by putting them at the top. This way, your clients don't have to scroll through a long page or spend time looking for your contact details if they decide to take classes with you.
You don't need tons of marketing experience to win students over as a freelance English teacher—you can simply start by crafting an online teacher profile that catches students' eyes. It may require you some effort, but it will surely lead you to grow your student base and stand on your own two feet as a freelance ESL tutor.