How to Make a Stand-Out Online Teacher Resume (+ Sample!)
By Krzl Light Nuñes
April 28, 2020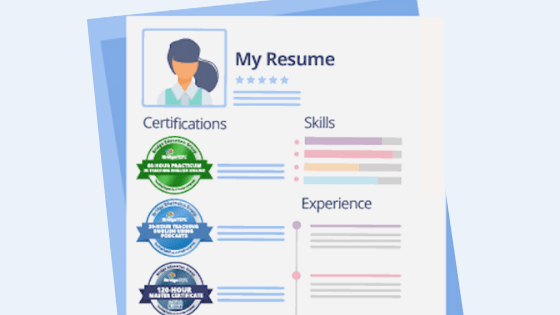 Whether you want to get your feet wet in online English teaching or ready to press the "apply" button on that virtual ESL job post, you will surely be asked for your online teacher resume. But you may wonder, is it important to have a resume specific to teaching English online? Definitely! But don't worry, it's not difficult to make one, especially if you give the resume you already have a little revamp. Here's how you can make your professional profile dazzle, plus a sample resume for inspiration.
How is a resume for an online teaching job different?
Your technology-related skills are taken into consideration
Are you tech-savvy? As an online English tutor, you'll teach in a virtual classroom, so your knowledge of digital communication platforms like Zoom or Skype will carry a lot of weight. This is also true for other programs used for online teaching, including presentation tools like PowerPoint, or class management tools like Class DOJO or Google Classroom.
Do you need to learn tech skills like these? Learn your way around these popular platforms and much more with Specialized Certification in Teaching English Online.
The equipment you have counts, too
Having quality equipment is very important in online classes, so you should mention the basic specifications of your computer (make/model/operating system/processor speed, etc.) and other communication equipment you may have such as a webcam and working headset.
Your Internet speed and connection are also important for teaching classes online. Make sure that you have a stable Wi-Fi connection, or better yet, get wired! Some jobs may require you to include the type of connection and Internet speed you have on your resume, but even if they don't, it's a good idea to list these things. If you're not sure about how fast your Internet is, you can do a speed test through this site.
You may have to include a video introduction
It's not uncommon for online English teaching companies to require applicants to provide a link to a video introduction for teaching online on their resume. This is one notable difference between applying for online English teaching jobs and classroom-based ESL work. If you already have a professional video uploaded on the web (such as on YouTube), include the link in your resume.
What if I have no teaching experience?
If you're new to teaching, don't worry! Include your other work experience, internship, projects, and even volunteer work; any role related to teaching and helping others can be relevant, even if it wasn't in a formal classroom setting. Maybe you gained valuable skills working with kids when you tutored your neighbors' son, coached a soccer team, or did babysitting work. Or, a past writing gig for a magazine could prove you have English language mastery, while the non-profit organization you started reveals that you have great leadership skills. Regardless if they are paid or free, these experiences can show that you have certain crucial skills required as an online ESL teacher.
Learn ways your non-teaching experience can transfer to teaching English online.
Good resume writing essentials
Your resume's overall goal
Yes, your resume highlights what you've done in your professional life, but it also provides a snapshot of what you can offer to the employer and why you stand out among dozens of other online English teachers. This snapshot should be presented in a way that is both compelling and easy-to-read because hiring managers only have so much time to take in all the details on a resume.
Additionally, your online teacher resume strives to show that your profile, experience, and achievements match or at least share some characteristics of the prospective job. Plus, you can also use the information from your resume if you create a teacher profile to market your tutoring services via an online teacher marketplace. Simply copy and paste the information right off your resume and save time! 
Formatting basics
On a general view, your resume should be clean and crisp.
If you've earned digital badges for your Bridge TEFL/TESOL courses, include them toward the top of your resume to grab the attention of the hiring manager.
Use fonts that are easy to read. The most common font used in resumes is Times New Roman, but Arial, Calibri, and Verdana are also clean and sleek.
Stick to no more than two font styles.
Use black for text and white for background color. You could also one other color for accent, but try to use around two colors max.
Emphasize headings or subheadings by using bold or italics, but with consistency. For instance, heading titles could be bolded and job titles could be italicized.
Steer clear of ALL CAPS, except for section titles like "WORK EXPERIENCE."
Divide the sections using white space so that they look neat and can be easily distinguished.
General tips:
The highlights of your profile should be easily scannable. For this, keep job titles clear and brief, changing your official job title, if necessary. For instance, the job title "English Language Teacher – Adults" is much clearer than "Adult Education Language Acquisition Specialist: Level 1."
Avoid abbreviations. Not everyone can easily understand what it means that you have an A.Ed. or passed the ACTDEC.
Jargon and flowery language are best avoided. Terms like "scaffolding" and "coursecasting" might not be common knowledge. You can always mention these skills in your interview.
Make good use of bullet points for breaking down job responsibilities, achievements, and skills.
After you proofread your resume, ask a friend to also look it over and/or use an online proofreading app like Grammarly.
What should my online ESL resume include?
Basic information
Your name, address, phone number, email, and citizenship should all go on your resume's header. If you have a Skype number/ID, you can include it too, especially if you're a traveling teacher. It's also important to include a professional-looking headshot photo next to your personal information. In addition, some positions may require you to add your gender, age, or marital status, so you can include this to be on the safe side.
Digital badges
When you complete a Bridge online course, you'll earn a digital badge, in addition to your certificate. Your resume is the perfect place to showcase these badges because they're not only visually appealing but also a dynamic representation of your achievements. When employers click on your digital badges, they'll be taken to a unique landing page where they can see all the details of the courses you took, including verifiable skills and achievements.

Pro tip: Digital badges can be shared anywhere employers are looking, such as your LinkedIn profile, Facebook, a personal blog, or in your email signature. Learn more: How to use your digital badges to get a TEFL/TESOL job.
Professional summary
Usually a short paragraph of one to three lines, this introduction to your resume gives a summary of your teaching background, outstanding traits, career objectives, and the most relevant degrees or certifications you have. Align your professional summary to the profile of the online school or job you're applying to. For instance, if you are applying for a job as a business English teacher, mention your expertise in this area.
Education
Most teachers put this section next. List your degrees, certifications, and other formal training programs that you've taken and include their completion dates, beginning with the most recent one. Besides your TEFL/TESOL certification, any related specialized training you've had, like a Teaching English Online Certification, will also definitely be an advantage!
Add short, targeted Bridge Micro-credential certifications to your existing credentials to make your profile stand out.
Teaching experience
Next, if you have teaching experience, list any teaching jobs you've had for the last 10 years, starting from the most recent one. Each entry should include the job title, name and location of the employer, and employment dates. Briefly explain the responsibilities for each role, either in a sentence or two, or using bullet points. As with job titles, keep your job descriptions clear and concise. Also, don't forget to highlight any particular accomplishment you've had in each job, such as
Pro tip: Numbers create a better picture of your achievements. Consider answering the questions "How much?" or "How many?" in your job descriptions. For example, instead of flatly stating:
"Prepared and conducted English lessons for high school students."
You could make it more specific by writing:
"Prepared and conducted five weekly English lessons for third-and fourth-year high classes of 20-30 students."
Other employment experience
This is where you'll list non-teaching jobs. If you don't have any teaching experience, simply call this section "Employment Experience" and include your work history here. List your previous jobs in the same format as above.
Remember that while these are not be teaching jobs, these experiences reveal not only the number of years you've worked professionally but also the skills you've acquired. Always look for ways to connect the jobs you list with the online ESL teaching job you're applying to. For example, if one of the positions you held was "Online Technical Support Specialist," be sure to highlight the computer and customer service skills you developed in this role since those same skills apply to teaching online.
Skills
Create a list of your job skills that are in line with the online English teaching position you are targeting. Put hard skills such as computer software knowledge or excellent command of other languages at the top of your list, then mention relevant soft skills, like creativity or communication.
Achievements
This section is optional, but adding any awards or recognition you have received helps you stand out further!
Hobbies
Including this section is also optional, but mentioning your interests and free-time activities could give employers insights into your personality or provide talking points for your interview!
Sample Resume
Need some inspiration? Check out this sample online teacher resume with digital badges!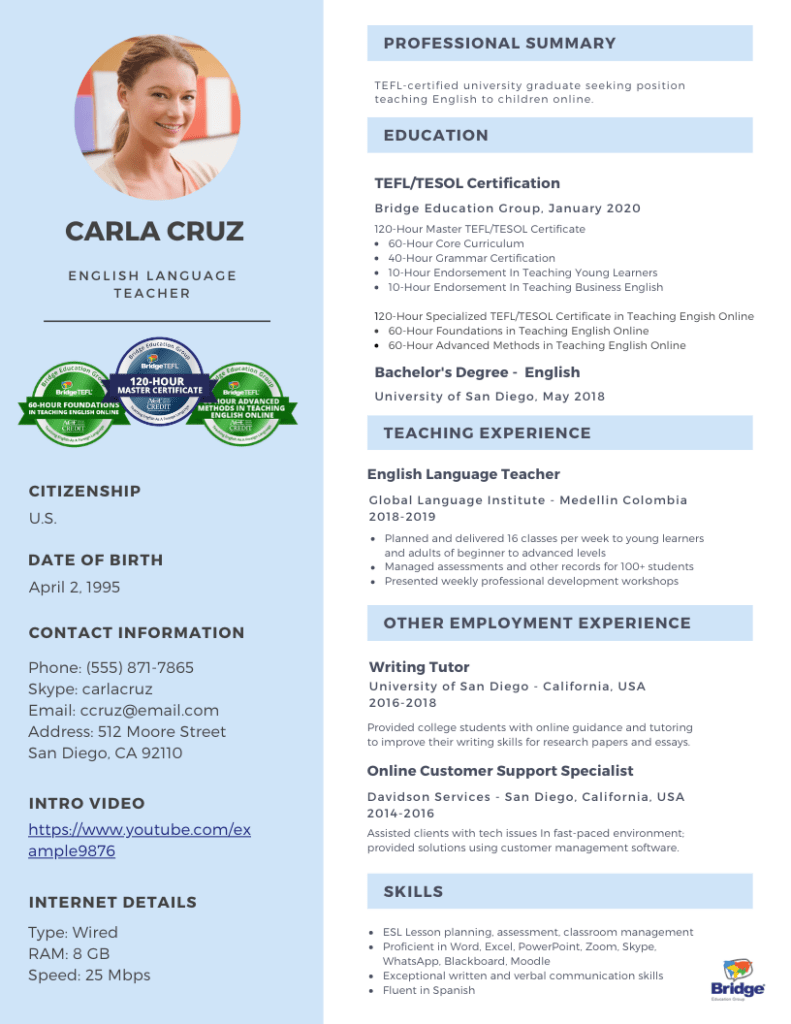 Whether you're about to write your first resume ever or you just need to tweak your current one, creating TEFL/TESOL resume specific to teaching English online will be sure to get a second look and put you a notch above the competition in your search for online English teaching jobs!
Once you've applied for jobs with your updated online teacher resume, get ready for the next step – the interview process and demo lesson. Learn what a teaching demo is and how to ace yours!