No Puppets Required! Teach English Online to Adults With These Companies
By Camille Turner
April 9, 2021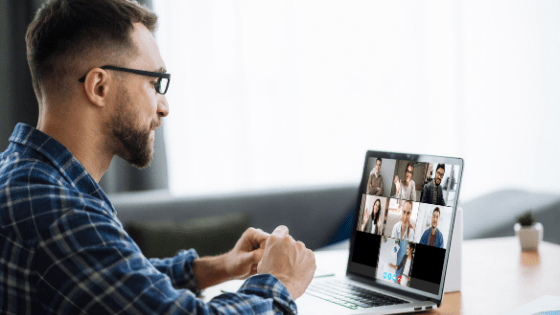 When you think of teaching English online from home, you probably picture working with kids, which is, in fact, the age group most online tutoring jobs involve. Yet, teaching young learners is not for everyone! If that describes you, you're in luck – there's an alternative. We'll show you how to teach English online to adults.
Download our free eBook, Teaching English Online, for a deeper dive into working with adults and other age groups in the virtual classroom.
Online tutoring companies that cater to adult ESL students
When you're browsing online teaching jobs on the Bridge Job Board or other resources, you'll see a lot of positions advertised to tutor kids, especially students in Asian countries, such as China. However, you just have to dig a little deeper if you'd like to teach adult students, and these companies are some examples.  
This online tutoring company works with both kids and adults. They teach 1-to-1 classes, with the adult classes focused on developing and improving communication skills for the workplace or preparing people for English proficiency tests such as the IELTS, TOIEC, and TOEFL. They work with employees of many corporations within Vietnam, such as Vietnam Oil and Gas Corporation and PepsiCo.
"After my TEFL course… I applied for jobs at multiple online tutoring companies and set up several interviews within the first two weeks of sending out applications! I ended up accepting a job at E-Space Vietnam. One of the highlights of teaching English was working with the same students every week and getting to learn about their lives and see their improvement over time." Read an interview with Ben. 
Based in Vietnam, Topica Native caters to students in Southeast Asia. They have more than 2,000 teachers and over 50,000 adult students from Singapore, the Philippines, Indonesia, Thailand, and Vietnam. As a tutor with Topica Native, you'll work with university students and working people who want to improve their conversational English. Teaching experience and being a native English speaker are preferred qualifications, but neither is strictly required.
Learnlight has company clients all over the globe, and they design specialized programs for each of their students. Learnlight English trainers act as mentors and closely monitor students' success. They look for tutors who can commit to at least 10 hours per week and who have a background in business (preferred but not required).
EF English First is great for those looking to become an online ESL tutor for adults. While the company originally began operating in China, they currently have schools in 107 countries, and their online students come from all over the world. Adult classes range in length, including 20, 40, and 45-minute sessions. 
"Most of my students are business professionals that either work for multinational companies, want to move abroad, or have English-speaking colleagues. For many of my students, improving their English is intrinsically tied to achieving their big career dreams, like nailing an important meeting or getting a promotion. Being able to help students reach their ambitions can be incredibly rewarding as a teacher. Read an interview with Betsy.
Voxy offers online English language instruction to adult students from all over the world.  They hire English language teachers on a part-time, contracted basis to teach task-based, online private and group classes using only authentic materials.  Teachers can expect to teach business English, general English, English for specific language exams, like the TOEFL, and any number of specialized courses.
Catering to Asian students of all ages (they work with kids and adults), teachers at iTutorGroup can opt to teach university students, business professionals, parents, retired adults, or any number of types of adult students. In addition to TEFL/TESOL certification, a bachelor's degree is required to teach with iTutorGroup, and at least a year's teaching experience. Tutors must be able to commit to 5 hours per week, at minimum, but since the platform is online 24/7, schedules are flexible. 
"I began my TEFL career with iTutorGroup. It's been an amazing journey with them — just so many career advancements and opportunities that they've given me. I went from just being a normal teacher — teaching kids and adults — to doing demo lessons, where I'm basically selling the product. That was amazing! I've also become very involved with teacher training." Read an interview with Gabrielle.
What qualifications do you need to teach adults English online?
TEFL/TESOL certification
TEFL/TESOL certification is usually required if you want to be an online ESL tutor for adults. At the minimum, employers want to see that you've completed a certificate with at least 120 hours of TEFL training, which is the industry standard.
While this kind of general certification is typically accepted by employers, to really stand out from other applicants and qualify for more jobs, it's recommended that you earn Specialized TEFL/TESOL Certification in Teaching English Online. Unlike other courses, this suite of Bridge courses is 100% focused on the theory, methods, practical skills, and technology of teaching in the virtual classroom.
Bachelor's degree
While each company has slightly different requirements, the majority of jobs teaching adults ESL online will ask that you have a bachelor's degree or higher. Occasionally, you can find opportunities that don't require a bachelor's degree, but it's rare. That being said, oftentimes the degree doesn't have to be in a specific field. 
If you don't have a degree, you still have options! Learn how you can teach English online without a college degree.
Teaching experience
Teaching experience is not always required to teach adults online—though having some greatly improves your prospects of being hired by the online tutoring company of your choice.
If you're looking for a way to gain experience teaching adults online, the Bridge Practicum in Teaching Online is a great place to start. This hands-on component gives you the chance to apply what you've learned with an actual student. You'll also have the ability to record your practice-teaching sessions and share the best sample videos with future employers when applying for jobs.  
English proficiency
It's important to note that you don't necessarily have to be a native English speaker to teach adults English online. While some companies may require this, many of them just want to see that you're fluent in the language and have completed the professional training needed to teach English online. 
Learn more about teaching English online as a non-native English speaker.
How do I get started if I want to teach English online to adults?
Here are the steps to get started right away as an online teacher working with adult students:
Step 1: Make sure you're qualified and have the right equipment.
Apart from the basic requirements of TEFL/TESOL certification, a bachelor's degree (sometimes), and English proficiency, you'll need certain tools to teach English online to adults. Most jobs require: 
A desktop or laptop computer
A high-speed Internet connection (often wired, rather than wireless)
A headset with a mic
A webcam
Being super tech-savvy is not essential to teach online, but you should be comfortable using a computer and various software. The Bridge Practicum in Teaching English Online (included with our full, 180-hour Teaching English Online Course suite) will familiarize you with a typical online teaching platform and the software and tools of the virtual classroom. 
Step 2: Prepare to apply for jobs.
Update your TEFL resume so that it's geared toward teaching adults online. Include all of your qualifications, recent TEFL professional development you've done, and any specializations you've completed. You can also include digital badges on your resume, which provide a dynamic way to showcase all of your qualifications and accomplishments to employers at a glance.
In addition to updating your resume, be sure to research what to expect in a video-based job interview and have all of the requirements (a clean teaching background, a fast and stable Internet connection, a headset, etc.) ready beforehand. 
Learn what to expect in a TEFL interview.
Step 3: Search and apply for jobs.
You can use popular sites like LinkedIn to get TEFL/TESOL jobs or, to make things a bit easier, try searching for opportunities on job boards dedicated solely to teaching English, such as the Bridge Job Board, where you can filter for jobs teaching online and then scan for positions with adult students. You can even create a teacher portfolio that highlights your skills and experience.
Can you picture yourself teaching adult learners online? Download our free eBook, Teaching English Online to learn about requirements, types of jobs, technology and equipment needed, and how much you can expect to make as an online English teacher.