For aspiring freelance online English teachers, one important step in setting up a successful tutoring business is choosing which software to use to deliver lessons. There are several popular platforms to choose from, such as Zoom, Google Hangouts, and perhaps most familiar, Skype. Of these, Skype can be an appealing option, since most of us have already been using this free video-calling app for years and know how it functions. But can you effectively teach English online using Skype?
If you're new to teaching, you'll want to get initial training and qualification with a TEFL certificate. You can explore our online TEFL courses to get started!
Can Skype be used for online teaching?
Yes, it can! First, it's important to note that if you work for an online tutoring company, such as Landi English, the company will provide its own teaching platform, so you won't need to use Skype or Zoom to teach classes. However, as a freelance online English teacher, you'll set up all aspects of your business, including selecting a teaching platform such as Skype.
Learn everything you need to know about setting up your own online tutoring business in Bridge's new Specialized Certificate Course: Teaching English Online as a Freelancer (30 hours).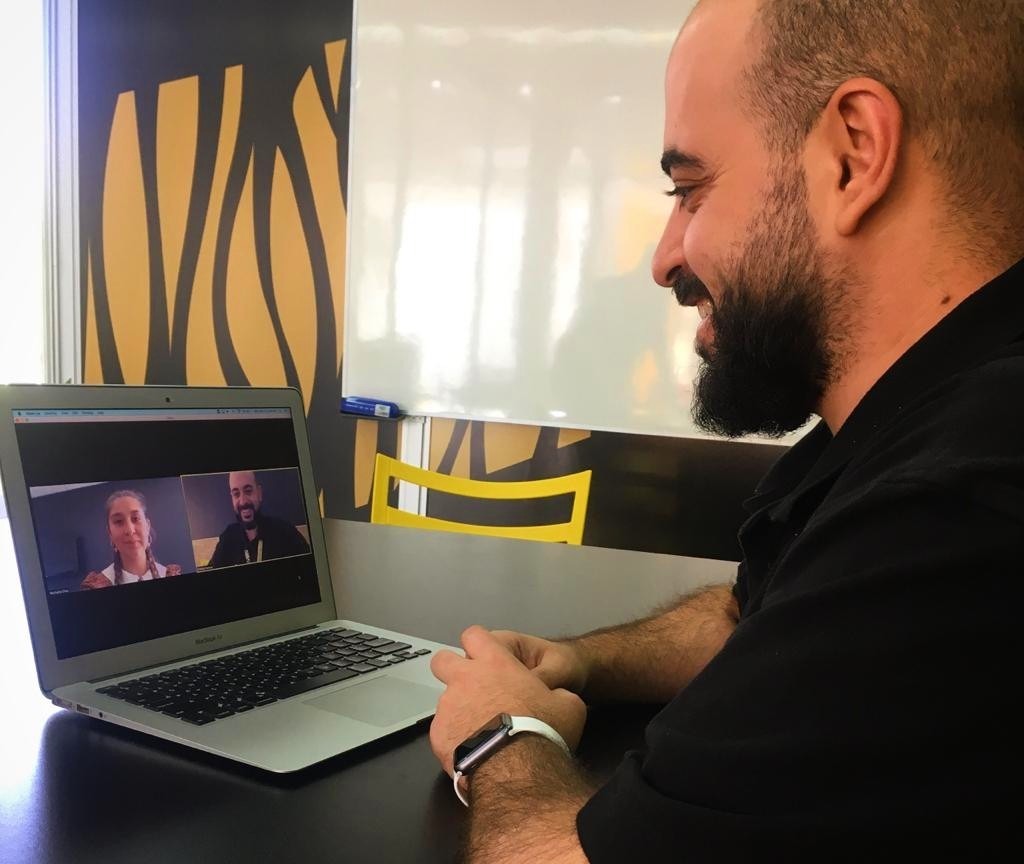 Is Skype good for online teaching?
If you are teaching English online as a freelancer, Skype is a great choice of platform because of the following advantages:
Easy to set up
If you still don't have a Skype account or you want a separate account to use professionally, it's easy to get started. You simply need to enter your email address and some basic details, such as your name, birthday, and country, then you're all set! From there, you can upload your profile photo, add contacts, and begin browsing around the platform.
User-friendly
One of the reasons why many teachers and students choose Skype is because it's easy to use. Once your account is created, you can search users, send messages, make phone or video calls, and even integrate outside media easily.
Free
Here's the best part: Skype is free to use! This is important when launching your freelance teaching business, as it significantly slashes your startup costs. Skype also offers its users free accounts, including access to conference rooms and other features. That's hard to beat.
What do I need to teach online with Skype?
Make sure to check these items before teaching English online via Skype.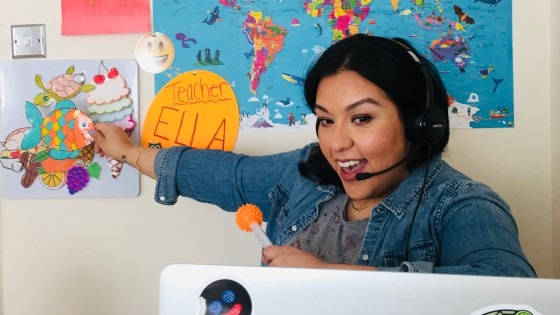 A strong, reliable Internet connection – Video conferencing through Skype is going to take a bit more bandwidth than checking email or browsing online. Some teachers use a wired, Ethernet connection, in addition to Wi-Fi, to minimize disruptions in service.
A webcam (built-in or external) – Skype is a video-conferencing platform, so this is essential for successful English teaching with Skype.
A neat, well-lit, dedicated teaching space – Consider what your students will see behind you when you're teaching. Skype does have a feature that lets you blur your background, but it's better to give your students a colorful and engaging online teaching background
A microphone – It may be built into your computer, but you'll find an external mic and headset makes communication clearer.
How can I teach English online via Skype? What free tools are available?
Now that you're all set up with Skype, how can you use it to teach English online? What specific features are most useful to you in the virtual classroom?
Video call
Video calling is the main feature you'll use to teach your online classes using Skype. To start a one-on-one video call, choose a contact from your list. Then, click the video icon on the top right of the screen. You'll be able to use other features within your video call, which we'll go over below
You can also use video calling to teach group English classes on Skype. To do this, select your first student from your contacts. Then choose the "add person" icon on the top right of the screen to add more contacts to the group before beginning the video call. You can add more people to an ongoing group call by clicking the same button.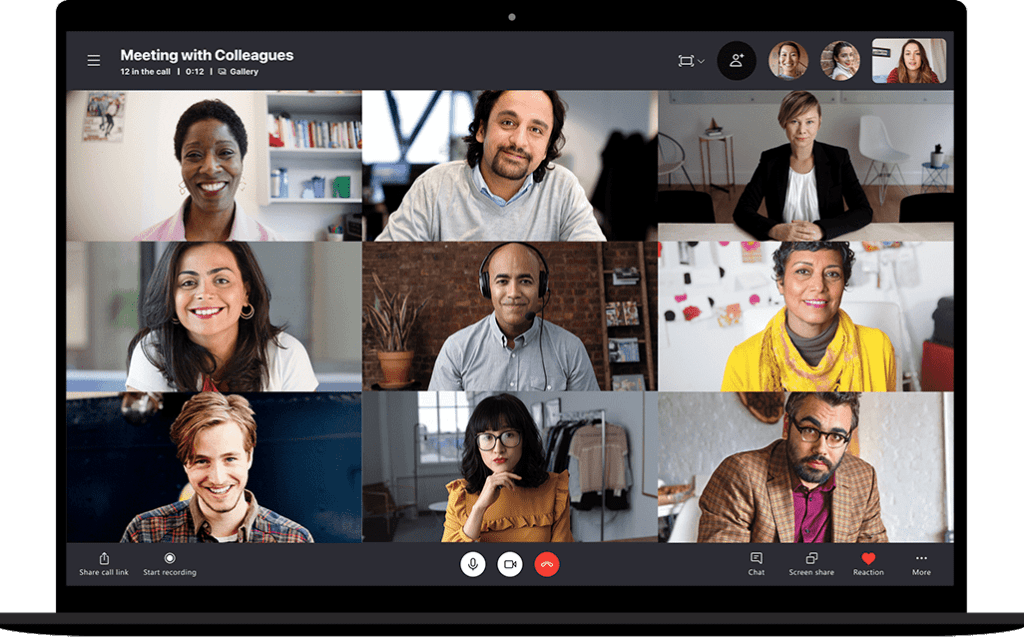 Chat
The chat feature can be used on its own, without video, to send written messages between you and your students. But as an online English teacher using Skype, you'll find this feature most helpful during a video lesson.

Send messages to individual students
The chat feature can be used when you want to quietly send a quick message to one specific student during the class (for example, telling a late-arriving student "We're reviewing page 2 of the homework").
Raise your hand feature
The chat feature can also be used in a group online English class when a student wants to ask you a question without interrupting the classes. In fact, the chat feature can even serve as a "raise your hand" method. For example, if you ask the class a question, you can require students to answer by typing a chat message to you or to the entire class, instead of saying it out loud.
Virtual whiteboard
Finally, the chat feature can also serve as a virtual whiteboard, allowing participants to share notes or resources. To do this, you can write a chat message for the whole class, rather than sending a message privately to a particular student.
Office hours
The chat feature can also be used as Instant Messaging (IM) to communicate with someone when you're not on a voice or video call. While you may not relish the idea of students IM-ing you anytime, this can actually be a very helpful feature as an online English tutor. One way to use it is to set up "office hours," during which the students and parents can use Skype chat to contact you with questions or concerns. Also, all messages are saved so you can reference them later, if needed.
Video and voice recorded messages
The "record a message" feature allows you to make video recordings or voice messages up to two minutes long by selecting the microphone icon under the contact. As a teacher, you can use this feature as a time-saving method to explain homework assignments or provide verbal feedback on students' work.
Screen sharing
Would you like to show your students an educational website, article, or image during your online English class? By clicking the screen share button on the bottom of the Skype screen, you can do just that.
Screen sharing is a valuable feature for any online teacher to make learning materials available to the class and make lessons more dynamic. Students can also share their screen with you, to show you their work or ask a question about something they've seen online.

Send files
Files such as pictures, articles, reports, and homework assignments can also be sent back and forth between teacher and students during Skype video calls. There is a "paperclip" icon in the chat message box where such files can be attached and sent during a video call.
Record your calls
To use the "record" feature for saving class meetings, the teacher can simply click the three white dots in the bottom right of the screen. Then, click the "Start recording" option in the list. Once finished, click the same button again to end the recording. This feature can be used to further review a student's progress or give feedback.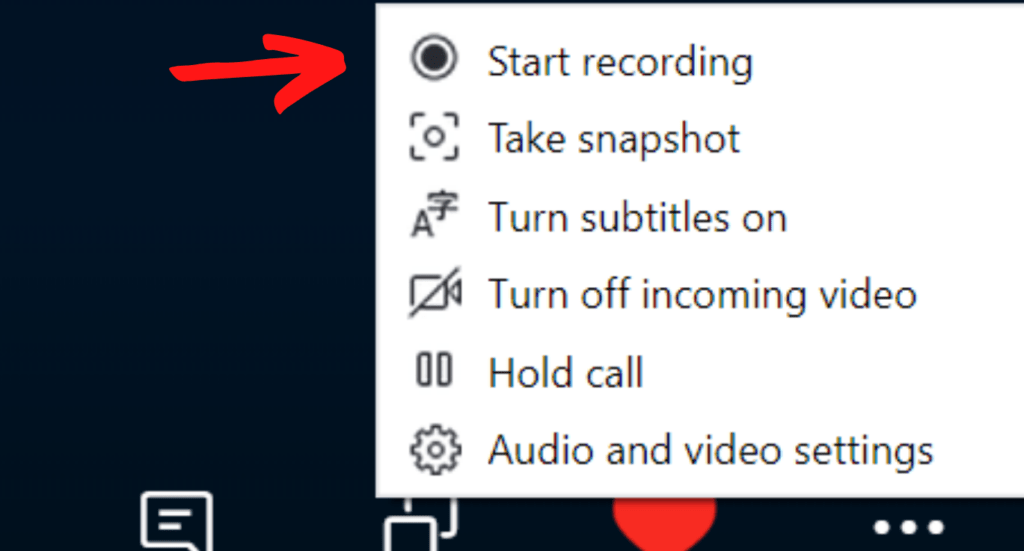 How do I give a lesson on Skype?
There are many types of lessons that work well for the Skype platform, particularly listening, speaking, and grammar.
Listening lessons
Listening lessons can be taught in a variety of ways with Skype.
One way is to use videos and podcasts that the student will listen to during class. You can prepare questions about the listening beforehand on a PowerPoint (PPT) presentation, then use the Skype screen sharing feature to show your students the PPT slides and review the questions during or after the listening.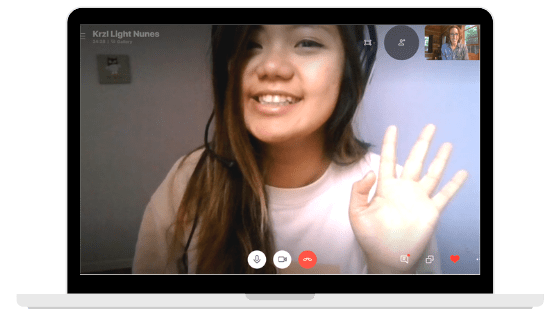 Another lesson on listening might be the teacher first creating a PPT presentation with content-checking questions before class begins. Once the teacher and student have entered the virtual classroom, the teacher can use the screen-sharing icon on Skype to pull up the slides for the student to see, as well. The student then listens to the teacher read a passage related to the lesson material and afterward answers the PPT questions to demonstrate how well he or she listened.
Speaking lessons
Speaking lessons can be taught by recording students reading, taking part in a role-play activity, repeating after the teacher, and then playing the recording back to them. Skype even has a subtitle feature that can be enabled, so that the student can visually see the teacher's words and repeat them slowly.
A lesson on speaking could be a teacher holding up a whiteboard with a sentence written on it. The teacher then uses the record feature on Skype to record the student saying the sentence out loud. The teacher then plays it back for the student to hear. This is a great opportunity for the student can hear how he or she sounds, and the teacher can also give feedback.
Grammar lessons
Grammar lessons can be also taught via Skype by using PowerPoints and screen sharing, or by sending files – such as short readings or exercises – for the student to open and review.
For a grammar lesson, the teacher can use the paperclip icon on Skype to share an attachment with a list of sentences. The teacher can then read the first sentence or ask the student to read it. Afterward, the teacher can ask questions such as, "What is incorrect about this sentence?" or, "How should this sentence be written?"What are some other tips for teaching online via Skype?
When teaching English online via Skype, consider creating a Facebook group or hashtag so your students can network with each other.
You can also create a Google Drive account to organize student files or play games (encouraging more virtual interest and interaction).
Lastly, be creative! Use colorful props and an engaging teaching background to keep your students interested, even in the virtual classroom.
For even more tips, check out an experienced online teacher's advice: 10 Things I Wish I'd Known Before Becoming a Freelance English Teacher.
Teaching English online as a freelancer doesn't have to be difficult. Skype is free, easy to use, and already familiar to most of us. If you choose Skype to teach English, take a little time to get to know the many features you can take advantage of to make your online lessons fun and effective.