You've ticked all the essentials for teaching English online – you tested your computer, headset, mic, Internet speed, and the online platform you will use for teaching. Then you noticed something's missing when you see yourself on your Zoom screen. Oh, no – you need to decorate your online teaching background! Don't panic. We've got a goldmine of ideas on decorating a teaching backdrop that will surely engage your online ESL learners.
If you're new to teaching, you'll want to get initial training and qualification with a TEFL certificate. You can explore our online TEFL courses to get started!
First, what is the background for teaching online all about? Why is it important?
Do you remember entering a classroom in school and being fascinated by the colorful visuals and educational decor your teacher had put up on the walls? Much like in a real classroom, online students also feel more motivated to study in a visually appealing environment. And even though you're sitting in front of a computer, you can still make learners feel like they're in a real classroom!
Your teaching backdrop's design depends on who you work for and who you are teaching. Let's explore how each factor affects how you tailor your virtual classroom.
Creating a teaching background when you work for a company vs. as a freelancer
Are you working for an online English company? Chances are you will be required to have a teaching background, especially if you're teaching kids. Although companies don't have set rules or standards as to exactly what your backdrop should look like, putting in extra effort in building a unique virtual classroom setting will pay off when you see a spike in your bookings!
On the other hand, if you work for yourself as a freelance online English teacher, you're of course not compelled to construct a teaching background. However, it is still recommended to decorate your teaching space in order to stand out and build better rapport with your students.
Should you teach online for a company or start your own business as a freelancer?
Creating a teaching background for kids vs. adults
It's no secret that young learners have more fun studying when they see colors, shapes, and interesting things around them. In a virtual English class, a lively educational backdrop will surely keep your kids engaged. The pictures, toys, and other trinkets in your teaching space will also serve as your visual aids, props, or rewards for your young students while giving a lesson, plus they're handy for improvising games or activities for those extra minutes left before the class ends.
Meanwhile, an elaborate virtual classroom backdrop is not always necessary if you're teaching English online to adults. However, although you can teach with a plain wall or curtain behind you, having a visually engaging online classroom set-up will not only show your adult students some of your personality but also your professionalism as an online teacher.
What props or items should I use to set up my online teaching background?
Before you revamp that bare space behind your desk, make sure that your teaching corner has the basic setup:
A dry-erase whiteboard is important, as you can use it for writing your name and the company you work for, drawing visuals to explain something, and even for a fun game of Pictionary!
Keep your background free from clutter and distraction. Make sure that dirty laundry, posters, unnecessary objects, and other people will not be seen on your students' screens.
Check that you have good lighting, which could be sourced from natural daylight or a strong lamp. Ensure that the light is in front of you and that it doesn't cast any strange background shadows.
Pro Tip: You might also want to invest in a ring light to illuminate your face better, especially if you want to look fresh and energetic while teaching very early in the morning or at the wee hours of the night.
Learn more about the requirements to teach English online.
Teaching background decor for kids
You don't have to go-over-the-top with embellishing your teaching space for kids! You can use one or a combination of these items, as long as they look organized in your background.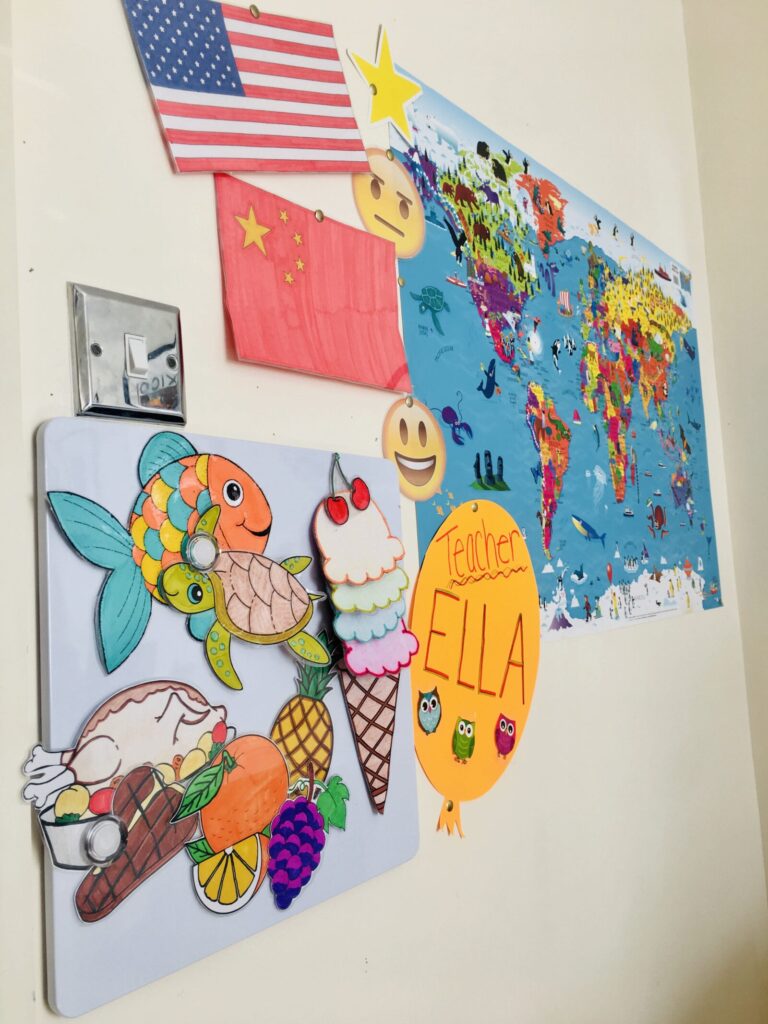 Online teacher Mari's Background Decor
Maps
A colorful, kid-friendly world map is inexpensive and easy to find, plus it instantly makes any space look educational. Use it for teaching country names or pointing out your or your student's location! You can also laminate your map before hanging it on your wall or whiteboard so that you can mark places with a dry-erase pen.
Flags
A decorative flag of your country or your student's adds personality and color to your backdrop. You can print or buy flags, or even make them yourself!
ABCs or numbers wall décor
Alphabet charts always come in handy for practicing letters and pronunciation, while a number board is great for teaching kids to count in English. Aside from hanging up an entire chart, you can also stick individual letters or numbers onto a whiteboard and use them for spelling games!
A rewards system board
Get your young learners excited through secondary rewards for their class achievements! For this, you can print out small stars, animals, or fun images and set them up on a small whiteboard or corkboard beside you.
String lights
Adorn the edges of your whiteboard with generic white Christmas or decorative string lights to make your background brighter.
Flashcards
Instead of stacking those colorful flashcards on your desk, why not use them as decorations – and still have them within reach?
Banners
Even a simple but colorful party banner can easily be eye-catching. You can hang it as it is or stick big letters on its flags to spell out your company's or your own name.
Stuffed toys and playthings
Display cute teddy bears or animal characters in your background and see your kids' faces light up right away!
Use available materials at home 
You can turn even the simplest of things into amazing online teaching props. Try drawing emojis on paper plates or making finger puppets on popsicle sticks!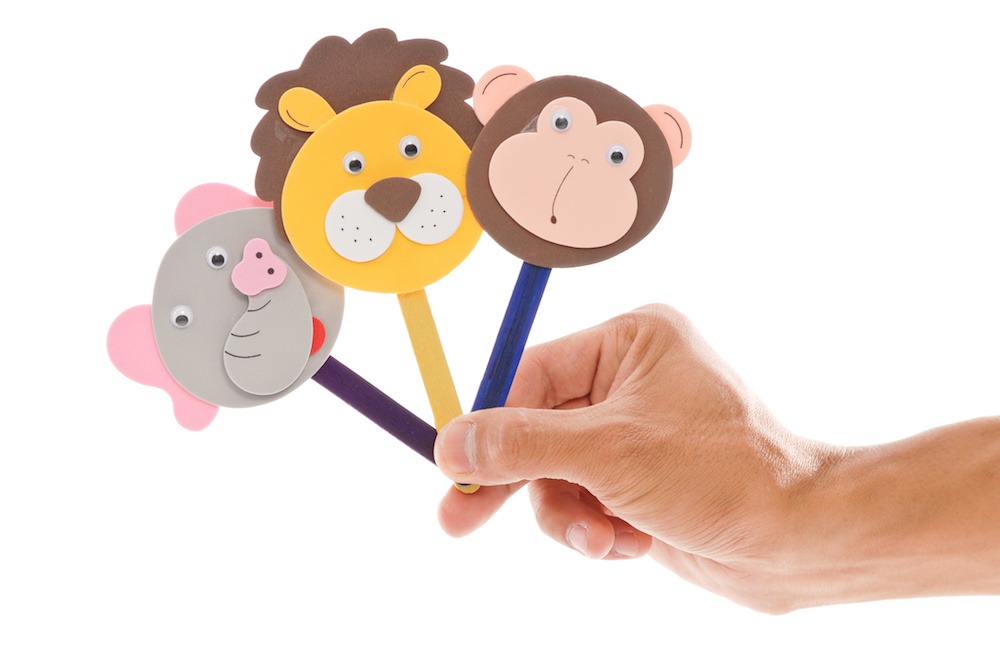 Get more ideas for setting up a successful virtual classroom in the Bridge suite of courses, Specialized Certification in Teaching English Online.
Teaching backdrop decor ideas for adults
While you can keep certain decorations like maps and flags in the background for your classes with adults, you can replace the objects that look too kiddie-focused with other items. Here are some ideas:
Set up a shelf or a wall rack with trinkets that represent your personality and life story, like a trophy you won, souvenirs from your trips abroad, or objects related to your interests, such as books or vinyl from your record collection.
If you don't have a map, you can put up a decorative desk globe or hang up a beautiful painting behind you.
Print out colorful vocabulary or grammar charts and stick or tack them onto a whiteboard or a corkboard.
Teaching background ideas for digital nomads
If you are a teacher and a world traveler at the same time, you can avoid the hassle of carrying online teaching props or buying new ones on the road by carrying items that you can easily store in your backpack, such as:
A foldable map or map tapestry
A tri-fold board you can use as a background (in case your Airbnb doesn't have a suitable blank wall)
Colorful paper or cardboard banners
Letters, pictures, or stickers you can stick onto your tri-fold board or hang on a string
Flashcards
Pro Tip: No time to pack up these things? You can also use a third-party application like ManyCam, which lets you easily change your teaching backdrop, add graphics and effects to your presentations, and use fun face masks and filters in your online classes!
How can I go the extra mile with my teaching background?
If you have been teaching English online for a while, it will be worth it to splurge a bit and invest in your teaching space even more. Here are some elements you can add:
Make your online teaching background brighter and more colorful with a panel light or stage lights!
Set up a special backdrop for special holidays or occasions. For instance, you can hang up pumpkin or autumn leaf banners for Thanksgiving or add a small Christmas tree during the Christmas season!
Get small toys or fun party headbands. These small but useful props for online teaching will keep your learners entertained when you use them for games and role plays!
Check out Mari showing her virtual classroom backdrop in this video:
Where can I find inspiration for decorating my teaching space?
Pinterest
The social media platform, Pinterest, is the perfect place to get inspiration and ideas for decorating your online classroom, whether it's for teaching kids or adults.
Fellow online ESL teachers
Do you have a family or friend who also teaches English online? If so, ask them for tips on making or improving your virtual teaching background. Who knows, they might even lend you some of their decorations or help you with creating do-it-yourself teaching props!
There are no limits to your creativity when it comes to decorating your teaching space. Your English learners will appreciate the work you put into bringing a dull space to life and building a better class experience for them, even in a virtual setup.