Vinisha, From India, Teaching Business English Online
By Krzl Light Nuñes
July 9, 2023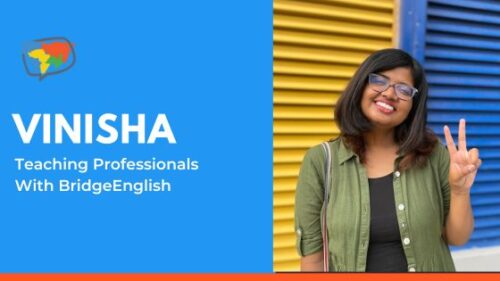 Stemming from her fondness for reading in the English language, Bridge grad Vinisha Veerasekar forged her own path to become a Business English and IELTS test trainer. This later led her to teach Business English online with BridgeEnglish. She details what it's like to teach this ELT niche and shares tips to make Business English lessons more engaging as well as how teachers can build skills when teaching ESL to professionals.
Hi, Vinisha! Can you share a bit about yourself?
I'm from Tamilnadu, India. I started my career as a middle school English teacher, tasked to teach both literature and language to the students. I've been teaching English for more than two years now.
What inspired you to become an English teacher?
I've always had an affinity towards the English language since my childhood even though it is not my native language. I fell in love with reading English books and decided to pursue a degree in English literature. Teaching is the common career path that English graduates choose after graduation, and I knew that I was going to become a teacher.
I remember that during my time as a graduate student, I participated in a business skills workshop and the trainer was so different from my professors. I loved the way she would conduct the workshop, and I was curious to know how she became a Business English trainer. Though the workshop only lasted for a week, the impact she had on me was everlasting, and I still talk about her even five years later. On the last day of the program, she introduced me to the world of ELT and the communicative approach that can be implemented in the classroom. She was also the only reason I decided to take a CELTA course to truly understand what it means to be an ESL teacher. It inspired me a lot because it was different from the traditional teaching methods in a million different ways.
Learn about 5 popular ESL teaching methods.
You've shifted from the physical classroom to the virtual classroom. How did you decide to get into teaching English online?
It was a major change of events for me in terms of my career. During the first few days, I found my first job as a middle school English teacher exciting because it opened up new avenues for me in terms of work culture, responsibilities, and financial management, as it was my first job. It is very unusual for someone to teach in a traditional classroom setting after completing the CELTA course because the teaching methods conflict with each other. I ended up teaching in a traditional classroom setting that was entirely teacher-centered.
I struggled a lot for two years, having to battle between the student-centered and the teacher-centered approaches to teaching English. Soon, I realized that this wasn't my cup of tea. Somewhere in March 2023 was the breaking point for me when I understood that I was not happy with the way my career was going and I decided to quit my job. I decided I would only take up a job that would allow me to practice what I preach!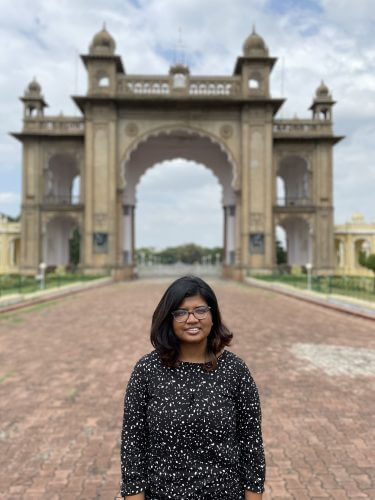 You're currently teaching at BridgeEnglish. How did you land this opportunity?
Firstly, I'm so grateful for this amazing opportunity to collaborate and teach with the brilliant staff at BridgeEnglish. As I said, I was looking out for jobs that pertain only to communicative pedagogy in teaching English. Fortunately, one of my CELTA course friends, Kalaivani Pallavanraja, who is also a staff member at BridgeEnglish, informed me about BridgeEnglish and suggested I give it a shot. I was really hesitant at first, as I was skeptical about myself. Since I was away from the student-centered approach for two years, I knew I had to unlearn the methods that I picked up during my teaching journey.
She encouraged me to brush up on my skills and I did that. I went back to my CELTA notes and the lesson plans that I created during my teaching practice and finally did the interview. Finally, I passed the final stage of the interview and was offered a chance to be a part of BridgeEnglish. For the first time in my career, I was super happy and relieved to know that I was kicking off to a great start.
Learn more about teaching business professionals with BridgeEnglish.
How has your teaching experience at BridgeEnglish been?
It's been two months now teaching at BridgeEnglish and I am learning a lot. I struggled a bit in the first few classes but I picked up my pace gradually. It's been an entirely refreshing teaching experience, and I also get to meet amazing students from different walks of life. I've also been getting opportunities to participate in a variety of webinars for continuous professional development.
Can you tell us more about your job?
My job entails giving guided instruction to the students to allow them to practice the language, giving them appropriate feedback, and providing them with a safe space to clarify their doubts without the fear of being judged for their mistakes. I get to hear the stories of their journey with learning English and their daily struggles with using English appropriately in the real world. My classes were also observed by my colleagues, who gave me constructive feedback on my lessons, which helped me a lot to reflect and to self-evaluate.
I teach Business English, vocabulary, and grammar related to a business setting. The lessons also focus on the LSRW skills (Listening, Speaking, Reading, and Writing) that are integrated with the syllabus. My students are working adults from Chile and Argentina who work in different industries and whose native language is Spanish. They learn English for work purposes.
What do you do when you're not working?
I'm active on social media. I like to create digital fan art and post it on Instagram. I also have a YouTube channel where I create, edit, and post random vlogs and book reviews in my mother tongue, Tamil. I love reading and I do it every day. I'm also currently reading the Truly Devious trilogy by Maureen Johnson.
What are some of your favorite activities to make your online Business English classes more engaging?
I try to include fun videos to watch when teaching grammar, as it can be very dull to learn grammar from textbooks.
Check out these grammar activities to make your classes more interesting, inclusive, and interactive.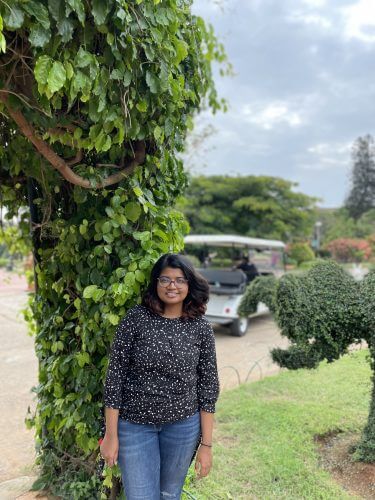 I'm a person who believes in equipping oneself with the skills needed in order to impart knowledge to others. Though I already have a TEFL certification, I wanted to understand what it means to teach Business English. The course helped me a lot as it covered everything from A-Z as pertains to teaching Business English. It also helped me prepare myself for what lies ahead.
My friends who are planning to move abroad would ask me to help them with their IELTS preparation. I was hesitant to train them because I didn't know how to structure the course. I found this amazing opportunity and decided to take the Micro-credential course in Teaching IELTS Exam Prep. It helped me discover the strategies for teaching English to IELTS test-takers. Now, I can assure anyone who approaches me with confidence that I can train them for the test.
How would you like to grow as an English teacher?
I've just begun my career as a Business English trainer and I want to explore more avenues of ELT in the future. I consider myself a student-teacher who is still learning and gaining experience and insight with every class I teach.
What are your tips for people who want to teach Business English?
My only advice for aspiring teachers out there is to equip themselves with as many skills as possible to teach Business English, as it is different from teaching General English. Business English has a different range of vocabulary and functional language, which is used in real-life contexts for people in the world of business.
Finally, it is never too late to sign up for a new online TEFL course and explore the different ways of teaching English!