Whether you're currently taking a TEFL course or are thinking of starting your own ESL teaching business and need ideas for how to offer your courses, looking at the support Bridge offers throughout and beyond our courses can help. Let's dive into how Bridge tackles instructional design, the assistance we offer through the Bridge Support Center and other avenues, and how course and student experiences are shaped.
Enhancing the TEFL/TESOL course experience
Every one of Bridge's courses, from Professional Certification to Specialized Certification to Micro-credentials, is housed on a learning management system (LMS) that prioritizes engagement and retention of the content.
This is achieved by incorporating the following elements:
Modules: These serve to organize and break up the content in ways that don't overwhelm the learner.
Chunking: This term refers to the method in which the content is offered. Chunking is a way of delivering information in small, digestible "chunks" rather than as an overwhelming wall of text with competing ideas taught simultaneously.
Comprehension check activities: These dynamic activities allow learners to check in with themselves to ensure they've understood what they've just learned. Having these appear throughout each module allows learners to assess their understanding (without the pressure of being graded!) before they get to the end and have a comprehensive, graded quiz.
Discussion boards: These allow for peer and tutor feedback in an asynchronous learning environment. In other words, learners get to engage and interact with others while enjoying the flexibility that online learning provides.
Videos: Part of creating sound instructional design is providing dynamic ways of relaying information. One way information is offered in Bridge courses is through videos. These include both instructional videos and teaching demos.
Downloadable resources: These include things like infographics, which can be saved for future reference and used while offline.
Dynamic learning activities: From micro-learning activities to quizzes to written assignments like creating your own lesson plans, the activities in the LMS serve to both assess learners' understanding of the course concepts and ensure that learners are engaging with the content and applying it to current and future real-world classrooms.
How does online TEFL certification work? Find out.
Watch the following video to get a preview of how the Bridge TEFL/TESOL course platform works:
Bridge provides LMS technical support (as well as non-LMS-related assistance) through the Bridge Support Center. You can find solutions and answers to frequently asked questions regarding assignment submission, accessing tutor feedback, updating your Bridge TEFL/TESOL certificate, and more. You'll find plenty of articles and even video tutorials to help guide you through the LMS!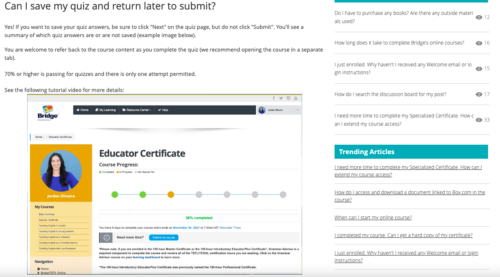 Supporting the overall student experience
There are many needs and services that students have outside of the course that an educational institution should provide.
When offering any type of online course, it's essential to look beyond the LMS and realize that learners have different levels of commitment and needs or interests. There are different motivations for taking courses (e.g., does the learner need TEFL/TESOL certification for a promotion? To enhance their resume?), varying external factors, and differing backgrounds, experiences, expectations, and abilities (with technology, with an LMS, with English, etc.).
The goal of any educational institution should be to get rid of distractions and barriers keeping learners from the main course content, which is what they are there to learn. To achieve this goal, an educational institution should offer support outside of courses in the following ways:
Communication
Providing excellent communication means utilizing multiple avenues to disseminate information. This could include using a combination of emails, social media posts, video tutorials, PDF guides, webpages, blogs, etc.
The primary purpose of communication should be to highlight milestones within the learning journey and to provide transparent and easily accessible policies. This will help set realistic expectations for learners and will ensure that they have the information they need to achieve their learning goals and have a positive experience with your institution.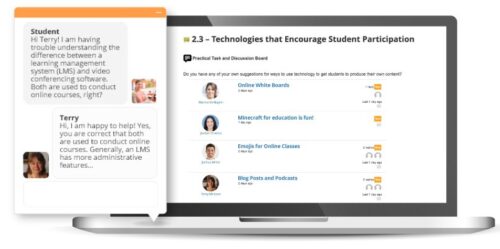 Feedback
Feedback is a two-way street, meaning that an institution needs to incorporate both teacher-to-learner feedback and learner-to-teacher feedback. Teachers typically offer feedback throughout a course. For example, Bridge tutors and instructors offer learners feedback in the form of written comments on discussion boards and assignments and verbal evaluations through live video sessions.
On the other hand, you can get feedback from learners through surveys, anonymous comment boxes, informal video sessions, or end-of-course questionnaires or interviews. The important thing is to take stock of learners' course perceptions and experiences and then act on them in order to improve your educational output (in this case, your courses).
Online presence
An educational institution's online presence can really be broken down into three goals: visibility, approachability, and the creation of a learning community.
While visibility simply refers to making sure learners can find you online and get extra support during and after their course, approachability ensures that they feel comfortable engaging with you and that they know you're keen to address learning challenges and help them meet their goals.
Creating a learning community goes even further to support learners because it offers a space for continued learning beyond the course. For example, some of the ways Bridge does this include: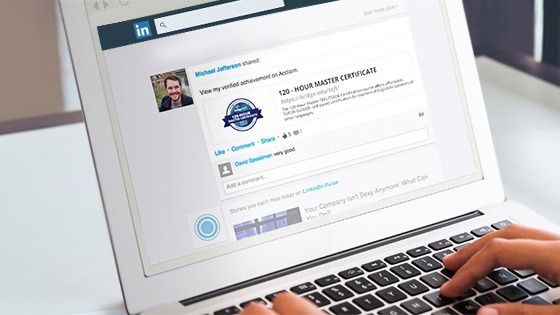 What additional support does Bridge provide?
Apart from the aforementioned resources (webinars, podcasts, etc.) and the plethora of information available through the Bridge Support Center, learners can also take advantage of the following:
In any educational institution, it's essential to consider both the course experience and the overall student experience of your learners. By considering your learners' needs, prioritizing engagement, and removing obstacles to content retention, you can ensure that students have a positive and rewarding learning journey.