How and Why to Earn College Credit for Your TEFL/TESOL Course
By Rashmi Chugani
September 20, 2021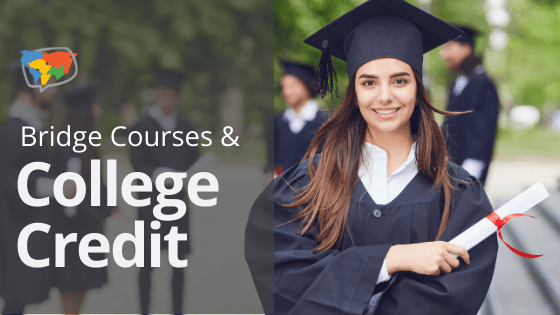 TEFL/TESOL certification courses can qualify you for exciting jobs teaching English abroad and flexible jobs teaching English online. However, some courses also offer the optional benefit of earning university credit. Should you take advantage of this option? Here's a look at out how college credit for Bridge TEFL courses works and why this might be the right choice for you.
How does Bridge offer college credit for TEFL/TESOL courses?
Bridge not only certifies new teachers but also supports career teachers, so some of our courses have the option of being taken as stepping stones to further studies in teaching English to speakers of other languages (TESOL) through college credit.
Bridge provides you with the option of earning college credit for your TEFL course in a couple of ways.
First, select courses (detailed below) have been reviewed by the American Council on Education's College Credit Recommendation Service (ACE CREDIT®) and recommended for a specific number of undergraduate or graduate-level university credits, which can be transferred to more than 1,700 universities.
Second, we offer courses that can be taken as a pathway to a particular TESOL degree program. Through the MA TESOL Pathway Program, Bridge partners with universities in the U.S. and abroad, and these universities accept select Bridge courses as credit toward their graduate certificates, master's degrees, doctorate programs, or, in some cases, even scholarships.
Which Bridge TEFL/TESOL courses are eligible for college credit?
Chances are, one of the Bridge online TEFL courses you're already considering for your certification to teach English online or abroad can be taken for college credit. These are the eligible courses.
If you've perused the Bridge site, you've probably come across the IDELTOnline, which has been recommended by ACE CREDIT for nine transferrable graduate-level credits and which can also be taken as a pathway to a master's degree.
This accredited course is the most advanced certification Bridge offers. It's 100% online, but rather than working independently, you'll join an interactive cohort that works through the course together over 12 weeks under the guidance of an instructor. When you complete the course, you'll earn a 150-hour certificate.
Learn more about this course: What Is the Bridge IDELTOnline™ and Should I Take It?
This is Bridge's most popular TEFL/TESOL certification. It's 120 hours of self-study, tutor-guided modules that take place 100% online. You'll learn about language theory, ESL/EFL methodology, lesson planning, classroom management, English grammar, teaching special groups, and more.
The Master Certificate has been evaluated and recommended by ACE CREDIT for six hours of undergraduate college credit.
Wondering about the differences between the IDELTOnline vs. Master Certificate when it comes to TEFL/TESOL certification? Check out this infographic to see the courses compared side-by-side.

There are four courses in this Specialized Certification suite, and the first two have been recommended for three credits each by ACE CREDIT.
Foundations in Teaching English Online (60 hours) and Advanced Methods in Teaching English Online (60 hours) are designed to prepare you with the tools, technology, and teaching methods to enter the virtual classroom with confidence.
Experienced teachers can bundle the two courses to earn a 120-hour Specialized TEFL/TESOL Certificate, while new teachers often opt to combine them with the 120-hour Master Certificate to learn the essentials of teaching English first (check out the 240-hour Master Certificate and Teaching English Online Bundle).
(Though not recommended for credit at this time, you can also add the other courses in the suite: the Practicum in Teaching English Online to gain verifiable experience as an online teacher and create a portfolio or Teaching English Online as a Freelancer.)
This 20-hour, blended (online and hands-on) training course has been recommended for one semester hour of undergraduate college credit.
In this course, you'll complete 10 hours of tutor-guided online preparation, five hours of EFL teacher observation, and five hours of hands-on teaching practice in a real EFL classroom. The course can be completed from anywhere in the world, working at your own pace during the three-month course timeframe.
How can I get college credit for Bridge TEFL/TESOL courses?
How you get the university credit for your Bridge TEFL/TESOL course depends on whether you opt to earn the transferrable credits recommended by ACE CREDIT or you take a course that is a pathway to a specific degree program at a partner university.
ACE CREDIT transcript for the Bridge Master Certificate, IDELTOnline, or Specialized Teaching English Online Certification
The Bridge courses detailed above are eligible for an ACE CREDIT transcript. This service makes the process of earning and transferring credit easy for our graduates by providing a lifelong record of the successful completion of your ACE CREDIT-recommended Bridge TEFL/TESOL certification courses.
You can present this nationally recognized transcript to one of more than 1,700 universities in the U.S. that recognize ACE CREDIT recommendations for potential academic credit. Credits do not have to be applied toward university study immediately and can be deferred until you're ready to pursue your studies. (It's worth noting that ACE doesn't issue the credits, the university does.)
Pathway Program
The Bridge IDELTOnline can also be taken for credits that apply to specific university programs in our MA Pathway Program. For example, if you decided to apply to the online Master of Arts in Multilingual Education – Teaching English to Speakers of Other Languages (TESOL) program at The University of Northern Colorado, you could earn three graduate-level credits toward that program through the IDELTOnline. Plus, earning an IDELTOnline diploma means you'll have internationally recognized certification to teach worldwide!
Is a master's in TESOL worth it for you? Find out.
Earning college credit for Bridge TEFL/TESOL courses can advance your career prospects in the EFL industry. And if you're looking to pursue a career in TESOL, then enrolling in the IDELTOnline is a great option!