Deborah, From South Africa, Virtual Business English Teacher
By Krzl Light Nuñes
November 21, 2022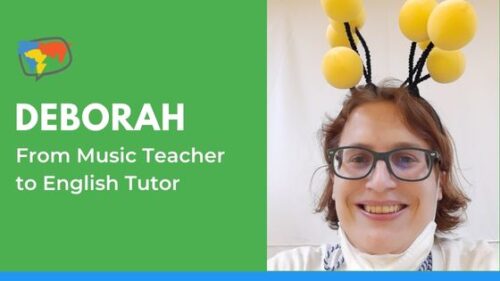 A desire to work remotely and teach adults led Bridge grad Deborah Cairns, from South Africa, to shift to teaching English online to business professionals. She shares how she broke into the Business English teaching niche and how she's working toward building her own TEFL/TESOL business in the future.
Hi, Deborah! Can you tell us a little about yourself?
I'm from South Africa. I've been teaching English for 10 years. I've taught English in South Korea, in my home country, and online.
I have a Master's in Education and have been teaching since I left university. I started off teaching music for about six years but found that I was not suited to large groups, so I changed to EFL. I taught in South Korea for seven years on and off. Currently, I'm working with Lingoda, and I hope to get some private students next year. I have a CELTA certificate and have recently completed Bridge's Specialized course in Teaching Business English. I'm also currently doing a course on starting an online teaching business, and hope to do the IELTS course next year. I prefer to teach English to adults.
What inspired you to become an online English teacher?
I decided to transition to teaching English online because living and working abroad is not always easy. So, I just decided to try it after being separated from my parents for two years because of the pandemic. Also, my parents are both over the age of 75 and have health issues.
Learn the skills you need to teach in the virtual classroom with Specialized Certification in Teaching English Online!
What do you like best about teaching English virtually?
I like that it's more flexible and you do not have much social interaction with employers and employees. I also prefer remote work. I find work politics can be exhausting.
How did you land your job at Lingoda? What was the application process like?
I sent them a video and an application form. They were not advertising any positions back then, but they contacted me later.
Can you tell us more about your job?
I give Business English, grammar, reading, and conversation classes. My students are adults from all over the world.
When I'm not teaching, I love to read, watch documentaries, and learn new languages.
Can you share a memorable or funny moment that you had as an English teacher?
The children in South Korea were very curious about me and sometimes tried to see what color underwear I was wearing!
I decided to take this course because Business English lessons are usually well-paid.
How did these courses help you professionally?
As I already knew a lot about teaching, I found the course very easy. Nevertheless, I was lacking inside knowledge about teaching Business English, specifically.
You're currently doing an online course on starting your own business. What's your plan after completing this course?
I hope to be able to get some private students to supplement my income.
Learn the marketing and business skills you need to successfully launch an online ESL business with Specialized Certification in Teaching English Online as a Freelancer.
What are your tips for English teachers who want to teach English online?
You need to apply for as many jobs as possible and be flexible. Unfortunately, many online companies no longer hire South Africans and pay them less than anything else. You should be paid at least $10 USD per hour, although some companies pay less. You can start off with a smaller salary, but make sure you get a better-paying job or start your own business eventually.