Key Takeaways From the BridgeUniverse TEFL Jobs '22 Summit
By Rashmi Chugani
July 5, 2022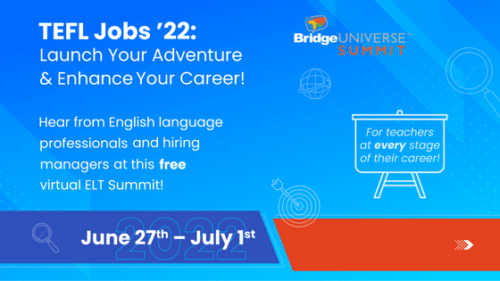 It's 2022 and the TEFL job market has changed a lot over the last few years. To analyze the different trends and possibilities in the international arena, Bridge held a five-day Summit to gather expert opinions. The free, virtual TEFL Jobs '22 Summit took place from June 27th to July 1st and was well-received by participants around the world. Read on to find out more about the various sessions.
An overview of the Summit
This online Summit had more than 1,400 registrants who came from 103 countries, led by the United States, Canada, and South Africa. Backgrounds were also varied, as attendees worked for schools, for private language academies, as digital nomads, and as teacherpreneurs.
The Summit, which was sponsored by education companies like Preply, Fluentize, and LearnCube, had a schedule that included more than a dozen sessions covering diverse topics ranging from "Why You Should Determine a Teaching Niche & How to Choose Yours" to "What Do Language Schools Look for When Hiring or Promoting?"
One Summit participant remarked, "I was really impressed with the topics, guest panelists, and the sheer volume of Information offered at this very diverse summit gathering. Congratulations to Bridge Education Group for putting this wonderful, multi-day event together. I always look forward to any presentations that they offer, knowing that they will enhance and strengthen my ESL teaching skills."
Check out a clip from one of the Summit sessions, where panelists discussed the differences between language schools and ELT marketplaces:
Continuing professional development (CPD)
One of the main takeaways from the TEFL Jobs '22 Summit was that English language professionals, whether they are teaching in person or online, have to invest in their continuing professional development (CPD).
"You expect your family doctor to keep learning, and we are educational practitioners," commented Donald Moen, a professor at the Algonquin College of Applied Arts and Technology in Ottawa.
During the Monday session entitled "Continuing Professional Development: Investing in Yourself for Better Jobs, More Money and Greater Student Satisfaction," Moen and three other panelists discussed why CPD is so beneficial to teachers.
They presented how the teaching industry has really transformed in the last three to five years, especially during the pandemic because of the way students receive the information.
These changes were also brought up during the panel "Where's the staff room? Strategies for Continuing Professional Development for Online English Teachers," in which Ian Wright, the Director of BridgeUniverse, spoke with Alice Copello, Tutor Development Lead at Preply, the marketplace platform for private online lessons.
This session focused solely on teachers who carry out their lessons virtually, a trend that has increased since 2020. And while joining a teaching marketplace and finding online students is more accessible to everyone, both panelists agreed that the competition is also at its highest. That is why continuing to develop one's resume is important.
"The real benefit [of CPD] is being the teacher that will be needed," said Moen.
"You have to realize what to do to not become obsolete," agreed the panel host, Rachel Story, founder of Grateful Gypsies, a site that aims to help digital nomads.
Indeed, the end goal of CPD is to become a better teacher who can then attract more students. Whether it is by getting additional TEFL certification or diving deeper into a particular subject, teachers can reap the benefits of investing in their development and then use that to leverage for better pay too.
Want to watch all of the session recordings on-demand? Sign up for the post-Summit All-Access Pass here!
Choosing your niche
Another topic that was repeatedly discussed during the TEFL Jobs '22 Summit was picking a niche as an English language professional. During the panel "Why You Should Determine a Teaching Niche & How to Choose Yours," speakers went over the benefits of working as a specialized teacher. Choosing a niche is especially important if you are working for yourself and not with a company or school.
Choosing a niche was one of the main takeaways from the entire Summit as it also came up in the session entitled "Making Marketing Manageable: An Introduction to Finding English Students." Here, the panelists agreed that specializing in a particular topic such as teaching business English or teaching young kids will help in the search for new students.
"Choosing your niche is the most important step," said Lydia Michailow, an independent online ESL teacher.
Michailow went on to explain how in Spain's Canary Islands, where she is based, taking Cambridge English exams is very popular during the school year. She, therefore, chose to become a Cambridge examiner and made this test prep her teaching niche.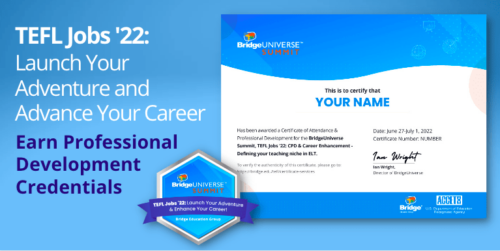 Additional sessions
One Summit attendee summed up the five-day event as follows: "A variety of sessions to attend throughout different parts of the week. Affordable, educational, interesting topics that help attendees in real-world situations."
Key takeaways from the TEFL Jobs '22 Summit varied depending on the topic in question. For example, during the panel "What Do Language Schools Look for When Hiring or Promoting?" the speakers agreed that it's a country-dependent matter. However, they also concluded that today, teaching skills, people skills, and now digital skills are always reviewed.
"How you present yourself as a teacher online or in person is important," explained Zoe Smith, the CEO at BE School in Mexico City.
One of the final sessions of the Summit was "Becoming a Digital Nomad: How to Use Digital Tools to Teach Abroad." Here, panelists discussed navigating time zones, teaching contracts, and how to charge their students.
The three speakers and the host agreed that in order to keep current students and build an even larger database, it's important to make it as easy as possible for students to access lessons and make payments.
"If the students are struggling with payment options, it's easy for them to find another teacher," said Elena Stolboushkina, an ESL teacher and digital nomad based in the United Kingdom.
Networking opportunities
On the last day of the Summit, participants were invited to a networking event. It was the only event of the day and was designed to encourage audience participation and to further discuss the ideas brought up throughout the Summit.
The networking event consisted of breaking up everyone into different virtual spaces with Bridge hosts. BridgeUniverse Director Ian Wright hosted the main room and answered any remaining queries. There was active participation and engagement from those attending. One attendee remarked, "The breakout rooms at the final session were a pleasant surprise for those who had more questions." This networking session was a result of feedback from attendees at previous Summits, and it was a great way to end on a high note!
Overall, the TEFL Jobs '22 Summit was an insightful and successful endeavor that answered participant questions throughout its many sessions. Bridge plans to continue hosting webinars and Summits in the coming months to offer more resources and networking opportunities for the global community of online and in-person English language teachers and industry leaders.