An unexpected opportunity at a bilingual school led Luis Cardona, from Colombia, to shift from the design field to teaching English and other subjects. Aside from giving classes to young learners and teens, he's also set to start teaching with an online ESL company. We asked him how becoming an educator changed his career goals and found out about his experience with switching to virtual lessons during the pandemic.
Hi, Luis! Can you tell us a bit about yourself?
I'm an ESL teacher from Colombia. I graduated with a degree in product design and am finishing a Master's degree in Aesthetics and Creation.
Which part of Colombia do you live in? What's it like?
I live in Pereira, one of the three cities that comprise the famous coffee triangle (Pereira, Armenia, and Manizales). It is a small city compared to Bogotá or Medellín. Even so, it has things that make it more enjoyable to live in. It has warm weather year-round, and the best thing is its people because if you need help finding a place or anything, everyone is willing to help you.
I have lived here most of my life, though I went to Medellin to complete my university studies in product design. I love my city and my country, but now I'm looking to relocate to a different country. I'd like to get to know new countries, cultures, and ways to see the world.
How did you shift from the design field to teaching English?
I started teaching just after I graduated with a degree in product design. A bilingual school called me to start teaching visual arts in English. It's surprising that there aren't many professionals in Colombia that are fluent enough in English to teach a class like visual arts or photography. That was where the door opened for me to start teaching.
Last year, I started working at a different school, and they saw on my CV that I have an online TEFL certificate. They asked me to start teaching English as a second language, and that's the story of how I changed from designing objects to teaching different subjects. This year is even crazier than the previous ones — I'm taking up the challenge to teach math, science, technology, and language arts.
Get a Specialized Certification in Teaching English to Young Learners and Teenagers.
Can you tell us more about your current teaching job?
I work for a bilingual school in Colombia. Nowadays, I'm teaching at the same school I graduated from, so my students are a sort of mirror of how I was when I was their age. I have to teach 2nd to 11th grade (which is senior year in most Colombian schools).
I'm teaching four different subjects: technology for 2nd to 5th grade, math and science for 7th grade, and ESL classes for 9th to 11th grade. All of the subjects use the Content and Language Integrated Learning (CLIL) methodology.
Earn Specialized Certification in Content and Language Integrated Learning (CLIL).
What's your schedule like?
The school gives me my schedule. We teach kids for 35 hours weekly, although the number of hours per teacher may vary.
How did your experience as a designer help you as an English teacher?
I think having a background in design has helped me prepare materials that make my young and teen learners more comfortable, even in online classes. I saw lots of my friends struggling to find materials or design them, and for me, it was the easy part.
Use these tips for creating materials for the EFL classroom.
Do you have any tips for English teachers who want to successfully land a teaching position in a bilingual school?
I believe that having a certificate, like those issued by Bridge, will positively impact your chances to be hired. Also, it is essential to know that hiding things isn't a good idea, as they will come to light sooner or later, which will make your job more difficult.
Check out how to get a job teaching English in schools abroad.
You're also going to teach for the online English school Skyeng. How did you successfully get hired at this school?
I saw an ad on Instagram and I started the process there. Right now, I'm just waiting for my credentials to be updated and to get students assigned to my profile so I can start teaching them. The application process was simple: I had to run a technical test on my computer to check my internet connection, then I had to give a trial lesson, and that was all.
When did your school transition to online classes?
We did the transition to virtual classes in March last year due to the COVID-19 emergency. There are still some students that aren't coming to school because they have health issues related to higher risk if they got COVID-19 or because their families don't want to send them back until the situation is "normal" again.
What do you think are the pros and cons of teaching English online?
Teaching English online wasn't an experience I was looking for or prepared to have. Nevertheless, it has been enriching because it is a new experience and a new thing in life.
Teaching online allowed me to do some things that were impossible when I had to teach at the school in person, like spending time with my family, talking to my brother, and having time to draw.
However, it is complicated with small kids, as this situation made them more challenging to teach, even causing innumerable emotional problems for them and their parents. The most challenging thing about teaching online is not only leading your students but also their parents.
Check out the other pros and cons of teaching English online.
What are your favorite strategies or activities to use when teaching English online?
One of my favorite strategies is asking my students to speak even if they make mistakes because that's one thing that happens when you're learning. I regularly use videos that I find on YouTube and ask for my students' opinions about them, which sometimes gives me a fantastic result. Some videos may get students thinking more than I expected, but it's still a good and positive thing for young learners.
Learn how to make online English classes more engaging by taking short Micro-credential courses.
How is the COVID-19 situation in your country nowadays?
It's complicated, as I think it is all over the world. But in my city, it is incredibly cumbersome. Schools are doing everything they can. To begin with, they're implementing a hybrid learning model, but they're biting off more than they can chew. They're having problems with their internal organization, with the infrastructure required for this model, and with many other things, therefore making my responsibilities as a teacher more complicated to face.
How has the crisis affected you as an English teacher?
I have to say I've been fortunate in all of this. I still managed to keep my job and find a new one. The way it has affected me is the same as it has everyone, I may say.
Read about how coronavirus has affected other teachers' TEFL/TESOL careers.
When did you return to the classroom and what were the protocols you had to follow?
We started returning to the school in October last year but only with 10th graders and senior students. This year, we started with the entire school working in the hybrid model. The protocols that we're following are required by law here in Colombia:
Physical distancing is observed in every school space like classrooms.
Wearing a face mask is required 100% of the time within school premises.
The institution cannot sell food to students or teachers.
We have to be at school with the students for a maximum time of four and a half hours.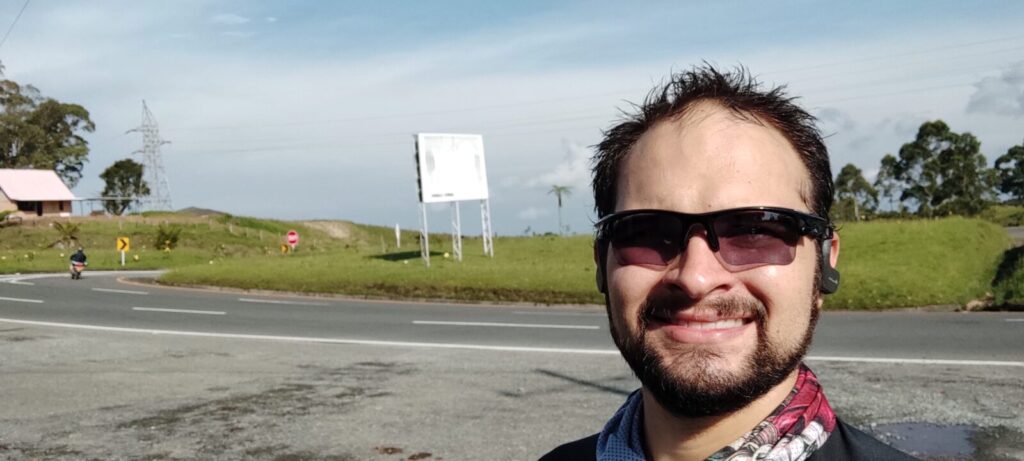 I researched a lot for an online course that I could take to get a TEFL certificate, and the best option I found was Bridge's Master Certificate. It was priced at what I could afford, and it was really good! You can also use it to gain credits in universities in the U.S., which makes it a more reliable option.
Read more about how to earn college credit for Bridge TEFL/TESOL courses.
How has this course helped you professionally?
Honestly, I didn't expect it to help me a lot in my country, but it has. The course and the certification from it opened the possibility for me to be where I'm now, as they allowed me to get my current job and start a new position at Skyeng.

How have you used your Bridge digital badge for this course?
I put it on my LinkedIn profile.
Find out how to use digital badges to get a TEFL/TESOL job.
What are your plans for the next weeks or months as the world deals with the pandemic?
At least for now, and while everything settles down a little bit, I'll be working at the school. But when the winds change, I'll continue my pursuit of finding a teaching job abroad.
Do you have any advice for people new to teaching, who are now looking at teaching English online as a possible job option?
Becoming a teacher is something more related to your attitude than to your professional background. And to get an educational background, there are lots of courses that you can take.