What's a Demo Lesson for a Teaching Interview?
By Lisa Shockley
July 14, 2021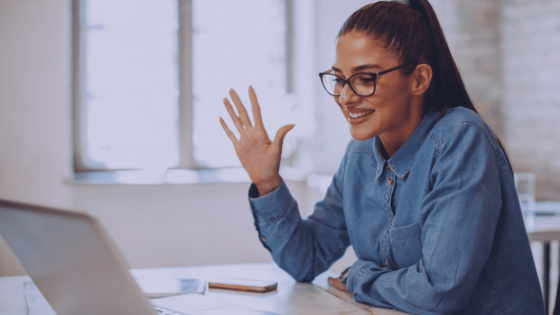 Congratulations on being selected for a job interview to teach English online! In most cases, the online tutoring company will have you do a demo teaching lesson as part of the interview to determine if you're a good fit for them and possibly to decide what your initial rate of pay should be. This is your chance to showcase your personality and your teaching skills! Here's what you can expect during a demo lesson for a teaching interview and how you can prepare to ace this important step.
Browse course options to earn your TEFL certificate online to qualify for more jobs.
What is the purpose of the demo lesson for an online teaching interview?
A demo lesson is part of the application and hiring process for most online English teaching jobs. Usually, the hiring process starts with an online application. Then, if you're selected to move to the next phase of the application process, you'll be asked to schedule an interview; your demo lesson (or mock teaching session) typically takes place during that interview.
The purpose of a live demo lesson for teaching English online is for the online tutoring company to see what qualities you bring to the table and how well you perform in a virtual setting. It's also an opportunity for you to get a feel for what to expect when teaching English online.
The demo lesson is set up to look exactly like how your classes will be when you begin teaching online with the company. The company will evaluate you on the way you present yourself, your ESL teaching skills, and your ability to manage the online classroom.
See which companies are currently seeking online English teachers.
When and how is the ESL teaching demo set up?
If you've made it to the interview stage of the hiring process with an online English teaching company, you can usually book an interview by choosing from the available time slots on the calendar the company will send you.
Instructions for your interview and demo teaching session will be given in advance before your scheduled interview to help you prepare. The instructions will include the demo lesson plan for your teaching session so that you can prepare and practice presenting it before your interview.
Find out more about the hiring process for online teaching jobs.
What can I expect during the interview and live demo?
Duration
In most cases, the online English teaching job interview process, including the demo lesson, will be no more than 30 minutes long. It's a good idea to sign in about 15 minutes or more beforehand so that you can test your audio and equipment, review the lesson plan and material, and have time to practice before the actual interview session.
See how to prepare for a TEFL/TESOL interview.
Format
Most interviews start with the interviewer asking you some questions about yourself, such as about your experience, TEFL certification, and background. Then the interviewer will go right into the demo lesson. Keep in mind that the person interviewing you will most likely play the role of the student in the teaching demo, so prepare to switch gears during the interview session. You'll need to use your imagination and pretend that the adult interviewer is the young student that you'll be teaching. This can be a little bit awkward, but try and have fun with it and you'll do just fine!
Take a look at the most common interview questions and how to answer them!
Pointers
The company has provided the lesson plan, so all you need to do is go through each slide with the "student." Instructions are provided on each slide for what is expected from the teacher and the student. Keep your eye on the class time and pace yourself. Use positive error correction and lots of encouragement. The company wants to see that you can complete the lesson objectives efficiently while maintaining a good energy level.
Don't make these 5 mistakes when applying to online teaching jobs.
What is a recorded demo lesson?
Some online tutoring companies will give you an option to do a recording of a demo lesson for your teaching interview instead of a live interview. You'll be given instructions on how to complete and submit the demo lesson video on the company's interview page.
The advantage of this method, of course, is that you can do the recording at your own convenience without the pressure of someone on the other side of the camera.
The disadvantage to this is that there's no interaction with a live person, so you have to be creative with the student and teacher responses while making sure you don't finish the lesson too quickly, or you'll run out of material to work with.
Where can I find teaching demo samples?
For examples of what a demo teaching lesson is like, use YouTube as your go-to resource for inspiration from other online English teachers. There are loads of videos out there by awesome teachers with ESL companies that will provide you with useful tips and tricks on how to ace your demo lesson during your teaching interview.
Check out this example of an ESL demo lesson for a teaching interview, by teacher Erin with VIPKid.
How can I prepare for my mock teaching demo?
In addition to preparing and practicing your demo session, there are a couple of other things to keep in mind when preparing for a mock teaching demo.
Set up your teaching space
The company wants to see that you have a quiet space set up to conduct your online classes. This area should be organized and free of distractions. Good lighting and a fun online teaching background are important. Set up your background to look like a classroom for the demo interview. Use educational materials, such as maps, animal pictures, the alphabet, or a calendar, for your backdrop. Anything fun and colorful will help grab the student's attention and make your lesson more interesting.
Learn how to invest in your online teaching space!
Check your technology
Be sure to have a computer with high-speed internet connection. Good lighting and headphones are super important. Companies like VIPKid require that you have a proper headset with clear audio before they will hire you.
Find out more about the requirements to teach English online.
What do companies look for during the demo lesson for a teaching interview?
Personality and presentation
Smile and use lots of positive energy to encourage the student throughout the lesson. Also, speak slowly and clearly and use simple language appropriate for the student's level. Have props related to the lesson (it's recommended to have at least two) and use a lot of TPR (total physical response) as you teach.
Professionalism
Dress conservatively. A bright-colored T-shirt or any solid color top will work. You'll want to look presentable on camera when teaching.
See the top 10 rules of etiquette when teaching English online.
Technology
The company will look for clear video and audio quality. No matter how good you think the audio is on your laptop or desktop computer, it'll still be required that you get a headset. After teaching a few classes online, you'll understand the reason for this.
Teaching skills
You'll be evaluated on your language skills and how well you can give clear instructions to your student. Balance teacher talk time (TTT) and student talk time (STT) appropriate to the student's language level (which should be specified on the lesson plan). Always be patient and give your student time to respond. Encourage the student, and remember to reward them when they do a good job.
If you'd like to learn more strategies for teaching in the virtual classroom, enroll in the Bridge Specialized Certificate in Teaching English Online (with an optional practicum). 
Use of online platform functions
The online tutoring company will want to see that you can effectively use their online platform and the tools available within it. The tools on the platform are there to create a more interactive and engaging lesson for the students.