What Types of Support Do Online English Tutoring Companies Provide New Teachers?
By Camille Turner
August 31, 2020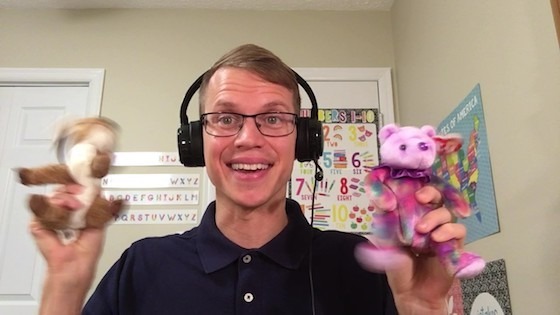 If you're new to the world of online English teaching, you may be concerned that working for an online tutoring company won't provide you the same support that teaching for a traditional school might. However, the good news is, this is often not the case. The support online English teaching companies provide comes in many different forms, including offering technical training, assigning teachers a mentor, and providing ongoing professional development opportunities.
TEFL/TESOL certification
Most online English tutoring companies, such as iTutorGroup, seek applicants who have proven training in teaching English to speakers of other languages, and therefore require TEFL/TESOL certification (these terms are used interchangeably). At a minimum, it's recommended that you have a 120-hour certification that's internationally recognized and from an accredited institution.
To set yourself apart from other applicants and prepare yourself with the specific methodology, skills, and technology needed to teach in the virtual classroom, add Specialized Certification in Teaching English Online to your general training.
Teaching Experience
If you're reading this article, you may be completely new to teaching English online, and therefore have no previous experience. That's okay! Luckily, while many online English tutoring companies do require some past experience, it is possible to find ones that don't. For example, online tutoring company 51Talk doesn't require prior teaching experience.
Your non-teaching skills count
There are also ways to work around the experience requirement of some companies. For example, many non-teaching skills can apply when tutoring English online. In other words, you can demonstrate how your previous work, even in a non-academic setting, has given you a chance to train or teach people in some capacity, helped you have more patience, boosted your creativity, made you comfortable with technology, or taught you how to communicate effectively.
You can sign up for an online teaching practicum to gain experience
Aside from skills that translate across multiple industries, those with no experience teaching online can also enroll in a Practicum in Teaching English Online, a course that allows teachers to gain experience teaching real students in a virtual classroom. You can even use recordings from your practicum classes to showcase your skills to potential online employers. This absolutely counts as online teaching experience!
Bachelor's degree
Not all online tutoring companies require that applicants are bachelor's degree holders, but many do. Keep in mind, your degree does not have to be in education or TESOL; it can typically be in any field.  There are even some online companies that hire teachers without a degree, so you're not a college graduate, you've still got options.
Learn more about teaching online without a degree.
Will online English teaching companies train me on the platform/technical skills I need?
Absolutely! Any reputable online English company will train you on their platform. They may expect you to have basic technical skills already, but any skills that are specific to their platform or teaching requirements (such as using special webcam software like ManyCam) will be covered by the company.
Plus, if you've already earned taken a Specialized TEFL/TESOL course in Teaching English Online when you apply for jobs, you'll be familiar with a variety of different online platforms, teaching tools, and software.
How do online tutoring companies prepare me to teach my first students?
Initial training provided by online tutoring companies can include the following to use their platform:
Written instruction
Video tutorials
Live, mock lessons with a staff member
Additionally, most online teaching companies have a tech support team available during classes. If you have technical trouble with the platform or your computer while teaching, you can reach out to the support team for help. They'll usually guide you through troubleshooting and transfer your class to another teacher if necessary.
Do most online English teaching companies provide the lesson plans?
Yes! The support online English tutoring companies provide usually includes pre-designed lesson plans. This means that you won't spend hours planning and creating lessons in your free time. Instead, you'll probably need to take just 5-10 minutes to review the lesson ahead of time so you know what props to bring to class, what to expect, etc. Once you have taught for a company for a while, you may have all of the lessons memorized, so you can even take those five minutes of prep time off your schedule!
Do most online English teaching companies offer feedback and assessment?
You should receive plenty of feedback on mock or co-taught lessons before you ever teach live students on your own. Some of the best online English teaching companies also provide periodic feedback or a performance assessment once you're teaching to ensure that you continue to improve. They may even assign you a mentor to help you grow as a teacher and to give you the opportunity to ask questions and request feedback when you want it.
Do online companies help me advance in my career?
Yes, the best, most supportive online English tutoring companies allow you to advance in your career. Many companies offer ESL professional development and training opportunities so teachers can stay up to date on the latest online teaching techniques and news and continue to improve as online teachers. If you work for the same company for a long time, you can even rank up and take on secondary positions, such as conducting the training for other teachers or interviewing new candidates.
Many companies also offer bonuses and incentives. For example, they may give referral bonuses to employees who recruit new teachers.
Some online ESL companies also run contests from time to time, in which teachers can win trips, teaching gear, or money for getting good student ratings, referring a certain number of teachers, etc.
Some companies offer opportunities for teachers to work with academic staff to develop new curriculums from time to time.
What if I have a problem with a student while I'm teaching English online?
Each company has specific policies on what to do if a student misbehaves or is rude during class. These policies should be covered during the training provided by online tutoring companies. Some will require you to mute the student or turn their camera off. Others may ask you to end the class. If you have a problem with a student while teaching online, you can reach out to your company's teacher support team for help. They will probably take care of reviewing the class and reaching out to the student or student's parents to discuss the situation and come up with a solution. In any case, you shouldn't be penalized.
Teaching English online does not mean you'll be left to your own devices. The support online English teaching companies provide includes everything from technical training and professional development opportunities to bonuses and mentors!
A final note: If you want more support, teach for a company; if you want more freedom, consider a marketplace
If you're looking for a lot of creative freedom as a teacher, you may want to try teaching for a marketplace instead of a company.
What is a marketplace for teaching English online and should you use one?
Using the marketplace to teach English online means allowing a company, like Preply or iTutorGroup, to handle things like attracting students and collecting/dispersing payments. The teacher is then responsible for marketing themselves on the company's site with a profile. Teachers set their own rates and choose the hours in which they'd like to conduct classes.
Although this comes with a lot of freedom, the downside is that marketplace companies may not provide as much teaching support as traditional TEO companies do, and it may be harder to get a steady stream of students at first.
The bottom line? You've got a world of options when it comes to teaching English online, whether you're a newbie who'd like lots of support or you're an experienced pro ready to take your career into your own hands.
Download this free Teaching English Online eBook to learn more about getting started in this high-demand field.