What makes a teacher decide to quit his or her English teaching position at a school and go freelance? When I made this switch five years ago, I was drawn to freelancing by perks like having control over my schedule and rates (read my story here). And though I had to learn to be business savvy, the rewards of being my own boss were enough to make me not look back.
Similarly, lots of ESL teachers have swapped regular paychecks for going independent. We interviewed some of them on why they've set out on their own and the differences they've experienced between working with an established company and as a freelancer.
Should you work for a company or for yourself? Read this to find out.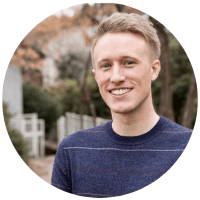 Chris began his EFL teaching career at a private school in Japan and later started his own venture, Smith English, to offer English classes to private students and universities.
What spurred you to become an independent English teacher?
To be honest, the management and training tasks of my previous job started to overpower the actual teaching tasks. I really enjoy teaching, and although freelancing requires more business-related tasks, all of that hard work directly benefited me. As a freelancer, I can also choose the opportunities and contracts that I am interested in. When first starting out, I had to take anything I could get, but I'm finally at a place now where I can take the jobs that align with my own interests and goals for the future. I had other freelancing friends who described these benefits to me before I set out on my own, and this made it seem like the right choice for me.
What differences between teaching for a company and working freelance surprised you most?
The first surprising difference was how much administrative work and PR work it took to survive as a personal business. Working for a company, most of this is done for you by a receptionist or manager and you can focus on teaching. It takes time to learn this side of the business, but once you have it figured out, then it is incredibly rewarding to do all of the work yourself.
If you're new to teaching, you'll want to get initial training and qualification with a TEFL certificate. You can explore our online TEFL courses to get started!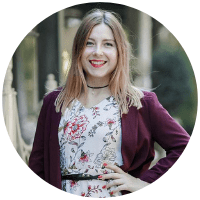 A digital nomad, Vera used to teach for schools and language institutes around the world before starting her online English school, Idioma Zone.
What made you decide to start your own English teaching business?
I decided to become a freelance English teacher because I wanted to create my own schedule, the one that was comfortable for me. Also, I figured out that the payment from language institutes was not good enough and I thought, "People want to have private classes with me, and I could do it on my own." When I went freelance, I loved it because I organize my own schedule, I have to do all those things, and I really like communicating with people. That's the main reason— because I do it all myself. Plus, there's no one to tell me what to do and when to do something. So, I rule the whole process and it feels really good.
What differences between teaching for a company and working freelance surprised you most?
First, when you work freelance you get more classes than when you work for a school. On top of that, you get better payment.
Even though no one gives you classes, people still find you, and they contact you and ask for classes. So, you always have some classes. For example, while traveling, I got a couple of students. So, now I have students in several countries here in Latin America, from Chile to Mexico. It's something really beautiful and I really like this feeling that English connects all the dots and all the world by means of communication.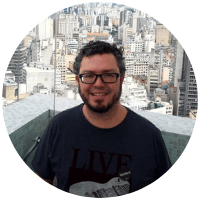 A seasoned English teacher who started at a language center in São Paolo, José started getting private students six years ago, and the number of students has significantly grown ever since.
What prompted you to pursue freelance English teaching?
The best way to grow in this career is to invest in yourself. I realized after teaching for quite a while that I would only make more money if I became a freelancer. After years of working very hard towards this goal, I believe that I made the right decision.
For you, what are the most surprising differences between teaching for a company and working freelance?
When you work for a company, all you have to worry about is delivering a great class, but when you are a freelancer not only you have to give the best class ever but you also must study hard, invest in marketing campaigns, manage your time wisely, and so on. Nevertheless, the results you can get when you succeed as a freelancer are definitely worth all the efforts you make along the way.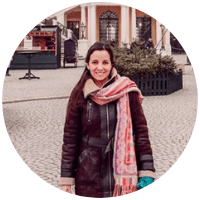 After dropping various 9-to-5 jobs and turning down offers in schools, Margarida pursued her dream of traveling the world while teaching English online.
Why did you decide to become a freelance English teacher?
During the pandemic, I got lost in my life. I was thinking of what I could do for work and traveling, as that is my first love. After working as a programmer, a cruise ship staff, a manager, and many other jobs, freelance teaching English came to mind. I spent a week researching the topic and found it perfect for me. These days, I'm back to traveling the world as an English teacher.
What differences between teaching for a company and working freelance surprised you most?
During my stay in Portugal, some schools offered me a full-time job. However, the conditions weren't so good. The schools were cold in winter and the salary was not a plus to push me to accept the offer. I got enough online English students that gave me a good salary. So, in the end, I can earn the same salary doing a remote job and traveling the world as commuting to work every day and waiting for once-a-year vacations.
Are you interested in going freelance but not sure you have the business and marketing skills you'll need to succeed? Take Bridge's Specialized Certification in Teaching English as a Freelancer to complement your teaching experience or credentials.