Chris, From the U.S., Running His Own EFL Company in Japan
By Krzl Light Nuñes
June 1, 2021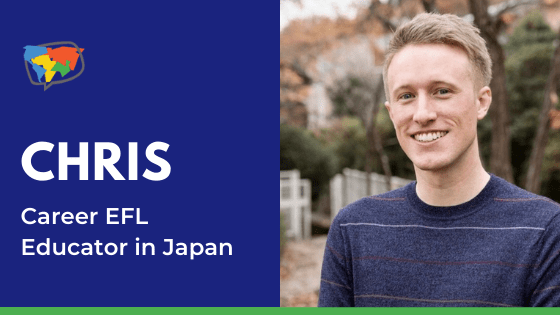 Career growth opportunities and Japan's mix of tradition and modernity are just some of the reasons why IDELTOnline™ grad Chris Smith has thrived as an EFL teacher in the country since his arrival 10 years ago. Currently, he runs his own English teaching company, which mostly caters to kindergartens and adults, in Kanazawa City. We asked him how he became a teacherpreneur, what support the Japanese government provided for his business during the pandemic, and what tips he had for making it as a teacher in this region.
Hi, Chris! Can you tell us a bit about yourself?
My name is Chris Smith and I'm from North Carolina in America, which is on the East Coast near Washington, D.C. I'm 32 years old and I currently live in Japan. I live in Kanazawa City, which is west of Tokyo. If you look at Tokyo on the map and go directly west to the other coast and then a little bit north, there's a peninsula. I don't live on the peninsula — slightly south — but in that area. I moved to Japan in 2012. So, next year will be my 10-year anniversary here.
What do you like most about teaching in Japan?
There are two things that are very good about teaching in Japan: the teaching side of things and the living in Japan side of things.
Teaching-wise, in Japan, English education is valued pretty highly. People attend extra school after school to learn more English, which is actually what I do when I teach children. So, the students are pretty serious about learning, and since they are pretty good at studying, you can focus more on making it fun and meaningful because you don't have to constantly make sure they're doing their homework. They're pretty good about that kind of stuff. Adults as well — adults that want to take the TOEIC or other tests. They usually need it for their jobs because English is such a big part of what's needed, so most students are pretty good students, which is great.
Living in Japan, of course, is amazing. Japan is a beautiful place and it's a pretty good mix of traditional culture and futuristic high-tech stuff.
Read about the 10 best places to teach English abroad in 2021.
How did you land your first job in Japan and how has your career grown there?
I came here with a significant other and we found the job online together, and we did a lot of interviewing online. Back then, it was all Skype and everything — I don't think Zoom even existed — and I got my first job here in Kanazawa. My first plan was to come here for a year and teach and then figure out what I was going to do after that. But after we got here, we really loved the private school that we taught at and mixed into their system really well, and pretty soon I moved up the ladder and became a manager and trainer.
I ended up staying for even longer, and then I ended up getting married to a Japanese woman, so my life was pretty much tied to Japan after that. So, I decided then that I wanted to teach for myself instead of just at the school, and I branched out and started my own company after that.
How have you built your own client base for your company?
There were several ways that I tried and failed and several ways that I succeeded. Of course, I have been teaching for a while, so I knew I was a good teacher and I could create curriculums, but I wasn't as well-versed on the business side of things.
The first way was through online presence. Nowadays, Instagram and Facebook all have advertising platforms that work pretty well and are targeted, but in Japan, I got very few customers from that style of advertising. Instead, here, word of mouth is more important.
I actually started handing out flyers to people directly or to houses in the area and talking to restaurants that I go to and different places to put out my flyer, which is a huge thing in Japan. It's called giving out chirachi, and I got some customers that way.
The bigger way, which actually is still the biggest way to get customers, is networking through past students and through my friends and family who have connections in certain places. Then, once you make a connection, you can make more connections from there and maintain a good reputation. Reputation is key. Of course, you want people saying good things about you when it's word of mouth.
Get tips for finding learners from other independent ESL teachers.
Tell us about the learners you're currently teaching.
My students are mostly spread between two poles right now:
The largest part of my client base at the moment is kindergartens. In Japan, before primary school or elementary school, there's a kindergarten system that kids can go through when they're born, essentially. And a few times a week, I go to these kindergartens and teach English classes, which is mostly singing and dancing and things like that, but built into all of that is the core of English, grammar, and vocabulary. Of course, it's not just mindless singing. It is all meaningful. So that's a big part of my base.
The other is businessmen and adults that need to take the TOEIC or other English tests, or they're planning on traveling and want to study English to be able to live in Canada for a year or different things like that.
How has the COVID-19 crisis affected you as an English teacher?
I started this business at the end of 2019 in around October. Then, the following March or April is when everything got shut down for COVID-19. Immediately after I started my business and got clients, everyone quit — they didn't quit indefinitely but just for that time. So, I had to very quickly try to adapt and move online as much as I could. For example, you can't teach 30 kindergarten children online. It's probably possible but very difficult.
So instead, what I would do is create videos like YouTube videos of how I would teach if I were there, and they practiced using those videos until I could finally return, for example. And a lot of my adult students moved classes online, and then I had to search for new online classes for people who still needed English during the COVID-19 crisis. It sounds like it happened very quickly, but this took months to build back up, and there were several months where I was having three lessons a week, which is almost nothing.
See how COVID-19 affected other teachers living in Asia.
The Japanese government's support
Luckily, the Japanese government was very good at helping small businesses stay afloat. They did several things for small businesses based on if you were a restaurant or an English School. For us, they did two things:
First of all, depending on if we could show how much money we were losing, for example, they would help us financially. That was great, of course, to have enough money to keep it going so we wouldn't just completely lose our business.
They started a technology challenge — that's probably the best translation from Japanese. Basically, if you bought things that were going to move your business online, they would pay for 80% of whatever you bought, which is an amazing program. It allowed me to buy everything I have here in my office to do effective online lessons, which was great. Before, I only had a laptop, which is enough, of course, but it's really nice to have every little thing I need to make a good online lesson. So, that was amazing from the Japanese government.
During COVID-19, I had to try to adapt and teach English online and find other avenues to teach. Other than that, I have children and I have a personal business to run. I needed something where I didn't have to go to the same place every day at 2 o'clock, for example. And the good thing about the Bridge course is that I could do it anytime I had free time during the week.
It was 100% online and, specifically, the one that I chose, the 150-hour class, had a lot of credits that I could transfer towards a master's in the future, which was very important to me. So, I wanted something effective that I could do in my free time and that was convenient, and during COVID-19 and everything, I also just wanted to become a better teacher, and it seemed like this was the best first step to a master's or whatever was next.
Find out more about how you can earn college credit for Bridge TEFL/TESOL courses.
How do you think having a master's degree will benefit you?
I think it will help me in two ways:
The first is professionally. At a lot of universities around here, for example, if you want to pick up some guest lectures or anything like that, you pretty much have to have a master's. I'm very interested in teaching that kind of class.
The second reason is that I've been teaching a long time, but it was unconventional how I started teaching. I was trained by other teachers, but I would really like to actually learn the fundamentals and how to teach as a university professor or from theory. I wasn't taught that when I first started teaching. I've just done the research myself, so I thought a more formal approach would help. I think it's good for beginning teachers or experienced teachers to learn again or keep learning forever.
Find out if getting a master's in TESOL is the right path for you.
Aside from getting a master's degree, what's next for you?
Right now, since my business is still fairly new — it's about two years old — all of my focus is on growing the business.
I would like more long-term contracts, like with universities and kindergartens, and I'm really focusing on that.
In the distant future, I wouldn't mind teaching more university-style classes or at higher education institutes. I really enjoy that atmosphere just as much as I enjoy going to teach at kindergartens. But as I get older, I can imagine when I'm 50 or 60, it will be hard to run around with children at a kindergarten, so I would love to transition more towards that style of teaching as the business grows.
What are your tips for a teacher who wants to teach in Japan?
First, take a TESOL class. At my last job, I also hired people, trained people, and did interviews. Anytime we saw any kind of qualification that was specific to English, it really helped because a lot of the teachers who come here have degrees that have no relation to English. It's not a big deal, but if you have time to take any kind of class to help you prepare and get ahead of the competition, it really makes you stand out.
Second, I would say to learn Japanese if you're coming to Japan. Not only does it help you become a better teacher because you experience being a student, but it also allows you to do a lot of things in the society that you wouldn't be able to if you spoke no Japanese. It helps you experience the culture better because culture and language are so intertwined. A lot of people come here and they teach for one year and they don't learn any Japanese, and they really miss out on a lot of what's fun about the country. I don't know about the other Asian countries. I'm sure it's very similar. I've only lived in Japan, but definitely learn Japanese, take some more courses, and prepare yourself as much as possible before you come.