José, From Brazil, Teaching English Online in His Home Country
By Krzl Light Nuñes
April 19, 2021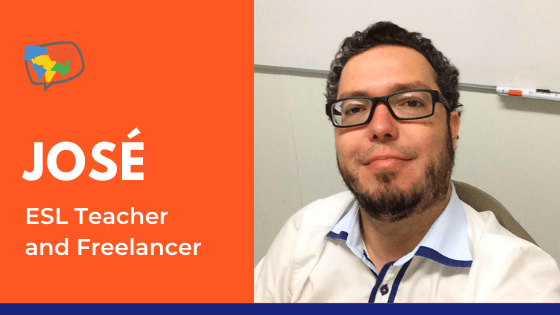 Deciding to leave his job and live abroad in London paved the way for Bridge grad José Henriquez Alvarez, from Brazil, to discover his love for teaching English. A current ESL teacher for a renowned language institute in São Paulo, he also teaches private students on the side. He tells us about the advantages and joy of teaching his fellow Brazilians, as well as his plans to further his English teaching skills. (Scroll to the bottom of this article to watch the full video interview.)
Hi, José! Can you tell us a bit about yourself and your background in English?
I'm from Presidente Prudente, São Paolo, which is in the countryside of Brazil. I was born there, and then I lived in Fortaleza, which is in Ceará.
I learned English for six months in Fortaleza. I did an intensive course at Berlitz, which is a prestigious language center in Brazil and in the world too. I also lived in London for two years, where I did an advanced course, too.
I've been an English teacher for more than ten years. And of course, when you teach, you also learn a lot. Nowadays, I teach privately – I have my own students – and I also teach at Berlitz.
I'm married. I don't have any kids. I have two cats. I have a rock and roll band, and I like to play the acoustic guitar.
What inspired you to get into the English teaching field?
If I think about what inspired me, it wasn't something natural. I actually did business administration for almost two years, but when I started teaching, I just loved it, so I would say that I got inspired to teach when I started teaching.
A long time ago, around 2003, I was working at a company, doing accounting, and I hated my job. The company was being relocated to another state in Brazil and they were offering packages for the employees to either stay at the company and move or quit and get the severance package. I decided to take the second option.
I came to my parents and said, "I want to live abroad." I remember exactly when I said that. I was expecting them to say, "Are you mad? What are you thinking?" But they supported me. So, I decided to live in London because at this time, in 2003, it was not difficult to do that.
Check out our step-by-step guide to teaching English abroad.
Landing his first TEFL job
When I came back to Brazil after two years, my brother-in-law and sister said, "You could come here. You could start teaching. Would you like to do that?" And I said, "Why not?" I started in 2005 and I loved it. I taught English at Berlitz in Fortaleza for five years.
After that, I worked for the cruise ship company, Royal Caribbean. I was a bartender for only three months, and then I decided to come to São Paolo. I had already taught at Berlitz before so I called several schools and said, "I'm looking for a job in São Paolo as a Berlitz teacher." One of these schools accepted me, so I continued to teach.
What do you like best about teaching in your home country?
Brazilian people are really cool. I lived in London for two years and I had to opportunity to meet many different kinds of nationalities, but there's nothing like a Brazilian person. I can say that it's a lot of fun teaching Brazilians, especially when you are Brazilian too.
There's this issue of whether students should have native speaker teachers – you've probably heard a lot of this. But I can say that we Brazilians understand each other. So, I believe that teaching Brazilians is something cool, fun, and something that I love to do.
I have taught English to students from other countries, such as Paraguay and Peru, but I'm Brazilian so I'm passionate about my country and about the people here.
What types of English classes do you give?
At Berlitz, I teach everyday English. They also have a lot of specializations, including Business English, accounting English, marketing English, etc.
In my private lessons, I focus more on everyday English and Business English and I've been doing that for quite a while. I don't write my own materials; I use the materials from Macmillan and from other publishers. They're completely digital and this really helps students learn.
Read how you can find your niche as an online English teacher.
How did you find your private students?
When I started teaching at Berlitz, we used to have lots of lessons so I didn't need to teach privately, but after some time, we had an economic crisis in Brazil. We teachers had to do something because the number of lessons decreased a lot. I started organizing my agenda and I was many times asked by some students, "Do you teach private lessons?" In the beginning, I  refused, but after some time, I said, "Why not?" and started accepting these students. Nowadays, I can say that I have more private students than Berlitz students.
Get tips from other freelance English teachers on building your own student base.
Can you share an anecdote about a funny experience while teaching?
Around 2013, a student came to Berlitz and at this time I was also evaluating students – one of my jobs was to do an oral placement test. My boss came to me and said that this student needed to learn English, and since he didn't speak any English, he needed to learn really fast. I said he was at the right place because, at Berlitz, we offer a total immersion course. So, the student started having this kind of lesson. On some days he would have a class at Berlitz, on other days at home.
One day, I went there with my material very happily, and my student was drinking a beer because since he was doing a total immersion course, he used this time at home to relax a little bit also. So, he was having a beer and relaxing in his bathtub and he said, "Teacher, you can sit down." He was holding his book in the bathtub. So, I said, "I'm sorry but I cannot do that. I cannot teach you. I really respect that you're doing that. You're at home. You can do anything because you are in your house, but I don't feel comfortable teaching you while you're there in your bathtub. So, he got out of the bathtub and put on some normal clothes then we started having a class.
I knew I had to do a refresher course. At Berlitz, we had pretty good training, and after teaching for many years, I became an experienced teacher – but I needed more. So, I not only did this Bridge course but I also got a degree in English, or Letras Ingles. 
I'm finishing a post-grad right now in English Methodologies at a very good university in Brazil, but I didn't have any certificates — a CELTA, TEFL, or TESOL. I needed one to be respected in the area of private teaching, so I looked at many courses, and when I heard of Bridge (or actually saw an ad on Facebook), I said, "This one looks really nice."
Get TEFL certified to start teaching! 
Advantages of taking this course
At the end of the online TEFL course, I had reviewed many things that I already knew before, but it was also important to enhance my abilities, my skills, to be more qualified, and to be more respected.
Bridge's accrediting body is recognized by the Ministry of Education in the United States. I think this makes a big difference because there are many kinds of courses out there, but Bridge is very respected and well known. So, when I was looking for a course, I knew that I could pay a bit more but at the same time get a good return on investment, and that's exactly what I got.
I got good support from the teachers.
At the end of the course, I said, "Now, I have a respected certificate that I can show on my resume. Or, I can tell my students that I am qualified not only with my experience but with an important document that shows all of the abilities that I learned and everything that I acquired when I did the Bridge course.
Here's a guide on choosing the right TEFL/TESOL course for you.
How did this course help improve your teaching skills?
When you teach for a long time, you get into a comfort zone. You might think, "Now I know enough to be able to teach anyone, anytime, anywhere." But it enhances your abilities when you can apply what you learned in your lessons.
For me, it was a review because I identified some things that I used but didn't know that I used. It also taught me many new things that I didn't know about teaching related to speaking, writing, reading, and listening and how to not only learn and absorb the content but put it into practice.
What's next for you?
In the future, I'd like to do more. There's the IDELTOnline™ course that I'd like to take in the future, and I think it would open the door for a master's degree in the U.S. or other countries.
I've created my own website, a Facebook page, and an Instagram page. Thank God that I've been able to be at home, in the comfort of my house, and able to teach and make some good cash. So, I can say that the next step is to someday leave Berlitz and really focus on my career as a private teacher. But not only that –  I'd like to open up an online school. So, the next steps are to open up a business, make more money, and be happy.
Watch the full video interview with José: