How to Write a TEFL Cover Letter (With Sample)
By Camille Turner
October 21, 2021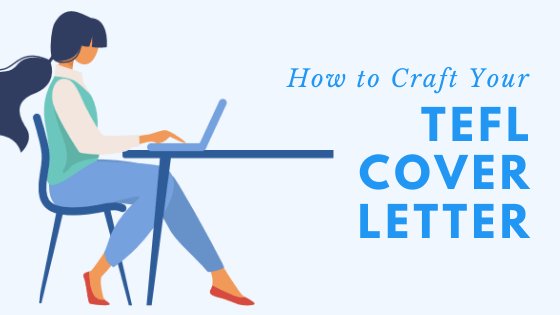 When applying for in-person or online TEFL/TESOL jobs, your cover letter is your first impression and, like your Bridge Teacher Portfolio and digital badges, helps you stand out as an applicant. A TEFL cover letter conveys your enthusiasm for a specific position and demonstrates your qualifications for the job. Cover letters can fill in gaps on your resume, such as inexperience, lack of education, or even periods of unemployment. They also provide a chance to let your personality shine through and for potential employers to get to know you a little better.
How do you begin a TEFL cover letter?
Before you get started writing your cover letter, remember these three tips:
A TEFL cover letter is usually not very long, consisting of just three short paragraphs.
You want to be brief and direct so that employers take the time to actually read what you've written, but still detailed enough to provide an accurate picture of your personality and experience.
It is imperative that each teaching cover letter you write is tailored to the specific job for which you're applying. It's easy to see when an applicant has simply used a generic cover letter to send in mass to various companies, and this never looks good to employers.
When you're ready to start, your teaching cover letter should begin with a personalized greeting. In other words, you want to avoid the generic "Dear Hiring Manager" and instead find out the name of the person handling the applications.
While this isn't always possible, oftentimes all it takes is a quick glance at the job advertisement or an easy web search to find out who is in charge of the school, language institute, or online company where you're applying. Taking the time to research the hiring manager's name will allow you to stand out as someone who goes the extra mile, who cares deeply about the specific job, and who demonstrates attention to detail.
Read these tips for choosing the best company for teaching online.
How do you format a TEFL cover letter? What exactly should it include?
Cover letters usually include three paragraphs:
1. Introduction: Why you're writing and where you saw the job post
This first paragraph is simple enough. You're essentially letting an employer know that you're interested in working for them. Be sure to specify the position for which you're applying, and let the school, language institute, or online company know where you saw the job advertisement. Employers appreciate when applicants mention where they saw the job posting because it allows them to get a better idea of where their advertising time and money are best spent.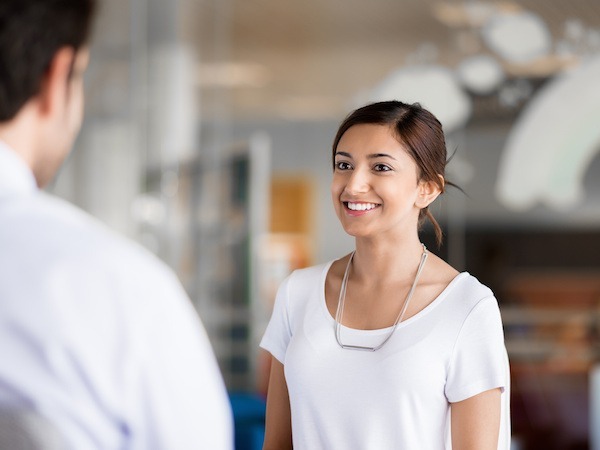 2. Why you want this particular job and would be great for it
This is perhaps the most important paragraph to consider when writing a cover letter to teach abroad or online because this is where you'll really demonstrate why someone should hire you.
Do your research
The first thing to keep in mind is that you need to do your research so that you can show you have a vast knowledge of the school or company and the position. Again, this personalizes the TEFL cover letter and lets employers know that this particular job is important to you.
Focus on what you can do for them
Next, highlight what you can specifically do for the school or program. Try to match your qualities to those listed in the job posting by offering specific examples of times when you've demonstrated these qualities or previous roles you've held that incorporated the same skillsets.
Furthermore, try quantifying your skills – put numbers to your accomplishments! Teachers can do this in several ways, including specifying how many students they supervised during a specific role, how many reflective teaching support groups they hosted each month at a school, or the percentage by which their students' test scores improved during a certain year.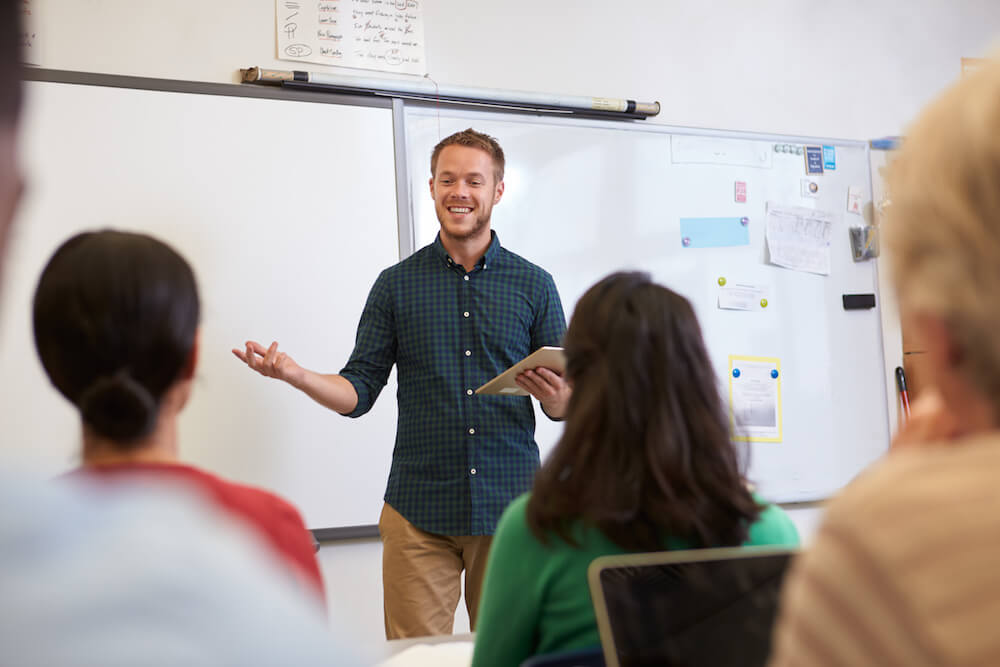 Highlight what makes you stand out as an applicant
Finally, you'll want to mention any other unique qualities that are not on your TEFL resume but that reflect your suitability for the job. Examples include your demonstrated ability to adapt to other cultures, your experience learning other languages, which has led you to a deeper understanding of what it takes to teach a language, or your proven expertise when it comes to incorporating technology into the classroom.
3. Summary paragraph
While this paragraph is largely self-explanatory, you'll want to remember several essential components to include here.
First, you should reiterate why you're a good fit for the position in order to leave employers with the most relevant information.
Then, you should be sure to thank them for taking the time to review your application or read your TEFL cover letter.
Additionally, you want to include a reference to the next step. This could be something like, "I would appreciate the chance to set up an interview in order to further speak with you about my qualifications for the position" or, "Please feel free to reach out to me via phone or email if you have any questions about my qualifications."

Finally, you should include your contact information and signature. This is also a great space to include your digital badges for TEFL/TESOL, which can be hyperlinked to a verifiable URL where employers can get details on your course, including core competencies achieved, a sampling of tasks you've completed, and info on the program's accreditation. This will help you stand out from other applicants and further highlight your credentials.
Sample TEFL cover letter
This example cover letter shows our cover letter tips in action!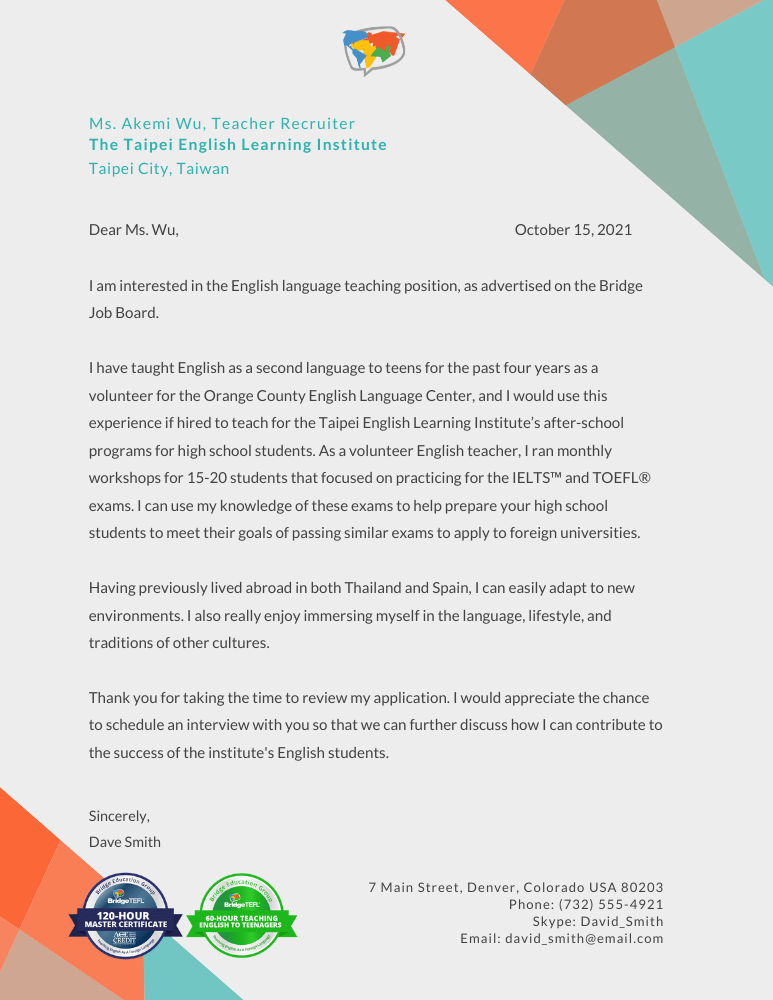 What if I have no teaching experience?
If you don't have any prior teaching experience, then you should use the space in your cover letter to teach abroad or online to reference your TEFL certification and how the skills you learned in your online TEFL course align with the job for which you're applying. For example, you could highlight a teaching practicum in which you taught a class of adult learners and were evaluated by an experienced TEFL/TESOL teacher, how you created multiple lesson plans using different teaching methods, or how you completed a Specialization in Teaching Young Learners.
Alternatively, you could take the opportunity to describe how skills you've acquired in non-teaching jobs would transfer to the position. For example, if you've ever held a position in which you've overseen large groups of adults or children, this could translate into classroom management skills. Or, if you've led workshops or training sessions, you could easily equate this to being able to clearly and effectively explain difficult subjects to learners.
Newly certified? Here's how to get TEFL/TESOL experience.
What shouldn't I include in my TEFL cover letter?
Generic language
One thing to avoid in your teaching cover letter is generic language that isn't unique to the position for which you're applying. Anything that broadly references your overall teaching qualifications instead of specifying how a certain qualification or experience translates to the specific position would fall into this generic language category.
Summary of your resume
Another trap that applicants often fall into is using their TEFL cover letter to simply summarize what's on their resume. This is harmful to their candidacy for a few reasons. For starters, employers will simply gloss over what you've written since they've already seen the same information in your resume. Furthermore, these types of cover letters come across as boring and stiff. In other words, you'll miss out on the opportunity to show your personality and make a case for your candidature for the specific position.
Check out these free resources to enhance your TEFL/TESOL resume.
Typos and other errors
Finally, it's essential that you avoid sending your cover letter with any typos or grammatical errors. While this holds true for any position, it's all the more important when applying for a TEFL job because no school is going to want an English teacher who doesn't have a firm grasp of grammar and spelling!
Now that you've got your cover letter down, you're ready to start applying for jobs. Check out the Bridge Job Board for the latest teaching positions worldwide and online!