No Teacher Left Behind: An Empowering 19th BRAZ-TESOL Conference
By Krzl Light Nuñes
July 23, 2023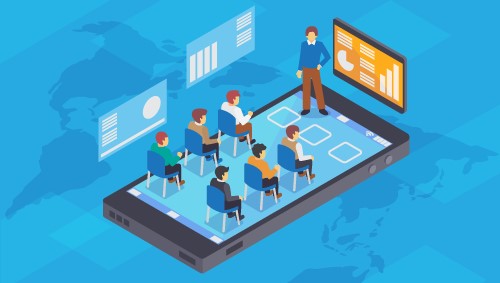 With a spotlight on equipping the English language teaching community with the skills, tools, and best practices for current and future trends, BRAZ-TESOL convened ELT educators from Brazil and abroad at its 19th International Conference from July 13th to 15th.
Themed "Our New World: No Teacher Left Behind," the online event featured sessions that covered a goldmine of topics, such as tapping into the latest technologies, empowering bilingual education, pursuing professional development, and exploring teacherpreneurship.
Bridge Education Group is an annual sponsor of the conference, and Anna Hearrell, Bridge Director of Teacher Training Products, spoke on the topics of teacherpreneurship and professional development. Maggie de Oliveira, Bridge Teacher and Institutional Relations Manager, also spoke on the topic of best practices for online course delivery.
"Our mission at Bridge is to empower a global community of English language teachers. With this mission, we need to ensure we are delivering quality education online, so that is why we are constantly looking at ways we can improve our course delivery and ways we support our online learners," de Oliveira said.
This year's conference was hosted on a metaverse platform, which made use of virtual reality to allow attendees to move around a digital space. Represented by their avatars, the participants could use the platform to give presentations, attend workshops, visit various booths, and network with each other.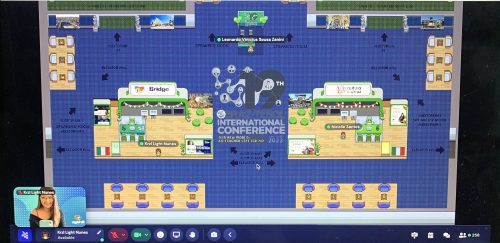 While being on a metaverse platform may have been new to many conference attendees, feedback on their virtual experience also varied.
Matheus Nazario da Silva, one of the speakers, said, "I really enjoyed attending the BRAZ-TESOL conference on a metaverse platform. It was the first time I attended the conference. I really enjoyed how it made me feel as if I was really walking into the event and bumping into people!"
Meanwhile, another conference speaker, Cristiane Rossi, said, "The metaverse was a bit challenging at first because in the conference, we had to move around, find a place to sit or go to the stage when it was our turn to present, and these are things we expect to do face-to-face, not online, so it was not just sharing our presentation and talking. But in the end, it worked!"
Among the many presentations, there were some recurring themes that were popular with attendees. These included leveraging technology in the ESL classroom, teaching and learning strategies, and bilingual education.
Leveraging technology in the ESL classroom
Taking into account the rise of online English learning as well as today's novel interfaces and applications, a prominent theme was ways English language teachers can make the most out of technology to facilitate their instruction and students' learning.
Bridge's de Oliveira discussed ways to create an engaging learning environment in online course delivery, describing the importance of revisiting online delivery practices for continual improvements.
"It's crucial to consider what additional support a learner needs beyond the course material in an online setting because there are many factors outside the online classroom that impact their motivation to continue learning, including varying levels of commitment, needs and interests, competing priorities and diverse backgrounds, expectations, and experiences and abilities (both with the target language and online learning)," de Oliveira said.
She added that "there are three pillars to support eLearning for a fluid experience: communication, feedback, and online presence. These pillars, when properly addressed, contribute to the overall goal of lowering the barriers that exist within the online learning setting so as to allow the learners to focus on learning itself."
Tamires Gama, Founder and CEO of Simplifica Inglês, gave a key plenary talk on implementing positive online teaching practices to help beginner adult English learners succeed. She first stressed that understanding A1 English students' capabilities is essential in planning online class curricula, materials, and activities. "We really need to understand what they can do," she said. "We align expectations, and then we can also accommodate the things that they (students) bring with them, such as background knowledge and the exposure they have."
Gama then shared practical tips for aiding beginner students by showing how she uses various tools in her own online English classes. These include a "survival kit" that she has created, mood boards, and feedback forms that students can easily fill out.
On top of making the virtual classroom engaging, Gama emphasized how having a professional attitude is key to sparking learners' motivation to keep improving. She concluded by asking everyone to "think about your attitude. What's your attitude toward these learners?"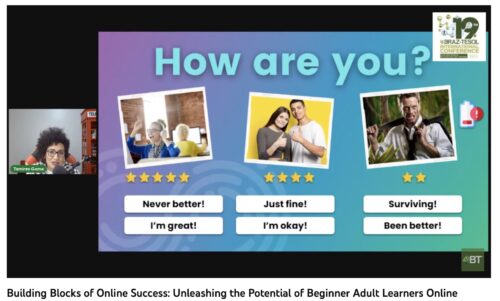 Meanwhile, artificial intelligence was also widely discussed in various sessions. For instance, Victor Araujo Coutinho, also an EdTech enthusiast, tackled how English teachers can take advantage of AI to support students' learning. Aside from showing various applications that can assist students in improving writing skills, he also demonstrated how chatbots like ChatGPT can be utilized for various tasks like fetching online references and resources.
Despite the benefits of AI to language learning, Araujo was also aware of some teachers' concerns about the possibility of AI replacing them. He debunked this, however, saying, "I think we're going backward when we think that AI is going to replace teachers. No, we move along. We know how important the communicative approach is, and it's simply not possible to have automatic feedback or real-time feedback replace us."
Learn about using technology as a dedicated assistant in teaching pronunciation.
Teaching and learning strategies
Still aligned with enhancing learning processes, several talks also delved into incorporating contemporary methods to help English learners develop motivation and initiatives for their studies. A session that focused on this was led by Matheus Nazario da Silva, an independent online EFL teacher and Bridge alum, who gave tips on using the Suggestopedia technique to unlock English proficiency test takers' intrinsic motivation. After asking the audience about their experience in teaching proficiency tests, Nazario da Silva provided ways Suggestopedia can be applied to create a positive learning environment, such as using music, art, and engaging activities like role-playing.
When asked why addressing test takers' motivation is relevant to teachers nowadays, Nazario da Silva said, "As a test-taker myself, I believe that knowing the exam back and forth is important, but it does not matter how good you are if you do not feel well during the exam. I thought of addressing this mainly because these are things that I have been applying in my classes, and my students said it helped them to feel more confident about their own performance. Also, when it comes to exam preparation, people care mainly about the hard skills and forget how a simple thing such as giving a good word to your student might boost their confidence."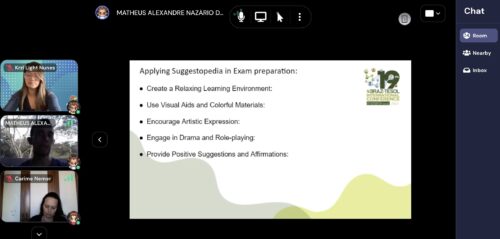 Another independent ESL teacher, Agnes de Magalhães, likewise underscored motivation when she talked about strategies for fostering learner autonomy.
"The more motivated they [English students] are, the more autonomous they become," she said.
In her talk, she presented different approaches that can encourage English students to keep practicing outside the classroom, such as providing starting points (e.g., creating study planners) and activities that will help them develop their own learning strategies and track their progress (e.g., self-reflection and journal writing). She also shared her own journey of learning the English language autonomously, detailing how some of the techniques she mentioned had helped her learn the language.
Hearrell discussed the importance of lifelong learning for teachers in her presentation, "The Power of Professional Development: Teachers Toward the Future." She described the presentation as "a call to action for both teachers and institutions to invest in professional development and upskilling courses to stay current with today's rapidly changing world, feel confident and innovative in the classroom, and in the end, provide the learning students need to excel in the 21st century."
Read about ways to engage and motivate your students in Unleashing the Power of Creative Thinking in the ESL Classroom.
Bilingual educators, students, and programs
Finally, another highlighted topic during the conference was bilingualism. One session that addressed this topic was led by Cristiane Rossi, an educational services consultant and a bilingual education expert, who identified the challenges faced by bilingual school teachers as well as the opportunities they need in the present time.
Based on insights from training teachers, among the opportunities she emphasized was the necessity for bilingual educators to develop 21st-century teaching skills and global competencies. She highlighted the importance of teachers' involvement in a real community of practice, which involves bringing students' families to participate in schools' bilingual programs.
"You can have bilingual programs with very simple resources if there is a good community of practice among the teachers," Rossi said in her discussion. "This is something that is a really interesting incentive for families and students to participate in the program in order to bring the cultural aspect of bilingual programs and of CLIL into the lives of the families."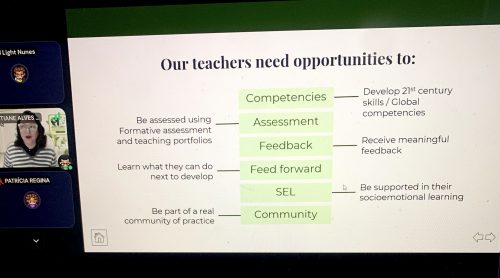 Asked why these should be tackled, Rossi shared that it stemmed from her observation that many teachers from private language schools in Brazil seem unhappy in their work environments. She noted that even when they are unhappy, many teachers do not know a career change is possible for a bilingual school teacher.
"I believe addressing the challenges and opportunities gives these teachers (coordinators and principals, too) a down-to-earth perspective of what is needed to become a bilingual school teacher in our country," she said. "Bilingual schools need qualified teachers and we, teacher trainers, need to help those teachers in their professional development, building upon the skills they already have."
She also pointed out that the same need for quality professional development holds true for subject-area teachers, saying, "It is also a possible path for subject-area teachers who want to teach in bilingual schools. For teachers who are already teaching in this context, it is also relevant as it invites them to reflect upon their strengths and what they still need to develop."
Learn more about the benefits of CLIL in bilingual education.
Empowering a global community of English teachers
Expanding on the theme of bilingual education, Bridge's Anna Hearrell discussed the many opportunities for teachers all over the world to take control of their career paths by harnessing the power of their skills and experience.
Bridge has been a leader in English language teacher training, certification, and continuing professional development for over 30 years. Over 70,000 qualified teachers – most of whom are bilingual, non-native English speakers – have turned to Bridge for training, with TEFL certification, Micro-credentials, and other professional development focusing on teaching English as a global language, providing opportunities for traditionally underrepresented non-native English teachers.
In her presentation on teacherpreneurship, Hearrell said, "With the rise of the global English teacher and the growing opportunities for teaching English online as a lingua franca, English teachers have an unprecedented opportunity to discover what a flexible teaching schedule means by building their own work scenarios to meet their own needs and preferences."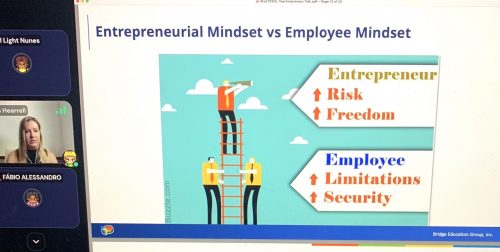 Hearrell described the importance of transitioning from an "employee mindset to an entrepreneurial mindset" and provided best practices for finding your teaching niche, growing a student base, and developing a unique selling proposition as well as developing an effective business and marketing plan.
She went on to describe the ways teachers can use the skills they have gained through teaching, such as organization, leadership, critical thinking, interpersonal communication, and more, to become independent teachers, sharing examples of teachers who successfully built their own online teaching businesses.
Hearrell also reiterated how crucial having a strategy is, saying, "It takes a long time to build an online business, to get yourself organized, and to get consistent students in the door. So, I always recommend having a stepping-stone plan toward becoming an independent teacher. I think more teachers should be doing this because it's a great opportunity to get what you want out of your career. But plan a strategy to get there."
While the topics of presentations varied in focus, the continuing overall theme was empowerment, whether it was empowering students with effective teaching and learning strategies, empowering bilingual educators with a community of practice, or empowering teachers to build their own teaching businesses. This year's conference theme of "Our New World: No Teacher Left Behind" provided ample opportunities for educators to improve practices and grow as professionals.