ESL teachers find themselves in a unique and challenging position, as they come from all sorts of cultural and linguistic backgrounds and have to bridge the gaps of an equally diverse student population. As such, the importance of professional development for ESL teachers cannot be understated. But, what are the specific benefits of professional development in ELT?
Just like an effective teacher is one who addresses students' needs, effective professional development should address the teacher's specific needs. These may vary depending on the individual's strengths and weaknesses, the context where the teacher works, and in what stage they are in their career. For instance, online teachers often deal with a very diverse student population and need to learn effective techniques to reach all of their students. In contrast, teachers in a brick-and-mortar school will deal mostly with students from the local community.
A well-designed professional development program should provide teachers with learning opportunities that meet their specific needs, help them deepen and broaden their skills, challenge their assumptions, and foster cooperation.
Let's take a closer look at the specific benefits of professional development in ELT!
Read about the types of professional development opportunities available to ESL teachers!
1. Reflecting on one's teaching practices
One of the greatest benefits of professional development in ELT is to provide teachers with an opportunity to reflect on their teaching practices. As the purpose of professional development is to improve students' learning outcomes by making teaching more effective, teachers should start by becoming cognizant of what areas in their teaching need improvement. A well-designed professional development plan will inspire teachers to evaluate their practices and challenge their assumptions about teaching and learning.
2. Learning from others and sharing one's own expertise
When engaged in professional development, teachers have the possibility to compare notes with other teachers and share their expertise. A particularly useful concept in this regard is that of Professional Learning Communities (PLCs). PLCs refer to groups of educators who cooperate regularly to share their expertise and collaborate to improve their teaching.
Jennifer Kelly, in "Collaboration, Collegiality, and Collective Reflection: A Case Study of Professional Development for Teachers," writes that "PLCs can allow for collaboration and reflective practice, where teachers come together with their colleagues to actively learn about and reflect on their practices."
Teaching can be a solitary business, especially in the age of online classes. Participating in professional development can provide great opportunities to exchange experiences and challenges and form inspiring and lasting connections.
Bridge's Expert Series webinars are a great way to learn from others in the industry! You can tune in live to connect with others or watch from a growing library of webinars that cover topics ranging from teaching pronunciation to strategies for teaching Business English to developing a teaching philosophy.
Here's a clip, from a webinar on creating custom courses (watch the full webinar here):
3. Boosting your resume
Prioritizing professional development can do much to boost a teacher's resume. For example, investing some time in TEFL certification can open new career opportunities for teachers, whether they teach online or in person. Many schools require certification of at least 120 hours as a prerequisite for hiring, but those who go above and beyond and earn additional credentials, such as Specialized Certification or Micro-credential Course Certificates, stand out from other applicants and are usually better paid.
Specialized Certification can also help you break into new TEFL niches, such as Teaching Business English or Teaching English Online. Micro-credentials, on the other hand, are short courses that offer targeted training in ELT subfields like Teaching English Pronunciation or Teaching IELTS Exam Prep. Professional development TEFL courses can help take your career to the next level and set your resume apart from others, as it shows your dedication to lifelong learning.
4. Revitalizing your teaching practices
We have all experienced that moment when the teaching routines we have relied on for a while start to feel boring or stale. Like actors on a stage, teachers need inspiration to be effective communicators and involve students in the learning process. One of the benefits of professional development in ELT is to revitalize one's teaching practices. There is a thrill in learning something new and a sense of anticipation that makes teaching exciting again and that makes teachers look forward to the time when they can apply the newly-acquired skills in their classroom.
Check out 8 strategies for avoiding burnout when teaching English online.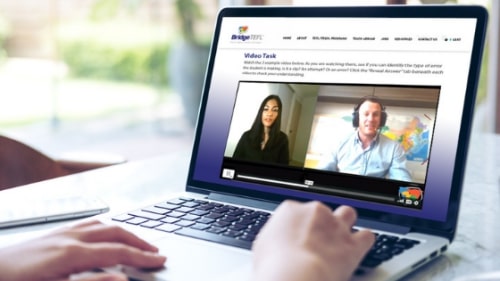 5. Bolstering the ESL department as a whole
For teachers working within a traditional ESL department, the benefits of professional development extend to the department as a whole. Administrators can tailor professional development to address specific issues and can receive direct input from teachers to address the specific learning needs of the student body.
The advantages of a professional development program organized at the department level are many:
It can address the specific learning needs of the student population.
It can benefit from teachers' cooperation and peer observations.
It can create a working environment where teachers feel inspired and supported by their institution.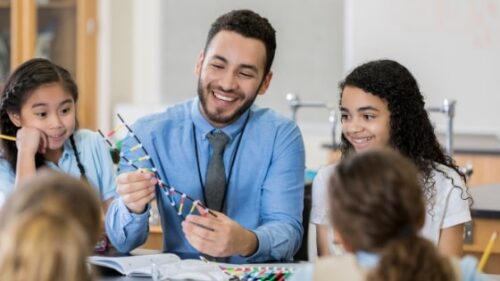 6. Keeping abreast of new teaching techniques and trends in education
Teaching techniques are continually evolving. With the introduction of computer technology, the internet, and the use of learning apps in schools, new techniques that leverage the above tools crop up all of the time. While teachers cannot be expected to know about all of them, they should be selectively aware of those that can help them better meet their needs and those of their students. A well-thought-out ESL professional development plan can assist teachers in this task.
In addition, some teaching techniques arise in response to new trends in education, some of which will likely find their way into schools. Thus, teachers should keep themselves informed, and school administrators should provide adequate professional development to support their teachers.
Explore techniques like teaching English using videos or using podcasts in Bridge's Micro-credential courses.
7. Getting support
Professional development can benefit ESL teachers by providing them with the needed support to develop their skills and be successful in their careers.
This is especially true for novice teachers who often start working directly after completing their TEFL/TESOL certification. In "Novice-Service Language Teacher Development: Bridging the Gap Between Preservice and In-Service Education and Development," Thomas S. C. Farrel explains how "most novice teachers (…) from the very first day on the job must face the same challenges as their more experienced colleagues, often without much guidance from the new school and institution."
Also, just like students' learning, professional learning has an affective element. "Teachers are more likely to engage with others in the learning process, and, therefore, take more risks with a level of support (..)" (Kelly, 2015).
Find out how to get more support by building an online ESL community of practice.
8. Standing out at your current job and qualifying for promotions
In addition to boosting a teacher's resume when job seeking, seeking out professional development opportunities enables teachers to stand out at their current workplace. Employers will take note of which teachers prioritize continued learning, and the more skills you acquire, the higher your chances are of obtaining salary raises and qualifying for promotions.
Professional development in ELT comes in many shapes and forms, from online TEFL certification to school-sponsored workshops geared to address local issues and improve teachers' skills. A well-thought-out professional development plan is an excellent opportunity that will likely produce the benefits outlined above and assist ESL teachers in developing their professional skills and career.
Continue your professional development by exploring Specialized Certification that helps you break into new niches or Micro-credential courses that allow you to upskill in targeted ELT areas.