Matheus, From Brazil, Online English Teacher
By Krzl Light Nuñes
April 10, 2023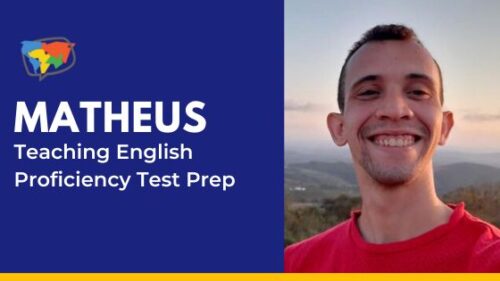 While it's no secret that preparing students for English proficiency tests is not an easy feat, this was a challenge that Bridge grad Matheus Nazário, from Brazil, gladly accepted – and a niche he thrived in. Teaching for two online ESL companies, he's also made use of social media to connect with more learners. If you're looking to succeed as a virtual English teacher and specialize in English proficiency exam prep, read on to find out about Matheus' experience as well as his tips for helping students ace the IELTS exam!
Hi, Matheus! Can you tell us a bit about yourself?
I'm Matheus Nazário, and I live in a countryside city called Vitória de Santo Antão, which is located in the northeast part of Brazil. I'm 24 years old and I'm passionate about books – you can say I'm a bookworm and also a movie buff!
What inspired you to become an English teacher?
When I was a teenager, I had the opportunity of studying English for free in the school where I used to study, and when I reached the upper-intermediate level, I would spend my free time helping the new students and assisting my former teacher. After some time, this made me realize I wanted to become an English teacher.
Interested in a career in TEFL? Learn what it takes to Teach English as a Foreign Language.
Where have you taught English?
Throughout my career, I've already taught English in an array of environments, including teaching English for Specific Purposes (ESP) by preparing Brazilian students to take a test to become sergeants in the army. I'm proud to say that over 20 students from my hometown passed this particular test. Also, I've worked with the CLIL methodology in a bilingual school. Additionally, I've taught English as a Foreign Language and as a Second Language, both in mainstream schools and language schools in Brazil and overseas.
I've already worked for big companies in Brazil and abroad, one of them being International House, which is a ubiquitous company in the world.
You have your own Instagram page where you post English tips. How has this been helpful to your career?
Posting English tips on my Instagram is somehow a hobby that has grown into a way for me to support those learners who do not have enough money to afford an English course or are just curious about the language. It's something that shows future employers the kind of teacher I am, and it has already helped me get some job offers. In addition, it has helped me to connect with other English teachers, and we share some techniques in the field.
Learn about ways you can use social media to get more online English students.
How did you land your current online English teaching jobs?
Well, I finished my CELTA course last year and it helped me to widen my horizons regarding teaching English online and how to value myself as a professional. After finishing the course, I got two jobs teaching online, both of which are based in Europe, and they've been helping me a lot.
Looking for a job teaching English? Visit the Bridge Job Board.
Can you tell us more about your job?
I mainly work with exam preparation. I've been helping learners to take the IELTS exam for the past year, and all of them passed with flying colors, which is something that I'm really proud to say. Moreover, I teach general English lessons. I've been focusing more on higher levels, from B2 to C2, and I became a reference in the companies where I work when it comes to exam preparation; so, now and then, they are offering me new exam prep groups.
My audience is varied. I currently have students in Mexico, Colombia, Argentina, Brazil, Spain, Russia, Italy, and Georgia.
Interested in teaching online to students all around the world? Learn how to get started freelance English teaching online.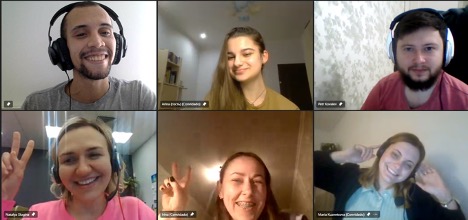 How did you start teaching IELTS exam preparation?
When I joined one of the jobs aforementioned, my senior teacher asked me if I'd like to get ready to prepare students for the IELTS, and I thought, "Why not?" So, the company provided me with in-company training and the rest is history.
What are some of the reasons why your students want to take the IELTS test?
They mainly take it for immigration and study matters. I've already had a student from Moscow who decided to take it in order to pursue a master's degree. Meanwhile, many students from other countries would like to have the opportunity to immigrate to their dream country.
Looking for a way to stand out as an English teacher? Learn how you can start teaching IELTS exam prep.
What kinds of materials and activities do you like to use to help IELTS prep students ace the test?
I always try to personalize my lessons as much as I can. So, if I'm working on a particular topic, I always think about how it could appear in the IELTS exam. I have already adapted many sources or even speeches as articles and made them similar to how they might appear on the IELTS so that my learners see how those particular topics could be found in the exam. Furthermore, I establish not only lesson objectives for the language but also for the exam itself. This way, when my learners take the exam, they know what they're expected to do in each part of the exam and which strategy suits that particular section better.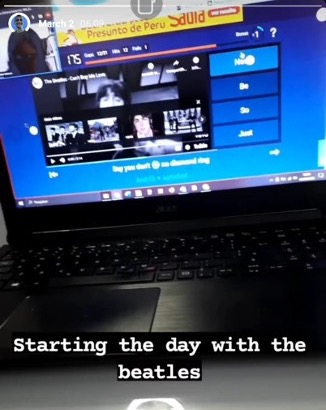 What do you do in your free time when you're not teaching English proficiency test prep?
When I'm not teaching, I'm spending some time with my beloved wife or studying trends in teaching. I need to confess that I'm a workaholic. However, I love spending time wandering with my wife and visiting my younger brother who has Down syndrome. He is like a son to me, so I visit him every time I can.
Had it not been for my experience preparing students for the IELTS and my strong will, I would not have taken the course. As a teacher, I do believe that we must never cease to learn, so it is paramount that we, as teachers, always put ourselves in our students' positions. Investing in our continuing professional development is akin to exercise. The more we do it, the more we grow.
How did this course help you professionally?
I love that I had the opportunity to take this course for many reasons.
It really helped me to understand all aspects of how the exam is structured.
It was also a really hands-on course, giving me applicable practice and resources.
It broke down each part of the exam and showed me how I could teach each section.
It helped me organize my own course, which was great!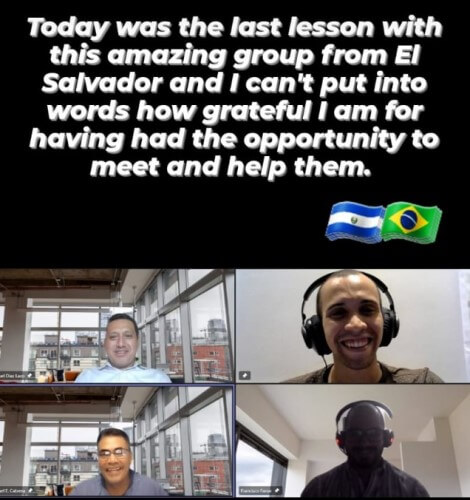 How would you like your English teaching career to develop further?
I want to continue growing my teaching skills and maybe, in the near future, start to help other teachers in developing their teaching skills and building a good rapport with their learners.
What are your tips for people who want to teach English proficiency test prep, specifically IELTS preparation?
First and foremost, knowing the exam is pivotal to preparing your students for it.
Also, make sure that you have the language proficiency needed to help your learner to achieve the band scores they would like to get.
Finally, take Bridge's Micro-credential course in Teaching IELTS Exam Prep – you won't regret it!