Anzhela, From Russia, Online ESL Teacher and Digital Nomad
By Krzl Light Nuñes
May 7, 2021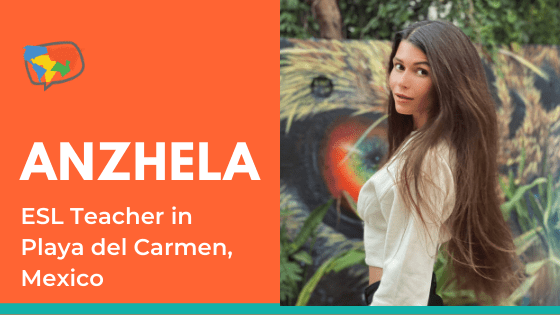 Exploring cultures, chasing summers, and choosing her workplace are just some of the perks that Bridge grad Anzhela Karamysheva, from Russia, enjoys as a digital nomad. Currently in Mexico, she teaches classes to kids with a Russia-based online ESL school. She paints a picture of what it's like to travel the world teaching English online, the advantages of teaching as a non-native English speaker, and her strategies for building rapport with young learners.
Can you tell us a bit about yourself, Anzhela?
I'm originally from Russia, but I consider myself an international person — a digital nomad.
I've been traveling for the past 11 years and I'm currently in Mexico, but I'll travel back to Russia soon because I have another trip coming up.
I earned my master's degree in tourism and hospitality at the Saint Petersburg State University of Technology and Design. Then, I started to travel with different types of contracts when I was 19 years old. I've tried many different jobs — animation, entertainment, tourism, and the restaurant business — depending on which country I traveled to. The purpose was always traveling. That is my passion and way of living.
When and how did you get into the teaching field?
The COVID-19 crisis came and clipped my wings and earnings. I suffered from inner drama thinking about how to change my life and quickly realized I'm proficient in the English language, which came to me naturally during my travels. I enrolled myself for a second diploma at Bridge and graduated with an IDELTOnline certification along with additional course certifications. That's how my story began.
I teach online for a Russian school at the moment, but I plan to gain experience and either jump into international teaching opportunities or become a freelance teacher. I enjoy teaching a lot.
How did you decide to become a digital nomad?
Digital nomadism is a new phase of my life after previously traveling with contracts. For 10 years I was a nomad, and now I've added 'digital' to that.
I find it extremely beautiful and fulfilling to be able to travel the world with no boundaries. Well, just one — the necessity of a good Internet connection. It grew my wings back and now it's even better — I only need my computer and my little plush rabbit Lily, which my pupils love a lot! Complete freedom, that's how I can describe the reason for this choice. It's very addictive, so to speak.
Here's a guide on how to teach English online as a digital nomad.
Which countries have you traveled to?
So far, I've been to 46 countries, and in May I have my 47th coming up. I've traveled to countries in Europe, Africa, Asia, North America, and Central America.
What's the best thing about being a digital nomad?
Freedom of choice.
The ability to wake up to the sun anytime, to explore new places, to meet great, like-minded people, and to encounter different minds who teach you a lot.
The ability to grow and widen your mind, feed your soul, and actually taste life.
Find out the other reasons to teach English online.
Which part of Mexico are you currently staying in and what is that place like?
I've traveled a bit in Mexico and chose to stay in Playa del Carmen. It's a very lovely, colorful town on a beach full of energy and expats. It feels like home here. I came for three weeks but decided to stay for three months because I fell for this place, this beautiful destination from which to escape the Russian winter.
What do you like most about teaching while in Mexico?
Actually, it's my schedule that I enjoy the most. Because of the time difference between Russia and Mexico (eight hours), I wake up super early with the sunrise here, and by noon I'm free to enjoy the rest of the day. That's the best part. When I'm in Russia, I have my pupils after lunch when they finish school, which breaks my day up right in the middle and doesn't give me a lot of space for the rest of my routine.
Check out tips for creating your ideal online English teaching schedule.
Can you tell us more about your teaching job?
I work for Skyeng, an online English school that is quite big in Russia. My students are kids from five to 12 years old. It's actually very new for me. I thought I wasn't going to start doing this because I'm not a native English speaker and lack of experience might be an obstacle. I think it was a lack of confidence until I began to realize that being non-native actually gives me an advantage. I mean, ask me to teach you Russian and I wouldn't know how. But I've learned English, I know the struggle, and I know how to teach English because I've walked in the shoes of my pupils.
Read about the advantages of teaching EFL as a non-native English speaker.
What do you like to do when you're not working?
I usually explore new things and places. I'm very curious and passionate about learning something new. My eyes are always craving new scenery, and my mind is thirsty for new knowledge. I like to take long walks, excursion trips, or even just read a good book.
What are your favorite teaching strategies or activities for teaching kids?
I use Total Physical Response (TPR) a lot — sometimes I feel like I'm an animator more than an actual teacher!
My plush rabbit Lily helps me a lot, and all my pupils have their friends to bring to our lessons. It breaks the ice. I prefer to be their friend — they have a lot of strict teachers at school, why would they need another one? We become close very fast. I speak with the parents quite often, which makes them want to keep their kids with me, and my pupils eventually share with me very personal things, which I adore.
I try to take an individual approach to each kid and not just follow the program in the platform. So far, I'm succeeding. My pupils immediately understand my instructions and respond, and they start reading from scratch and improve their study points. It brings me so much joy that I wouldn't have ever thought possible.
Taking a short Micro-credential course helps you develop more games and activities for teaching English online to kids.
I took these online teaching courses for a deeper understanding of the field. It actually helped. I thought I knew enough after my IDELTOnline diploma, but the additional online courses were also helpful and interesting.
I want to say an enormous thank you to my tutor, Terry McLean, who guided me throughout the course. She believed I could do this and gave me so many insights and so much knowledge. I'll be always grateful for her being my mentor.
Get to know all of the Bridge course tutors and instructors!
How did these courses help you professionally?
The answer is super simple: Without them, I wouldn't be able to teach. Because of them, I have the highest possible salary at my school now.
It also gave me a chance to grow my wings back and raised my confidence in a new field, which I never thought was possible.
What are your plans for the next weeks or months as the world deals with the pandemic?
I'm trying not to plan. The world is very uncertain now. In May, I will go to Greece. This summer, I'll most likely be in Russia, in my gorgeous Saint Petersburg. When autumn comes, I'll think about my next step. The only thing is I don't like the cold. Winter is something I've always tried to avoid.
Travelers have no fixed plans, I believe.
Do you have any advice for an English teacher who wants to become a digital nomad?
Just one piece of advice: Go for it! There's nothing to fear but fear itself. Life outside your comfort zone is too beautiful, and the world is too big to stay in one place. So, just pack up your laptop, summon your courage, and go!