Kellyn, From Antigua, Teaching English Online
By Krzl Light Nuñes
June 12, 2023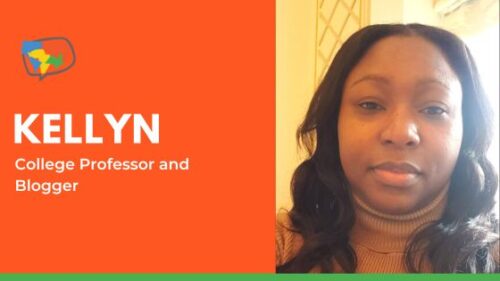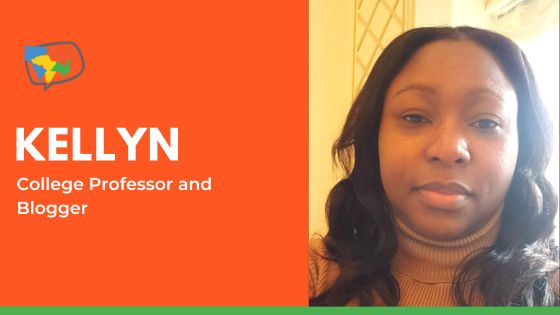 Becoming a digital nomad was the main reason Bridge alum Kellyn Aponte, from Antigua, decided to venture into teaching English online. A self-professed globetrotter and foodie, she also enjoys sharing her travel experiences, recipes, and teaching journey on her blog and YouTube channel. She discusses how she made English teaching her career, her goals for inspiring people through social media, and the first country on her digital nomad bucket list!
Interested in teaching English online? Earn Bridge's Foundations in Teaching English Online Specialized Certification to start your journey!
Hi, Kellyn! Can you tell us a bit about yourself?
I'm originally from the island of Antigua. I moved to the U.S. as a child, so I have dual citizenship for Antigua and the U.S.
I have a master's degree in early childhood education, and I've taught children for many years. I currently teach at the college level. Both teaching experiences brought me to where I am today as an educator who focuses a lot on being developmentally appropriate. I've been teaching English officially for a year. I did English tutoring off and on in college many years ago.
I also love to travel. I enjoy solo travel when I can, but look forward to spending time traveling each year with my family. And while I enjoy what I do, my long-term goal is to relocate to Spain as a digital nomad teaching English online.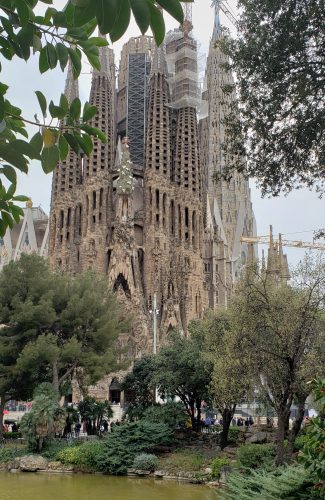 What inspired you to become an English teacher?
I was a tutor back in my college days for students who had to take English lessons before taking other courses at the college. I enjoyed it and connected so well with the students who came from all over the world. Because my career aspirations were different at the time, I never pursued teaching English as a career. During the 2020 lockdown, I was looking into other ways of teaching and decided to look into teaching English online. As someone who loves to travel – but couldn't at the time – I found it to be a great way to connect with people abroad.
You have traveled a lot! What are your top three favorite countries?
Yes, I've been to several countries across Europe, from Italy to Iceland. My top three would have to be Finland, Spain, and Italy!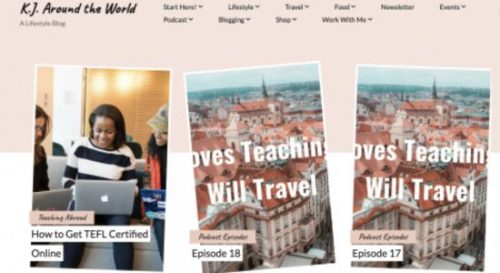 You're also actively running your own blog, K.J. Around the World, and your YouTube channel. How long have you been blogging and what are your goals for your blog and vlog?
I've been blogging since 2016. I started my Youtube channel in 2016 as well but have only just recently started actively posting videos. I started a teaching podcast this year, which prompted me to post the podcast episodes on YouTube.
My goal for the blog and YouTube channel is to share my journey as an educator who is passionate about travel and to share tips on how other teachers can also find passion and inspiration in teaching and traveling. I'm passionate about mentoring and coaching, so this is something that could potentially develop from these platforms.
How did you land your teaching job at the community college?
I had been working in the field for years and connected with many people, including professionals who worked at the community college. I found myself on a trip to Finland and Sweden exploring schools with them back in 2016 and I haven't looked back!
Can you tell us more about your job?
I teach early childhood courses. I'm officially the teacher of teachers. I have taught a variety of students over the past several years. When I started, they were mid-career teaching professionals going back to school. Now, most of my students are right out of high school. When I'm not working, I'm traveling or spending time with my family.
Can you share an unforgettable moment you've had as an English teacher?
There have been so many instances of memorable moments with students, but I can say teaching during the World Cup was the best. It was fun to have conversations with students who were excited about football. And as a football fan myself, who was also watching the World Cup, it led to some funny conversations with students from all around the world.
I took these courses to focus on building the skills necessary for teaching English online. I am the type of person who likes to learn and dig deep, and in this case, I was learning to prepare for a career in teaching English online. And being able to gain best practices and translate what I was learning into actual practice was important for me.
How did these courses help you professionally?
The courses helped to build on knowledge and skills I already had, including Universal Design for Learning. The courses also helped me to feel sure that my knowledge and skills as an educator were equal to the tasks ahead, and that my professional credentials would be recognized by employers and universities.
What's a technique for teaching English online that you learned from your course?
A technique for teaching English online that I learned has been to create a welcoming environment that meets the needs of each student. The environment is created with my classroom background, my appearance, and the tools used during class. I have props and other tools ready for each class that are not only useful for that lesson but also support the goals of each student.
Learn more about ways to use realia in your ESL classroom.
One of your goals is to teach in Spain as a digital nomad. Why did you choose Spain as your next destination?
Yes, my long-term goal is to teach in Spain with actual students, but I'd also like to eventually pursue teaching as a digital nomad. I chose Spain because it is one of my favorite places to be when I leave the U.S. I love exploring the country; plus, there are so many different languages and cultures in this one country. That fascinates me. Additionally, I love the Spanish language, and I have been learning and practicing it since my college days.
What are your tips for people who want to start teaching English?
For anyone considering a career teaching English, the best advice I can give them is to make sure it's something they can fall in love with. Teaching is not always easy, but if it is something that inspires you to get out of bed in the morning, do it. If it speaks to your goals and passions, do it.