Teach Abroad Timeline FAQs
By Bridge
January 15, 2020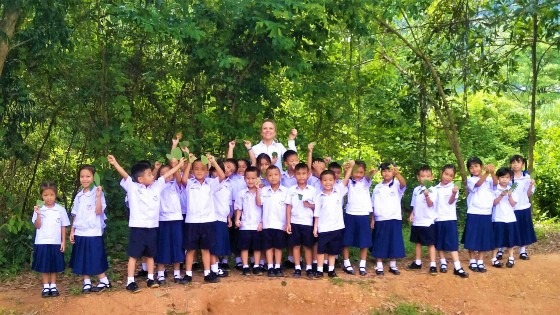 Making the leap to teach English abroad can take some serious planning. You've got to pick your teaching location, research the requirements to get hired there, choose and complete your online TEFL course and land your first TEFL job. There are other, less obvious considerations, too, such as possibly getting some teaching experience before you go abroad and saving up money for your move. So, what should your teach abroad timeline look like? We'll help you make sense of the process with answers to some common FAQs about timing the steps of your TEFL adventure.
How do I get started teaching abroad?
You've decided you want to teach English abroad, and that's an exciting first step! You're about to embark on a life-changing adventure full of personal and professional growth. Yet, when you're just starting out with your plans, the amount of information available online can be a bit overwhelming. To point you in the right direction, here are some preliminary points to consider.
Where do you want to teach?
You may not be sure exactly where you'd like to teach yet, but narrowing it down to a particular region or two is a good place to start. You'll want to consider factors such as the TEFL job market, the climate, the language, and the food, as well as how the culture and customs will compare to your own culture and background. Remember that you're moving to a new country, not simply going there on an extended vacation. It takes research to choose a place that will truly suit you.
If you'd like an extra level of support and job placement assistance right from the start of your TEFL journey, Bridge can help! We connect qualified candidates with TEFL certification and teaching positions with our Preferred Employment Partners – reputable English schools and teacher recruiters in top teach-abroad destinations around the world. Learn more!
What are the teaching requirements where I want to teach? 
Teaching requirements tend to vary by region; however, almost every TEFL job will require that you've have been trained in teaching English as a foreign language via an accredited TEFL/TESOL course, taken either online, in a traditional classroom, or a combination of both.
TEFL certificates are differentiated by the number of hours of training they include, and generally speaking, a certificate of 100 or 120 hours meets hiring requirements for most TEFL jobs. (Browse internationally-recognized TEFL certificates here).
Other requirements of TEFL jobs will vary by location and by school and may include:
A bachelor's degree (or even a master's degree for some jobs in the Middle East)
Teaching experience (or experience working with kids, for positions teaching young learners)
Citizenship from certain English-speaking countries in some cases (this is often related to meeting visa requirements)
Proof of a high level of English proficiency (if you're not a native speaker)
A clean criminal record
Letters of reference
To get an idea of specific requirements and other basic info, such as salary and typical students taught for popular TEFL countries around the world, check out this quick guide: Jobs at a Glance.
Pro Tip: It's recommended that you stay current on the hiring/visa requirements for your country of choice because these requirements can sometimes change. You could find yourself ¾ the way through the visa process when suddenly the local laws change and you need to double your documents! (Contact a TEFL program advisor for advice or, if you've been hired by a school abroad, check with your employer).
How long does it take to complete a TEFL course?

Online TEFL Courses
Online TEFL/TESOL courses vary in length and duration, depending on the program you choose and the number of hours of training it consists of. For example, the Bridge 120-hour Master Certificate (which meets requirements for most jobs abroad) can be finished in as little as four weeks. Most students take a bit longer (about six weeks) since the courses are self-paced and often people are enrolled while working full-time or going to college. You'll have up to three months to complete any BridgeTEFL online course.
Onsite/Blended TEFL Courses
Onsite TEFL courses, which are offered in-person via a traditional classroom setting, are typically very intensive! They're usually four weeks long, with a full-time schedule of classes eight hours a day. (View Bridge onsite TEFL course locations around the world.)
Blended online/onsite TEFL courses are becoming more popular since they combine the flexibility of online training with the in-person practical element of an onsite TEFL course. Blended programs are usually shorter, with the online component completed in several weeks before you complete the in-person portion, which might last several days or a week.
When should I take my TEFL course?
The answer to this depends on whether you take your TEFL course 100% online or if you take all or part of it in the country where you plan to teach. Both online and onsite/blended TEFL programs are great, but they each have a different structure and pace.
Online TEFL Courses
Online TEFL courses are typically started well before you plan to go abroad, and are competed at your own pace. Regarding your teach abroad timeline, the sooner you start your online TEFL course, the better, such as six months to a year before you'd like to start applying for jobs. TEFL certification never expires, so this gives you plenty of time to complete your course, perhaps order a hard copy of your certificate, and update your resume with the certification so you're fully prepared for the application process.
If you don't currently have any teaching experience, getting certified early also gives you the chance to clock some teaching hours at a local volunteer center or perhaps land online teaching jobs. This experience is invaluable for your resume and will help your application stand out!
A final reason to start your online TEFL certification course early is that the hiring and visa process for some regions can be lengthy, so having your course completed early will be a major advantage (more on regional requirements below).
In-Person/Blended TEFL Courses
In-person TEFL courses, also called "onsite," can be taken one of two ways: either in your home country before you go abroad or in the country where you plan to teach. The traditional onsite course is typically four weeks long and includes a practical teaching element, but this model is shifting as more blended programs are offered that combine an online component with more condensed onsite training in-country.
Blended/Onsite TEFL Course in Your Home Country
If you plan to take your onsite TEFL course in your home country, the timeline would be similar to taking an online course. Completing your training six months to a year before you plan to teach gives you plenty of time to prepare to go abroad, including getting some teaching experience, building your savings to tide you over until your first paycheck, organizing your documents for immigration purposes, and anything you need to take care of in your country of origin (such as your car, apartment, health insurance, or student loans).
Blended/Onsite TEFL Course in the Country Where You Want to Teach
If you choose to take a blended/onsite TEFL course in the country where you want to teach, this should be factored into your teach abroad timeline, since most grads transition straight from their course into a TEFL job!
Learn more about onsite/blended course options.
When should I start applying for jobs abroad?
You can start browsing open TEFL positions on the Bridge Job Board before or during your TEFL course. It's a great way to learn about the job market worldwide. Most job ads will provide information on hiring dates and application deadlines, so you can get a sense of how this will affect your timeline.
The region where you plan to teach is also a major factor to consider regarding when and how to apply for TEFL jobs abroad, which we've broken down here. (For country-specific information on hiring seasons worldwide, refer to our Jobs at a Glance Chart.)
Central and South America
In Central and South America, it's common practice for teachers to apply for jobs once they have arrived in the country where they plan to teach (schools don't typically hire teachers from abroad). For that reason, it's also common to get hired "on the spot" by schools, with as little as days or weeks between submitting your application and starting to teach classes.
When applying to jobs in South America, don't forget that the seasons are reversed for countries in the Southern Hemisphere, too!
For more information on TEFL in this region, read this article: Hit the Ground Running: How to Get a TEFL Job in Central or South America.
Asia
In other regions, such as Asia, it's more common for schools to hire teachers from abroad. That means you can apply from home and have a job waiting for you when you arrive! The time from initial application to hire can take as much six months or longer, due to a more involved application/interview procedure and also due to visa processing time required for these countries. Some teachers start applying for jobs while they are still finishing up their TEFL course, which is recommended!
Europe
In Europe, you may experience both types of hiring – from abroad and "on the spot." Therefore, you might get a placement immediately from within a country, or it could take several months if you are applying from home.
What else do I need to consider in preparation to teach abroad?
In addition to TEFL certification and other requirements specified by the school you apply to, you will also need the following, which can factor into your teach abroad timeline:
A passport – Make sure it's valid for at least 6 months beyond your date of travel and has many blank full pages (most countries will not issue a visa if you don't have blank pages for it).
Your airline ticket – Book early for the best deals, but be careful about your visa timeline. Companies are using razor-thin margins in hiring new teachers as a cost-cutting practice, meaning that they may ask you to arrive within days of your visa being issued. Whenever possible, pay a little extra for a flexible fare and give yourself the option of flying on a different day.
A visa (in some cases) – Your employer will guide you through the process of obtaining the right visa to work legally in the country where you're hired.
If you are in-country already and hired "on the spot," do your research in terms of what the legal requirements are.
Pro Tip: In some countries, it may be commonplace for teachers to enter the country and work on a tourist visa, and possibly later change over to a working visa. As a new teacher, you should be aware that it's illegal to work on a tourist visa in many places, and the penalties can include deportation or blacklisting. Of course, we recommend doing it the legal way, which can sometimes take longer.
Depending on where you plan to teach, you may also need to provide:
A clean criminal record check from a national or local authority. This is common for jobs in Asia. It means a full FBI background check for some US applicants, which takes months to complete. Many countries now accept a "channeler" background check which is quicker, but some still don't. Some places can also use a local county or city police check as a stand-in for a national one.
A medical check. This check (also common for jobs in Asia) might be required in your home country before leaving for your employment or, more likely, upon arrival in your teaching country. Although it used to be less common, it's more often mandatory these days for applying for a residency permit (often needed to live long-term and work in certain countries). This exam may include bloodwork, ultrasounds, chest X-rays, drug testing, eye tests, or dental exams.
When should I arrange a place to live abroad?
For most teaching locations, arranging housing is one of the last things to consider on your TEFL timeline. That's because it doesn't make sense to secure housing until you know exactly where you'll be working; you'll want housing close by, or at least close to public transit if you plan to commute to work.
It also makes sense to wait because almost all teaching jobs offer you either free/subsidized housing as part of your contract (common in Asia) or at least assistance with setting up housing when you arrive. Keep in mind, schools abroad have teachers coming and going every term or every year so there are usually plenty of accommodations options available that will make this process smoother. Make sure you have money set aside for a deposit and the first month or two of rent if you will need to pay for your own place out of pocket.
In most cases, your teach-abroad timeline should start with a TEFL/TESOL certification course completed well in advance of your date of departure. Once finished, you will have plenty of time to gain a bit of teaching experience, search teaching jobs, and focus on fulfilling the other application or visa requirements for the country where you'd like to teach.