Christians participate in trips to serve others across the world as they carry out different helpful community tasks. They take part in all kinds of work, from environmental to medical to educational projects, including teaching English. If you want to teach English as a Christian service, here are the steps you need to take to embark on this meaningful journey.
What does teaching English as a Christian service entail?
There are different components to consider when teaching English as a Christian service, including the following:
Location
Christian organizations provide English teaching services in almost every country, including predominantly English-speaking countries, where immigrants are often very interested in developing their English skills. Some popular service destinations include countries in South America and Africa.
Work
The job varies greatly. Some who teach do it full-time in school classroom settings while others tutor a few students individually in their spare time. For example, Samantha Stepp, who joined a short-term trip to the Dominican Republic after completing her TEFL certification through a Bridge/Crown College Pathway Program, described her diverse tasks as follows:
"We have an English center right outside the university here, where we have English classes and English conversation groups. We also work with a child sponsorship program called One Child Matters. I teach Bible classes in English there once a week to those who are interested. We're also involved with a private school called Aula Hope, and one of the other interns and I teach there as well. It's mostly English practice with native speakers. We're actually reading Narnia with the students right now, and then we'll ask comprehension questions afterward."
Read Samantha's full story here.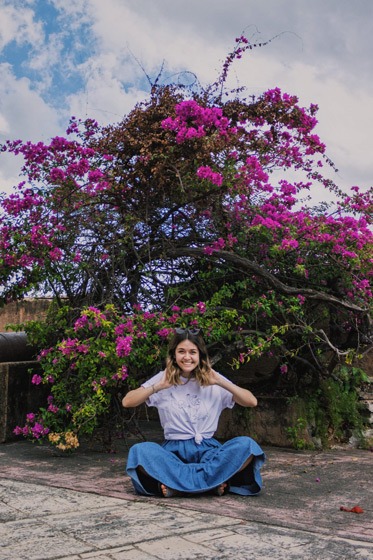 Purpose
Service opportunities for English teachers carry a special purpose. Aside from living their faith in a new culture, they also answer questions about their faith to those who are interested.
Is it your passion to teach? Find out more about teaching English as a Christian.
Why do people decide to teach English in another culture? There's a wide array of reasons people decide to teach English in a country other than their birth country. These include:
To make a difference in underprivileged communities
To make education more accessible to all
To get experience teaching English, which looks good on your TEFL/TESOL resume
To live your faith in another cultural context
To see if teaching English is something you want to pursue as a long-term career
To earn college credit (for example, getting TEFL/TESOL certified through a Bridge/Crown College Pathway Program allows you to prepare for a trip to teach English and also transfer college credit)
Bridge has partnered with Crown College, a Christian university based in Minnesota, to offer the Micro-credential course in Teaching English as a Christian Service. Darin Mather, Associate Dean of Online Studies at Crown College, explains that teaching English can be used as a form of Christian service in many different contexts.
"I just returned from visiting a Latin American organization that was teaching English to youth who wanted help for their future careers, business professionals who were looking to advance their careers, and middle-aged women who wanted to learn English to help them with their small businesses," says Mather.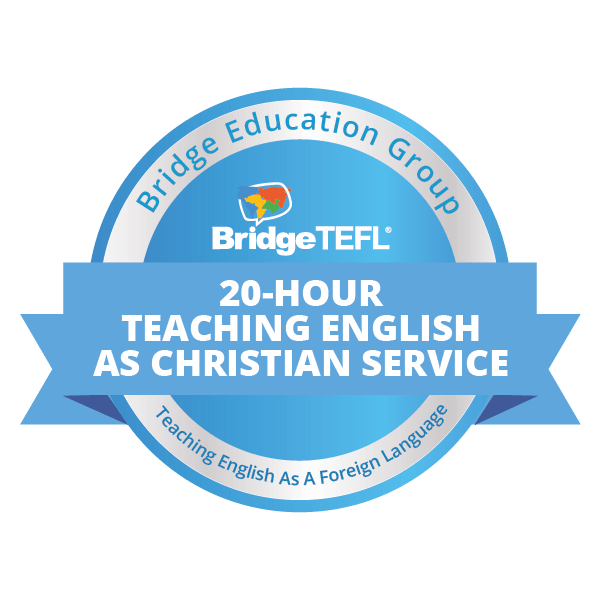 How do you start teaching English as a Christian service?
Step 1: Get TEFL/TESOL certified.
General TEFL/TESOL certification
Those who are interested in teaching English internationally should first check the educational requirements for the country where they want to serve. Some countries require a general TEFL/TESOL certificate, like Bridge's 120-hour Master Certificate or the 150-hour IDELTOnline™. Even if TEFL/TESOL certification is not required, it can still be indispensable for new English teachers to become acquainted with basic ESL teaching methods and learn how to create relevant and engaging lesson plans.
Samantha noted, "As I had started teaching classes before I started the Bridge TEFL course, it showed me things I was doing okay but could be better or things that I was doing well but could be excellent if I just changed them a bit. For instance, I was surprised by the effect of small changes like the seating arrangements and things like that. I arranged the tables in an L format just so everyone could look at each other. I never would have thought of things like that on my own, and it kept things fresh for the students too!"
Specialized training
For experienced teachers or those looking to take their certification up a notch and learn how to adapt to a new environment, they can take the 20-hour Micro-credential course in Teaching English as a Christian service. This 100% online course was developed in partnership with Crown College specifically for those who want to teach English as an international worker. It dives into topics like increasing cross-cultural competency, maintaining spiritual formation, and beginning to meet local community needs.
The skills you'll learn will smooth your transition as you adapt to a new environment and share your teachings in an impactful manner.
Bridge/Crown College Pathway Programs
When you take the Master Certificate or other select Bridge specialized TEFL/TESOL certification courses, you earn college credit that can then be transferred to Crown College. Essentially, you start with online TEFL certification and then transfer the credits once you enroll at Crown College. These credits can count towards an associate degree, graduate certificate, or master's degree at the college. The Bridge/Crown College Pathway Programs are beneficial for many reasons, including:
You can earn affordable college credit before you even enter the university.
You can work at your own pace, as these courses are 100% online, allowing for the ultimate flexibility.
You'll get qualified to teach English while simultaneously accelerating your path to a degree.
They will help prepare you for what you'll study later on in college.
You'll receive discounted tuition from Crown College during your degree program.
Step 2: Choose a destination.
There are many short-term opportunities for English teachers out there! For example, Crown College, as a Christian university, offers short-term trips to its students called Destination Serve. There are also organizations like The World Race, which offer different kinds of service trips around the world. Freelance writer and editor Betsy participated in an 11-month, 11-country trip with The World Race back in 2013.
"In many of our locations, we taught English to students from preschool age all the way to adults. We also worked in orphanages, helped with city-wide feeding programs, and did relief work after the typhoon in the Philippines. Overall, it was a life-changing experience, and I even met my husband," says Betsy.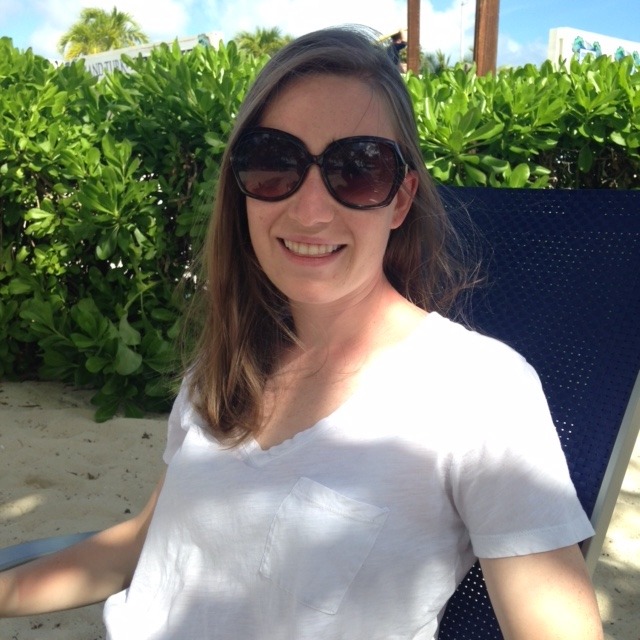 There are also opportunities for Christian students to teach English independently, just like Bridge graduate Natalie did with her husband in Nicaragua. She started out as a tutor and then moved on to teach at a local university. "I was needing something that used my gifts and excited me," Natalie explains. If you choose to go independently, make sure to thoroughly vet the places where you'll teach.
Step 3: Start your journey!
After you have completed your TEFL/TESOL certification and chosen your destination, it's time to pack your belongings and start your journey to teach English as a Christian service! Remember, you're well-equipped to carry out this task, and you'll likely be accompanied by a fellow Christian from your organization as well.
Learn more about opportunities for English teachers from Emily, who taught in the Dominican Republic.
Whether you go through a university like Crown College or choose to become an international worker independently, teaching English in another country is a meaningful way to use your skills to help others. The work you do will not only bolster a community through English teaching but will give you purpose as you live your faith as well.