The Pearson Test of English, or PTE, is a revolutionary English proficiency test legally recognized by more than 70 nations worldwide. If you're an English teacher looking to specialize in test prep or are looking for a way to bulk up your resume, this guide to teaching PTE test prep will get you started. This rigorous exam measures performance in speaking, writing, reading, and listening and is growing in popularity, having recently been approved for Canadian Economic Immigration. Let's dive in and take a closer look at the exam, its target demographic, and how to start teaching PTE test prep.
What is the PTE exam?
The PTE is a computer-based exam created by global language publisher Pearson Online English. There are two versions of the exam: the PTE Academic exam and the PTE Academic UKVI (SELT) tests, which are for work or non-degree-level study in the United Kingdom. The PTE Academic test is a globally accepted English proficiency test, recognized by numerous governments for work, study, and migration visas. Understanding the purpose and protocols of the PTE is essential for teaching PTE test prep, as is knowledge of the perks of taking the PTE exam compared to taking other proficiency tests. Some of these perks are:
The PTE exam is a single test, taken at a testing center or securely online.
Test scores are typically released within 48 hours, so there are no long wait times!
Pearson provides numerous study materials, including scored practice tests, to make sure that students are fully prepared for the real test.
The PTE is accepted worldwide at more than 3,000 universities and colleges.
Pearson provides online tools to help students identify which Pearson test is ideal for them with just a few clicks.
Send unlimited Score Reports for free to colleges, universities, internships, and more.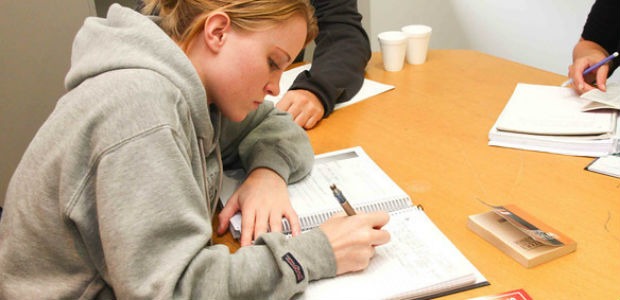 What is the PTE test format?
As a teacher, understanding the test format is incredibly important. The Bridge article, Big Business: High Stakes English Tests Drive ELT Test Prep Solutions, explored preparation strategies and test makers stressed the importance of understanding the test format as a key strategy for preparation. A teacher who knows the format can guide students through the important features. Generally, the PTE test is taken on a computer at a testing center. Pearson also provides an at-home testing option for students who are unable to find a workable testing time or are too far from a testing center. If the exam is being proctored, students are provided a headset for audio components. Whether at home or a testing center, students are given two hours to complete the exam.
The PTE test is comprised of three sections and 20 different question types. Test prep teachers will need to understand each section and the associated question types to effectively teach PTE test prep. So, let's take a closer look at each of the three main sections and the kinds of question types students will encounter.
Part 1: Speaking & Writing
The first part of the PTE exam focuses on speaking and writing. It typically takes about 55 minutes to complete, making it the largest component of the exam. There are seven different question types, all of which are geared toward academic phrasing and conversation. The section begins with a personal introduction, which does not contribute to the test taker's overall score. The introduction is used to familiarize users with the exam platform; however, the introduction may also be useful for students applying for university admissions, as admissions officers often review the introduction.
Understanding this, a teacher may include activities in the classroom to familiarize students with the platform and with being in front of the camera. Students are given 25 seconds to read the introduction prompt and 30 seconds to respond, and answers can only be recorded one time. So, increasing comfort and confidence in students is incredibly important! The rest of Part 1 is graded, and timing varies by question type. Here is a breakdown of the question types in the Speaking & Writing portion:
Read Aloud
Repeat Sentence
Describe Image
Re-Tell Lecture
Answer Short Question
Summarize Written Text
Essay
The PTE website provides students with detailed information on each task, the prompt length, skills assessed, and the time allowed to provide an answer, making it a great resource for teachers. PTE practice tests are instrumental in a student's preparation for the exam – as stressed by test makers – because the pace and timing of the test is a crucial element to a high score.
Part 2: Reading
The second part of the PTE exam is the reading section. This section also touches on writing skills, though the emphasis is geared toward reading comprehension. Here is a breakdown of the question types in the Reading portion:
Reading & Writing: Fill in the Blanks
Multiple Choice/Multiple Answer
Re-Order Paragraphs
Fill in the Blanks
Multiple Choice/Single Answer
The texts students will be reading will vary in length from about 80 words to as many as 300. Timing is less structured in this section, so while there isn't a limit to the amount of time a student may spend on a question, they will need to manage their time wisely. The PTE website provides students with detailed information on this section, as well, and a test prep teacher may use this resource and a variety of focused activities to work with students on reading comprehension and writing ability.
Part 3: Listening
The third part of the PTE exam is strictly based on listening skills and takes 30-40 minutes to complete. The questions are based on audio or video clips, which play automatically. The challenge is that students can only listen to each clip once. The upside? Note-taking is encouraged! However, there are important strategies a teacher would need to teach to prepare students for this section. Note-taking strategies such as using abbreviations or short-hand, as well as recognizing important information, are incredibly important. This section focuses strictly on recall, with students sometimes making the mistake of bringing in prior or common knowledge in responses. Teaching students the format of the section, strategies for preparation, and response requirements is crucial. Here is a breakdown of the question types in the Listening portion:
Summarize Spoken Text
Multiple Choice/Multiple Answer
Fill in the Blanks
Highlight Correct Summary
Multiple Choice/Single Answer
Select Missing Word
Highlight Incorrect Words
Write from Dictation
Summary and long-form answers aren't timed and will range from 50-70 words per question. But for other question types, students should be able to answer the other question forms fairly quickly, as they will be selecting from transcript readings or provided answers. The PTE website provides students with detailed information on this section, as well, which may be used as a teaching resource.
Unable to get to a Pearson testing center? PTE Academic Online is a new service that allows students to test from the comfort of their home or office!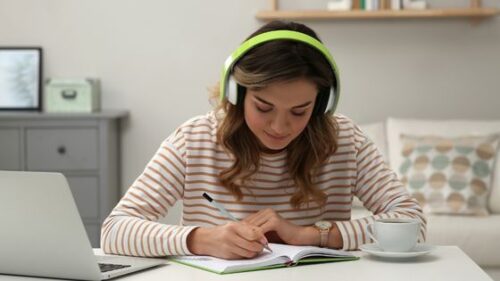 How does scoring work?
PTE Academic
Understanding scoring and how scores will be assessed is another important element in teaching PTE test prep. Test takers are scored on a scale of 10-90 based on the Global Scale of English. Students are provided with a full Score Report and a Skills Profile. The Score Reports can be sent to any institution the student requires for no extra fee, which is a great benefit for students applying to higher education programs or internships. The Skills Profile provides an overview of the test taker's skill level and areas in which the student can improve.
Score Report
The Score Report is a valuable tool for both the student and the teacher, as it provides individual scores for each of the communication skills the student was tested on: speaking, listening, reading, and writing. The final grade is based on the GSE, which is a globally recognized English language standard. This method helps clarify and unify test results from agencies around the world. There are many tiers of success in taking the PTE exam – there's more to it than just a simple Pass/Fail! The Pearson website explains each "band" of scoring, what the scores mean, and what their certification equivalent is when compared to the TOEFL iBT or IELTS exams. It is important to familiarize yourself with the GSE if you plan to teach PTE test prep.
The PTE testing system automatically scores each exam. The use of automated scoring eliminates issues of bias, reporting error, and delayed scoring that have been known to occur in other grading methods. As a result, the PTE exam streamlines English language assessment, guaranteeing that students are tested fairly and accurately. The Bridge article Online English Language Testing – Increased Access Comes with Security Challenges delves into increased use of AI in grading for many testing companies, which not only improves security measures but eliminates many preexisting issues with sometimes subjective grading processes.
Skills Profile
The Skills Profile is a dashboard tool unique to Pearson. It provides a breakdown of a student's current skill level, areas of improvement, data points, and resource suggestions, all included with the price of the exam. Teachers can use this dashboard to monitor their students' progress or create a continued learning plan. For example, some of the common areas students struggle in include speaking and writing. Identifying areas for improvement such as these may provide opportunities for increased activities in the classroom that focus on these particular skills.
PTE Essential (UK)
The United Kingdom has very specific English language requirements for those looking to live, study, or work in the UK. Pearson offers PTE exams tailored to meet the regional requirements for each of these applications. The Secure English Language Test (SELT) is a legally recognized exam standard for visa or citizenship tests. The PTE exam meets all SELT requirements and is a convenient means of filling the SELT requirement. There are numerous benefits to using the PTE exam for a visa or citizenship application, including numerous testing locations, frequent testing dates, and a reliable timeline for quick results.
The UK tests include the PTE Academic UKVI for students looking to pursue higher education in the UK or to gain employment with a domestic firm. The PTE Home A1, A2, and B1 exams specialize in meeting family and settlement visa requirements. While important to a potential test taker, these details aren't as applicable to teaching PTE exam prep. As such, additional information for each of these tests can be found on the PTE SELT tests for UK visas and citizenship page of the Pearson website if you'd like to learn more.
Due to the number of tests and requirements in the PTE Essential, scoring is a bit different for UK exams than it is for the standard PTE Academic test. Pearson has a United Kingdom visas table that lists visas and purposes, associated minimum CEFR levels, PTE score requirements, skills assessed, and PTE test types. The table is a great resource and an appropriate starting place for students who need to identify which PTE exam is best for them.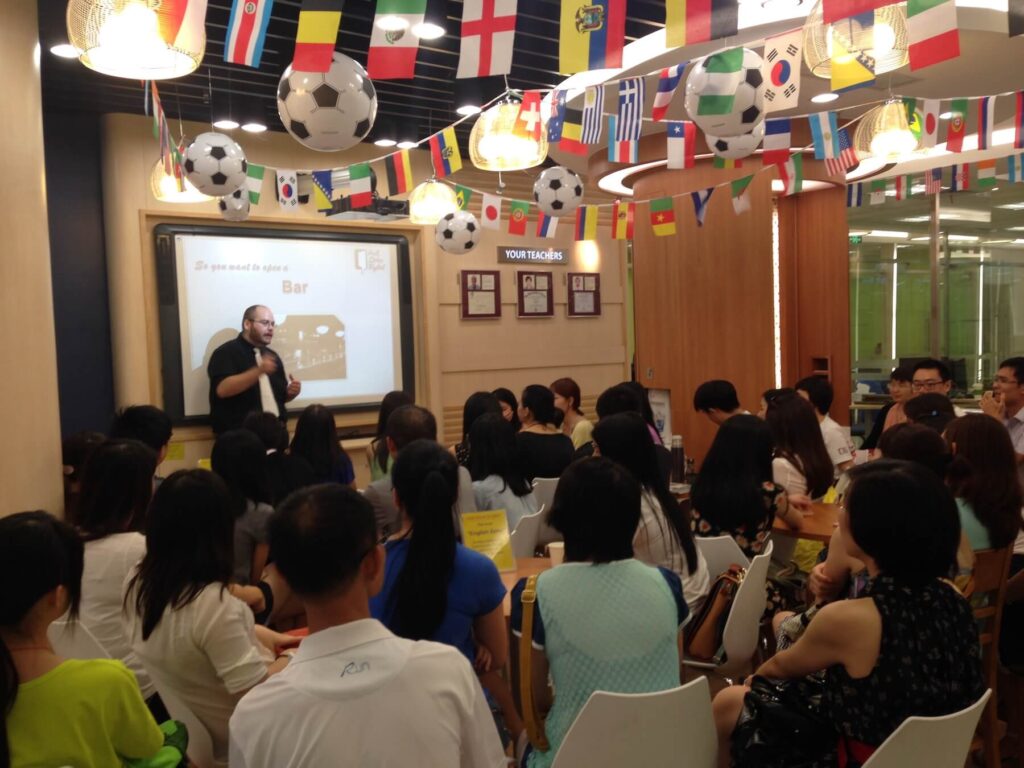 Who takes the PTE?
The answer to this question varies greatly! The PTE is a widely accepted, broadly applicable exam. Here are just a few of the types of students that take PTE exams:
Non-native English-speaking students looking to attend an English-speaking university or college
Skilled workers studying Business English
Families interested in acquiring visas or citizenship in an English-speaking country
Representatives of overseas operations
In any case, the PTE exam is an excellent option for English learners who require a formal assessment score. Tests like the PTE are often high stakes. Admissions to universities, job promotions, and other important opportunities depend on a passing score. This means students are motivated to succeed and recognize they need a teacher for this, which creates a demand for this niche teaching market. The PTE is accepted by more than 70 international governments and thousands of universities, including Harvard Business School, Oxford University, and Yale. Because the PTE is so widely accepted, training to teach PTE preparation is an excellent way to expand employability or simply to increase your student base.
Why should I teach PTE test prep?
Teaching PTE test prep is not only a great way to fill gaps in your teaching schedule, specialize your teaching offerings, and expand your student base; it's a way to change the lives of your students for the better. Students engaging in test prep courses are motivated and engaged, as a passing score is a means to an end, often one that is very important to them. Test prep schedules can be tailored to fit a variety of student needs, as well as the needs of the teacher.
Whether you prefer working one-on-one or in a group, teaching PTE test prep is a great way to earn extra income. From a purely financial standpoint, test preparation courses are in demand. Language tests differ greatly from traditional classroom tests and because of this, it's not possible for students to simply study for the test. Many students recognize they need a teacher to help them prepare beyond the basic mechanics of the language.
And, if you're already an English teacher working with other test prep groups, adding the PTE test to your product offerings is a great way to stay ahead of the curve in a quickly growing market segment!
To learn more about boosting your earning potential as a freelance English language teacher, read How to Monetize Your Freelance Teaching Business.
How to get qualified to teach PTE test prep
Are you interested in teaching PTE test prep? Getting qualified is simple! Bridge and Pearson collaboratively developed the Teaching PTE Test Prep Micro-credential course to train teachers to effectively prepare students for the exam. In addition to a deep dive into each section of the test, the course provides examples, classroom strategies, and new tools to make sure your students (and you!) feel absolutely confident on testing day. If you plan to teach PTE test prep, the Teaching PTE Test Prep Micro-credential course will provide you with all the information and resources you need to be prepared, as well as easily customized, hands-on activities you can apply directly to your classroom.
The Micro-credential course provides a detailed overview of the test before digging into not only specific strategies to support student preparation but also the reasoning and theory behind the strategies to ensure teachers are prepared to assess student abilities and tailor-fit their activities for individual student needs. Course content covers the features of the PTE Academic, skills measured by the PTE, the scoring system, how AI is used in the PTE, and analysis of the GSE.
Next, the course materials cover the importance of student goals and motivations, leveling systems for English language learners, determining students' CEFR levels and connecting student levels to PTE scoring, and using the GSE to develop learning objectives. The content then moves into creating course outlines and lesson plans, using prep checklists, common test-taking strategies, tasks of the PTE, skills measurement according to tasks, strategies for task types, and activities that may be used to address student needs for each task.
Lastly, it bears repeating that it's important to remember the students you'll be working with often have a lot riding on their PTE exam success. Being well-prepared to facilitate student learning as they prepare for the big test day is as important for them as it is for you.
Interested in breaking into this fast-growing TEFL niche? Take the Micro-credential course in Teaching PTE Test Prep to learn specialized test prep skills and help your students achieve their goals.