What is a Skype TEFL Job Interview Really Like?
By Brendan O'Shea
January 21, 2020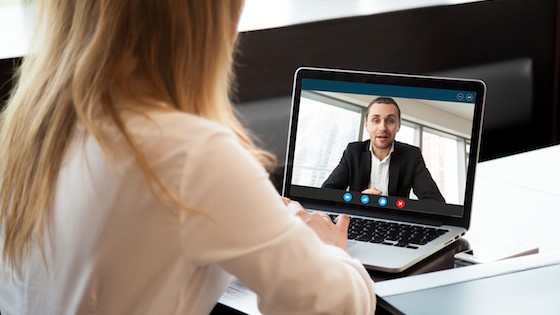 In this post, Brandon, a middle school teacher from the U.S. who is now teaching English in China, shares Skype interview tips he learned from his experience applying for TEFL jobs abroad. 
I just completed a TEFL job search for a position in China, and I'm happy to say I recently signed a contract to teach for a year in Shenzhen, a southwestern city in Guangdong Province in China! During my TEFL job hunt, the most common question I received from friends and coworkers was, "How do you even interview for something like that?"
The question was always asked out of sincere curiosity, though the answer is quite obvious after a moment's thought: TEFL job interviews, whether for in-person positions or online jobs, are done by video calls (usually Skype)! Of course, applicants at schools or online tutoring companies as far away as somewhere like China, for example, do not (often) have the opportunity to sit down in an office with their prospective employers to make a strong first impression. Instead, when interviewing for TEFL jobs, we find a comfortable and professional setting, accommodate the interviewers' time zone, and turn on our webcams. This is what it's like to do a TEFL job interview with a school located abroad. 
Time zones are a factor to consider
Depending on where you are applying, the difference in time zones can be the biggest obstacle you will have to overcome. All of my interviews were in China, while I am situated in Northeast America; accounting for a 12-hour difference in time meant that each interview I held took place at some time between 9:00 pm and 3:00 am. Employers are typically understanding of scheduling difficulties and are willing to be flexible when possible, though sometimes conflicts cannot be avoided.
Online TEFL interviews are as professional as in-person ones
First impressions matter. As such, it is strongly recommended that you choose your setting wisely. Somewhere with a neutral background is ideal. Academic/professional settings are encouraged as well, such as a quiet library or a conference room. Beyond the setting, dress to impress: no matter if you are in an office space at 2:00 pm or your own bedroom at 1:00 am for the interview, always wear professional clothing, just like you would for an in-person interview.
These are questions you may be asked during a TEFL job interview
Regarding the specifics of the interview, the following is a list of questions that are commonly asked of applicants in a TEFL job interview:
What is it about (the country in which you are applying/the job) that appeals to you?
Why do you want to teach English as a foreign language?
What previous teaching experience do you have?
How comfortable are you adjusting to new cultures?
What is your teaching philosophy?
What do you know about the differences in education between your home and where you are aiming to teach?
How long are you willing to teach abroad?
What teaching strategies do you find most effective for teaching English as a foreign language?
How would you handle student misbehavior and disobedience in the classroom?
There are, of course, other questions that can be asked. However, if you prepare well for the listed questions, you will have set yourself up for a promising interview! The key to answering each question is to be as specific as possible; exude positivity and an eagerness to teach, and, most importantly, let your individual personality shine through. After all, employers want to know who you are. Show them!
These are interview questions you should ask TEFL employers
Lastly, prepare a list of your own questions to ask the interviewers. You will usually be invited to pose these at the end of the session, though you are certainly encouraged to ask them throughout the interview as well.
It is advisable to write down your questions before the interview so that you can easily reference them during it. Be careful with your question selection, though. If the answer to your question is readily available on the school's website, for example, it would reflect poorly on you that you did not already do your research. Some valuable questions to consider asking include:
Can you describe the curriculum in some detail?
What professional supports are available for new and foreign teachers?
Does the class utilize a textbook? Which one?
What is a typical school-day schedule like at your school?
Check out this article for more: 8 Questions to Ask Before You Take a TEFL Job.
This is what you can expect from a TEFL job interview. There's nothing to fear, as long as you are prepared; dress well, choose a professional setting, highlight your individuality, thoroughly research the school, and breathe! Before you know it, job offers will be flying in from all over the world!
If you're still in the process of looking for places to Teach English, check out our Country Guides! They're a great way to learn about popular TEFL destinations around the world.