Tonia, From the U.S., Teaching English Online
By Krzl Light Nuñes
July 12, 2022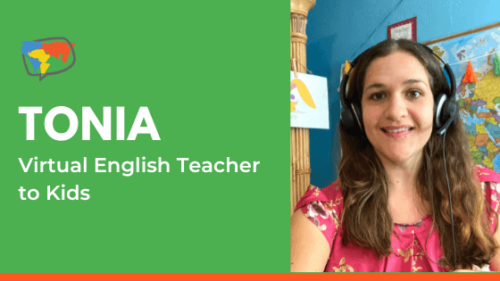 Teaching from the comfort of her home has been the biggest perk for Bridge grad Tonia Herrera, from the U.S., ever since she set off as an online English teacher. While working with online ESL companies, teaching young learners has become her TEFL niche. She shares how she prepared herself for the TEFL field, the opportunities that have opened up for her since, and her top tips for engaging young English learners during class.
Hi, Tonia! Can you tell us a bit about yourself?
I live in the sunny southern state of Florida. I was born in the U.S. and English is my native language, but when I was a teen, I learned Spanish and later traveled to South America, where I had to put my Spanish skills to use. This has helped me empathize with language learners. Many of my friends are bilingual, and my husband and kids are also bilingual.
I first went to school to study nursing but later decided to pursue studies in technical education, which prepares you for a career in technical schools and being a corporate trainer. Before teaching, I was a medical office assistant. But after having children, I worked as a nanny and was a stay-at-home mother for a few years.
What inspired you to become an English teacher?
Honestly, being a mom, I was looking for something that I could do from home. I heard of all the companies that offered jobs teaching children online and thought this is what I would love to do, but first I needed to obtain my TEFL certificate, and most companies required you to at least be doing undergraduate studies.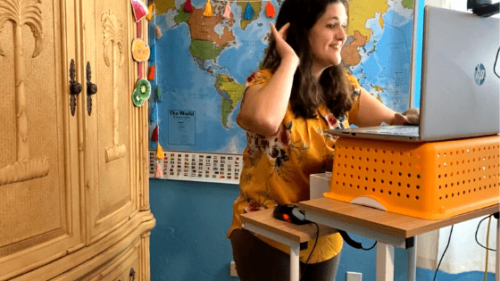 How long and where have you taught English?
I have been teaching English online for two years this October. So far, I've taught online for Cambly, Cambly Kids, and Magic Ears.
How did you land your online ESL teaching jobs?
For Cambly Kids, it is very easy, but you do have to have special skills to work with children. I always felt that my Bridge online TEFL course prepared me very well for this. Cambly Kids requires a demo lesson and a resume. Although Cambly itself doesn't require a TEFL/TESOL certificate, it helps tremendously to obtain one if you plan on teaching English.
Later, I applied to a popular Chinese company and got accepted after the first interview! I was able to put into practice all of the skills I learned. The Chinese platform was more difficult to get accepted to and required a background check, an interview with a live person, and a practice class.
Read more about the typical hiring process for online teaching jobs.
Can you tell us more about your in-person teaching job?
I work as a substitute teacher in our local school district. I teach elementary students, from preschool to fifth grade. I also help in special needs and special area classes. When I'm not working, I love gardening and beach days with the family.
What are your top tips for teaching English to kids?
Enjoy the kids and speak a little slower so that they will understand you. While you think they may be advanced, it helps to put them at ease at first so they are not overwhelmed.
Always incorporate games, funny pictures, and jokes into the lesson because children learn best when they are having fun!
Also, don't take anything they say too seriously. Oftentimes, there is miscommunication and, in general, children can be impulsive and wear their emotions on their sleeve way more than adults do.
Earn Specialized Certification in Teaching Young Learners to master the skills you need to deliver effective classes to kids!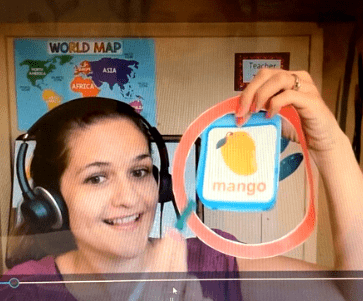 What types of materials or realia do you use to teach English to kids?
Realia really helps kids to visualize and recall vocabulary during the lesson.
I use lots of flashcards and props to keep the kids engaged. I have a filing cabinet beside my desk with them and review key vocabulary to pull out what is needed.
I also like to use games, as it helps students to speak in a less inhibited way.
For very young learners, I use stickers and small stuffed animals as rewards and pompoms to cheer them on.
Want more teaching ideas? Take a Micro-credential course in Games and Activities for the Online Classroom (Young Learners)!
You took the 120-Hour Master Certificate course. Why did you decide to take this course?
I took the 120-Hour Master Certificate course because it was what was needed to work in many online English companies. Also, I had heard some good reviews from friends, and I felt this course contained what I needed to succeed.
How has this course helped you professionally?
I've always kept the notes I took while doing the course, and I do refer back to them when working with students with some problem areas. It has helped me to be a better English teacher because I try to apply what I learned and can see how it worked.
Some suggestions that have helped me are when we are talking to students, we need to not make them feel they are always being examined or that it is a test. In addition, we need to pre-teach vocabulary, use visual aids and realia, and let students talk.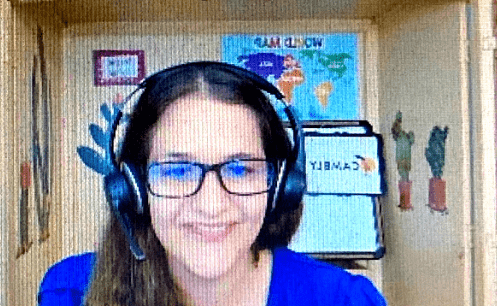 What's next for you?
I love to work with English learners and feel that this will be a part of my future career, whether it's at home online or teaching at a school in person.
Nevertheless, due to the recent change of Chinese companies no longer hiring online tutors for children, it is difficult to find work for many tutors. I am fortunate to still be working with a company from the U.S., but I've decided that if I want to keep teaching English as a job, I will need to get another niche. There is a great need for teaching advanced English learners around the world, and right here in the U.S., I have decided to try my focus on helping professionals in the medical industry advance their English skills so that they can work where they are needed the most when they move to an English-speaking country.
I am also currently in a marketing group challenge and in a founder group for ESL teachers that helps them pursue further careers.