Vesela, from Bulgaria, Erasmus Scholar and Online EFL Teacher in Chile
By Krzl Light Nuñes
December 29, 2020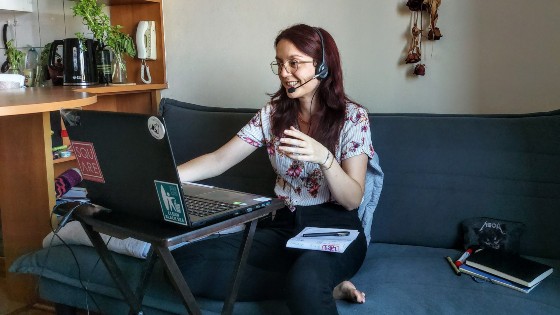 In pursuit of more English teaching experience, Bridge grad and Bulgarian EFL teacher, Vesela Koeva, flew to Chile for volunteer work and later began teaching English online for Chilean and Bulgarian language centers. She gives us a picture of how her TEFL journey started with an Erasmus+ traineeship, a work placement program geared toward higher education students in Europe, and discusses her experience acclimating to a new culture in Chile.
Hi, Vesela! Can you tell us a bit about yourself?
I'm from Bulgaria, but I'm currently living in Santiago, Chile. I have a Master's in Translation and Editing with English, and I'm currently doing a postgraduate specialization with a Bulgarian university to obtain my official teaching qualification. Before teaching ESL, I was working as a freelance translator and an administrative assistant. I've been teaching English for three years now. For me, teaching is more fun than it seems!
How did you get into the English teaching field?
I had the amazing opportunity to win a scholarship under the Erasmus+ program and pursue a traineeship in a European country. Since I was in charge of finding my own placement, I decided I wanted to get involved in English teaching.
I had always known that I wanted to teach children, but I had never had the opportunity to try it and see if I was any good. It was literally a "now or never" situation.
After spending a month sending emails to various English language schools in Spain and Italy, one of them finally invited me to join them for five months as an English teaching assistant. I ended up staying there for eight months teaching children from 2 to 12 years old. The teachers at the creative language school in Alicante, Spain set a solid base for my teaching education, and I never looked back.
Earn Bridge Specialized Certification in Teaching English to Young Learners! 
How did you choose Chile as a place in which to teach English and live?
Choosing Chile was a happy coincidence. I was looking for a volunteer program in South America that would allow me to teach English and immerse myself in the local culture. That's how I stumbled upon Chile. Thank you, Google!
In 2019, I arrived as a volunteer in a program run by the Chilean Ministry of Education. I volunteered for four months as an English teaching assistant at a public school called Rotario Bravo in Puerto Montt, a city in the south of Chile. At the end of my volunteering experience, I realized that I wasn't done with Chile, so eventually, I decided to stay and look for a job as an English teacher. And I'm really glad I did!
How was your volunteer teaching experience?
I had a great volunteering experience. Everyone welcomed me so warmly even though I was a stranger coming from the other side of the world. I worked alongside a Chilean teacher of English, whom I was helping with classes. The school was so small that I managed to have classes with all the students there — from preschool to eighth grade.
I didn't expect to find such a close-knit community because that isn't common in Bulgaria. Everyone at the school in Puerto Montt — students, parents, teachers, administration — operated as one big family. It was definitely something to learn from.
Find out ways to gain online English teaching experience.
How have you adjusted to the new culture since relocating to Chile?
Because I came as a volunteer, my move here went pretty smoothly as it was already organized. My first four months here were spent living with a Chilean host family, which was rewarding and challenging at the same time.
Prior to Chile, I lived in Spain and the Czech Republic, so I can say that I'm used to traveling and moving around. However, I must say that Chilean culture does have its own peculiarities. Take instant coffee, for example! I will never be able to get over it.
What do you like most about teaching in Chile?
The people! Although some Chileans have the reputation of being more closed off than other South Americans, the fun starts once they get to know you. I was a little bit worried when I started teaching Business English to adults. I wasn't sure if they would like me or even take me seriously. Once we started the classes, it was a really pleasant surprise to find out how respectful Chileans are with me as their teacher. Of course, we joke around as well, which is another typical trait of Chileans. More often than not, I feel like I am teaching friends, not strangers.
You're currently teaching online for Bridge in Chile and for a language center based in Bulgaria. How did you land these jobs?
I enjoy browsing the Internet, which usually pays off. I have found my teaching jobs in Chile and Bulgaria from ads posted on job-hunting websites. A bright, eye-catching, and concise CV goes a long way.
Learn how you can create a stand-out online English teacher resume. 
You also work as a private English teacher. How did you find your students and build your client base?
I was lucky enough to get most of my students through good old word of mouth. Friends or former students have been kind enough to recommend me.
Flyers work as well! I found a student who contacted me after seeing a flyer I posted on the noticeboard in the building where I live in Santiago.
 Get tips on how to attract and retain students as a freelance online English teacher.
What types of learners are you teaching nowadays?
I'm teaching only adults who have different interests. Most of my students remain professionals who work in the field of Business English. I also have other students who are studying General English and taking conversational classes. There are a few students who I am preparing for exams like IELTS and CAE.
At the moment, I am teaching all levels — from elementary to advanced.
Considering teaching exam prep? Check out the Bridge 20-Hour Certificate in Teaching IELTS Exam Prep Micro-credential course.
You're working for two institutes and as an independent teacher. How do you manage your work schedule, considering the time difference between Chile and Bulgaria?
I swear by Google Calendar. It gives me the option to display two different time zones: Bulgaria and Chile. I also have a student from Hungary, so I have to keep her time zone in mind when I schedule her classes. My calendar is synced with my phone, so I'm able to see it at any time.
Apart from digital apps, I use a bullet journal which helps me write out all of my classes for the week and jot down any pending tasks like planning or those related to students. Once you get the hang of it, it doesn't look that overwhelming.
What do you like to do when you're not working?
Even in the post-pandemic world, I have managed to maintain my main interests, which are reading and writing. When I'm not journaling, I enjoy cooking and visiting the various artisanal ferias (fairs) around Santiago.
How has the COVID-19 crisis and the lockdown in the city affected you as an English teacher?
The lockdown definitely took its toll on me. Fortunately, I managed to maintain most of my classes, and I even got new students. In the beginning, the lockdown gave me the illusion that I had a lot of time to do everything — plan, teach, communicate — when in reality, I was just procrastinating. I had to learn very quickly how to manage my time effectively.
I quickly learned how to take advantage of my calendar and how to use programs like Zoom, Webex, and Microsoft Teams.
When teaching became online back in March, I was learning on the go. Fortunately, the hard work is now paying off because I'm able to add online teaching as a skill to my resume.
I took my first TEFL course three years ago, but I wasn't impressed by it. I knew I wanted to take another course to complement my teaching experience. That's when I found the opportunity to take the Bridge 120-Hour Master Certificate course. I started it with low expectations, but the course exceeded them tenfold. It was much more thorough and engaging. I felt like I was actually doing a university course because of all the feedback I received.
How has this course helped you professionally?
The course gave me a fresh perspective on English teaching. When you are working online, you can get stuck in the same old teaching patterns because there is no one around to give you feedback. The course motivated me to reevaluate my teaching methods and create the best possible lesson plans for my students.
How have you used your digital badge for this course?
It's currently on my LinkedIn account, and I plan to add it to my resume.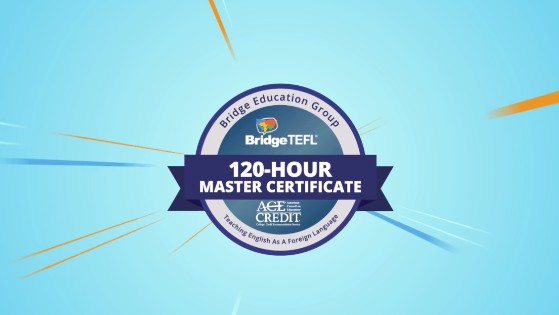 Discover ways to use your digital badges to help you get TEFL/TESOL jobs.
What are your future career plans?
Apart from obtaining my teaching qualification, I plan to keep teaching online in Chile and Bulgaria while finding new students from different countries. I would love to go back to teaching children as well. I'm passionate about innovative methods of education, so as long as I keep learning, I will be more than happy.
How long do you think you'll stay in Chile?
I plan to go back to Bulgaria next year to obtain my teaching qualification. However, I don't plan on stopping teaching for both my Chilean and Bulgarian institutes. That's the biggest advantage of working online.
Do you have any advice for English teachers who want to work in Chile?
There are plenty of English teaching opportunities here. My advice is: Arm yourself with a quality TEFL/TESOL certificate and an impressive CV. It does make a difference.
Also, a little Spanish goes a long way.