In line with the ongoing, global shift toward e-learning, Bridge continues to offer innovative products that prepare teachers for the virtual classroom and help them stand out in the competitive online English teaching space. The latest addition to the Bridge Teaching English Online suite of courses,
Bridge Specialized Certification in Teaching English Online as a Freelancer
provides the business and marketing acumen teachers need to take the leap from teacher to
teacherpreneur
.
View the full suite of Teaching English Online courses.
Going Beyond Teacher Training 
Most English language teachers who are thinking of starting a freelance online tutoring business already possess the classroom experience to do so; what they may lack, however, is the specific business and marketing expertise. The new Teaching English Online as a Freelancer course was specially designed to fill these knowledge gaps.

Unlike other Bridge TEFL/TESOL courses that provide initial certification and a foundation in English teaching theory or methodology, this Specialized Certificate is focused on equipping experienced teachers with practical, immediately applicable skills needed to launch, manage, and scale a competitive online teaching business.
Empowering Teachers With the Tools to Succeed
Certified and experienced global English language teachers can complete this course to gain a better understanding of the shift in mindset required to transition from employee to business owner. Trainees acquire key business management and marketing competencies to launch their own business, such as:


Choosing an appropriate teaching niche


Promoting their brand through teacher marketplaces, social media, and other channels


Developing a social media marketing plan


Handling logistics such as choosing a teaching platform, scheduling students, and taking payments


Managing, scaling, and pivoting their online teaching business in the future
Creating Opportunities for Global Educators
This program expands the options available within the online teaching space. For example, not all teachers aspire to work for online tutoring companies, nor may all teachers meet the hiring requirements for such jobs (which can include a university degree, citizenship from English-speaking countries, or a certain English proficiency level). Still others may dream of applying their teaching experience and unique expertise to their own enterprise, as self-employed teacherpreneurs.
Fortunately, the global demand for English language learning creates opportunities for all of these teachers. The Bridge Teaching English Online as a Freelancer course empowers English teachers of all backgrounds and experience levels to take their careers into their own hands by learning the skills to start their own business, on their own terms.
Experienced ESL teacher Carla, in Brazil, decided to make the shift from working for a language institute to becoming a freelancer to develop and grow as a teacher.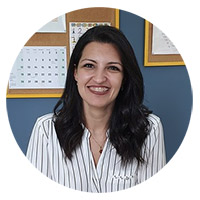 "I started considering working for myself in order to have a more flexible schedule and be able to explore online teaching in different ways, including designing my own material and methodology. So, leaving the language institute I worked for and dedicating my time to my private students full-time seemed like the best decision."
Keeping Teachers Engaged in Their Learning Experience
Like all Bridge online TEFL/TESOL courses, the content in the Teaching English Online as a Freelancer Specialized Certificate course is delivered via a fun, interactive platform that engages teachers in what they're learning through a variety of features. 
Dynamic content
Videos, online activities, and practice quizzes in every module ensure trainees are actively engaged in their training. The course also includes useful resources teachers can download, save, and refer back to.
Interactive Discussion Boards
The course fosters collaboration with other teachers through peer discussion boards, where trainees share their unique perspectives and experiences with the Bridge community.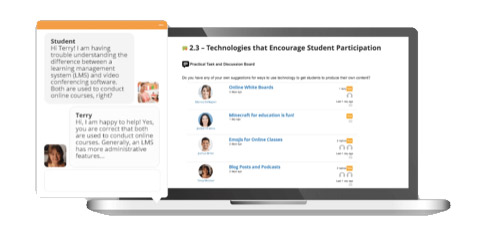 Practical Experience Creating a Detailed Business Plan
As a capstone project in this course, trainees apply the business management and marketing knowledge they've learned in a practical way by developing a detailed business plan to kickstart their career as a freelance online English teacher.
Providing ongoing professional development and internationally-recognized credentials
This program, the fourth course in the Bridge suite of Teaching English Online certifications (totaling 210 hours), can be taken on its own or bundled with other courses in the series. As targeted professional development training focused on the business side of teaching English, rather than methodology, the course is ideally suited to teachers who have either been previously TEFL/TESOL certified, have experience teaching English online, or are a graduate of the  Foundations and Advanced Methods in Teaching English Online Certification courses. 
The program is accredited by the  Accrediting Council for Continued Education and Training (ACCET), which is recognized by the U.S. Department of Education. It is also eligible for  Continuing Education Units (CEUs),  which teachers can use to maintain professional memberships, certification, or licensing.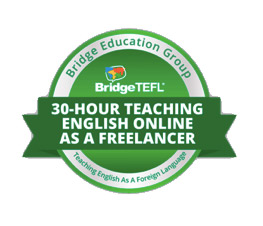 Upon course completion, graduates earn a 30-hour Specialized Certificate in Teaching English as a freelancer, as well as a Bridge digital badge. As 21st-century, stackable credentials, digital badges provide detailed, verifiable information about the programs completed with just a click. Teachers can share badges on LinkedIn, their website, email signature, and more to market themselves as freelance online English teachers.
Learn more about Bridge Specialized Certification in Teaching English Online as a Freelancer, the newest addition to the Bridge portfolio of courses –  designed to provide teachers with the skills they need to create a career they love.
---
Founded in 1986, Bridge is a world leader in language and education abroad. An international company with headquarters in Denver, Colorado, Bridge offers a wide spectrum of language-related products and services, including language training and immersion programs, teacher training and development courses, language testing, translation and interpretation services, and cross-cultural education abroad programs.
Bridge and BridgeTEFL are registered trademarks of Bridge Education Group, Inc. in the USA. All other company names may be trademarks of their respective owners. ©2019 Bridge Education Group, Inc. All rights reserved.