Rachel, From the U.S., Traveling Online English Teacher
By Krzl Light Nuñes
January 11, 2022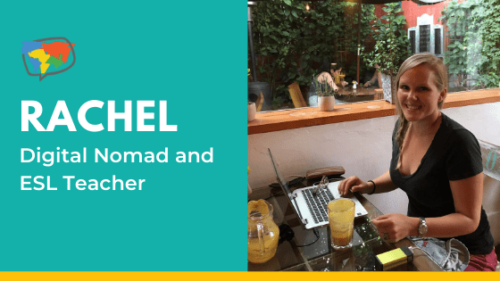 Inspired by the idea of traveling and their love for world festivals, Bridge grad and blogger Rachel Story, from the U.S., and her husband took a leap to become digital nomads. As traveling online English teachers, they've also created their own blog, Grateful Gypsies. Rachel describes how she has thrived in the virtual ESL teaching world – even amidst the pandemic – and offers tips for teachers who aspire to be digital nomads.
Hi, Rachel! Can you tell us a bit about yourself?
I am 35 years old and I'm originally from a small town in Tennessee called Johnson City. I haven't lived there in a long time, but I also haven't settled anywhere else. So, when someone asks me where I'm from, it's kind of a long-winded answer. We currently don't live anywhere because we're digital nomads and we don't have a place of our own.
Find out how you can teach English online as a digital nomad.
How did you decide to become a digital nomad?
In 2010, my now husband and I moved to China to teach English, and we wound up living in China for a total of five years. Then, we took a gap year where we quit our jobs in Beijing, put all of our stuff into storage, and just traveled for 14 months straight. That's where we got that taste of digital nomad life. When we finished that gap year, we thought we would be fine with returning to normal life and working a regular full-time job. But two weeks into that, we realized it was really hard to shake that intense feeling of freedom that you get from traveling full time. So, we worked for a year in Kunming in China, saving up money and preparing for what was next. Then, we actually moved to Bali and wound up living on the island of Bali for about nine months.
While we were living in Bali, I found a job teaching English online. And for the last five years, we've just been living and traveling as digital nomads, teaching English online and blogging.
You also created your own blog, Grateful Gypsies. What inspired you to start this blog?
It was our gap year that inspired us to start the blog. We started it as a way to document our travels and to keep our friends and family updated on our whereabouts.
Our blog is a travel blog for both wannabe and experienced digital nomads, as well as live music lovers because Sasha and I are both huge fans of live music and we met at a music festival. We write tips and advice for digital nomads, and we also write travel guides for live music fans because we love to travel to see our favorite bands.
How has the COVID-19 crisis affected you as a traveling English teacher?
At the beginning of the pandemic, it made travel weird. Nevertheless, our jobs with teaching English online with VIPKid were fine. And then, as the pandemic went on, once the vaccine was introduced, travel was less weird, and it became easier once again. However, it completely upended our online English teaching jobs when China banned online English teachers from overseas.
Digital nomads share what they wish they'd known about traveling and teaching during COVID-19.
How did you adjust to those changes brought by the pandemic and the crackdown in China?
Fortunately, about a year and a half before the ban happened, I started to have this gut feeling. I just felt like I needed to have something else. I couldn't have all of my eggs in the VIPKid and China-based platform basket. I was also very interested in learning more about online teacher marketplaces because they are a completely different model from teaching with companies similar to VIPKid.
In the spring of 2020, I joined Lingoo, an online teacher marketplace. It was relatively new at the time. So, once China banned online teaching, I had already established myself on that platform. I had a steady schedule of students and I had reviews on that platform. So, even though VIPKid was our main source of income, it wasn't the only one by that point. I just started putting more effort into Lingoo and building my business on that platform.
Learn more about the recent changes in Chinese law and how online English teachers can adapt.
Back when I was living in China, I got my initial 60-hour online TEFL certification from Bridge. Once they introduced the Specialized and Micro-credential courses, I was very excited about them because I think that continuing your professional development as a teacher is really important. I've always been interested in teaching business English and IELTS test prep, and so that's why I took those courses. Then, I took the Micro-credential Certificate in Error Correction course to help myself be a better teacher because correcting errors is one of those sticky areas of teaching English.
The bigger reasons why I took those courses were:
To have niches as a teacher and have more specialized offerings instead of just being a general English teacher.
To set myself apart from other online English teachers so that I could raise my rates.
So that I could launch a teacherpreneur business and not work with any companies.
In this video, Rachel shares how her TEFL certification made her a competitive job candidate:
How did these courses help you professionally?
I learned how to teach business English. It's not that I'm unfamiliar with business – I have a Minor in Business from a university. However, it's one thing to learn the basics of business yourself, and it's a whole other thing entirely to try and teach business English to someone who's learning this language for the first time. So, the business English course showed me how I can best teach these skills.
The Micro-credential course in IELTS Exam Prep gave me more information about the IELTS test and how to best help students who are preparing for that.
Get tips for choosing your TEFL niche as an online English teacher.
What's next for you?
In terms of teaching English online, I'm still focusing on building my business on Lingoo and exploring other ways to do my own marketing and get my own students.
In terms of travel, we are currently in Asheville, North Carolina, and we're going to be here until about the middle of February. Then, we're going to New Orleans for Mardi Gras because we really enjoy celebrating Carnival and Mardi Gras. So, New Orleans has always been on our Carnival bucket list. After that, we're returning to Mexico at the end of February.
Also, we want to spend more time in Oaxaca City, Mexico. Sasha is currently working on writing a feature article about Oaxaca City for another online publication, and we have the freedom and flexibility to be there and experience the city for ourselves, which is going to make his article that much better.
What's your advice for someone who wants to become a digital nomad?
1. Be adaptable.
Anything can change anytime, so you always need to have a backup plan.
2. Don't be afraid to experiment and try different things.
Think of it as throwing pickles to the wall to see what sticks. And this goes for anything. For teaching English online, try applying to a bunch of different platforms first. Essentially, there are three ways to teach English online:
Working with a company where they set your rates and provide the curriculum.
Teaching on online teacher marketplaces where they take care of the marketing for students but it's up to you to set your rates and know what you're doing in class.
Being a teacherpreneur, which is doing your own marketing, getting your own students, and essentially creating your own online English teaching business.
Find out if teaching English with a company or working for yourself is right for you.
3. If you're just getting started, don't be afraid to start by teaching with companies.
Apply to as many different companies as you're qualified to teach with, then just kind of go from there. Figure out what you like and then just keep doing more of that.
Margarida, a Portuguese online English teacher currently in Croatia, is also a digital nomad. Read her story next!