8 Top Learning Management Systems (LMS) and eLearning Platforms for English Teachers
By Savannah Potter
June 7, 2023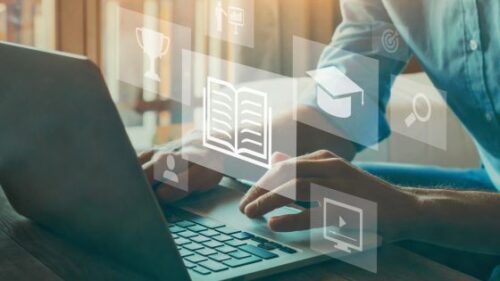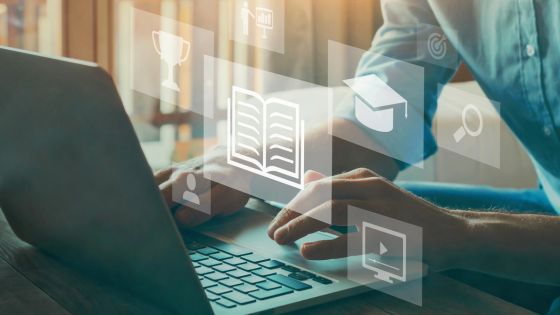 Welcome to the age of digital learning! With the rise in online English teaching and in teachers pursuing careers as independent tutors, or teacherpreneurs, there are an array of eLearning and LMS platforms for English teachers to choose from all over the web. Some cater to specific student age ranges while others focus on suites of virtual teaching tools. Pricing for eLearning platforms and LMS options varies greatly, and investment decisions may be based on a variety of factors. Let this article guide you as you choose the best teaching platform for your online ESL business.
Interested in learning more about instructional and curricular design for ESL/ESF classes? Read about how you can tailor your course designs to your students' specific needs.
What is an LMS?
A learning management system, or LMS, is a computer application or website that allows you to create, manage, and deliver online classes of any kind. Google Classroom is a great example of an LMS that links to the rest of the Google ecosystem, allowing you to sync your content across numerous applications. For example, you can create a worksheet in Google Docs for your students, along with a coordinating slideshow from Google Slides. Content can be saved in cloud storage in the Google Drive. When you're ready to teach the lesson, you can upload the content to your Google Classroom without having to open separate desktop apps or use multiple logins.
Industry trends are a big driver in the popularity of using an LMS. With the rise in online classes, teachers needed a means to have a range of tools at their fingertips. Companies have, thus, consolidated a number of tools, displays, and systems into one integrated (and customized) locale to create the sophisticated LMS options that exist today.
Ready to transition to online teaching? Read about how to get a job teaching English online.
What's the difference between an eLearning platform and LMS for English teachers?
At the simplest level, an eLearning platform is typically web-based and focuses on creating unique online classes that you can then share with learners. An LMS, on the other hand, is a software suite that teachers can use to create content and post to websites or use while streaming online. All LMS platforms are essentially eLearning platforms, but not all eLearning platforms are LMS platforms. Here are a few more differentiators between the two:
Cost: eLearning platforms are the more frugal option, with monthly membership options that typically scale based on how many courses you're selling or how many students you have. LMS platforms have a vast range in price options based on the level of technical rigor and customization you want. These can range from $300 annually to a whopping $4,000 for a software package.
Perks: Most online eLearning platforms usually come with IT support and tutorials for using the various tools the site supports. But, LMS platforms can also incorporate task automation and custom branding dashboards.
Customer base: eLearning is geared toward all teacherpreneurs while LMS platforms cater to larger organizations such as business and corporate English teachers.
Learn about seven non-teaching skills you need to launch an online English tutoring business – these skills include the ability to handle operational aspects, such as choosing your teaching platform!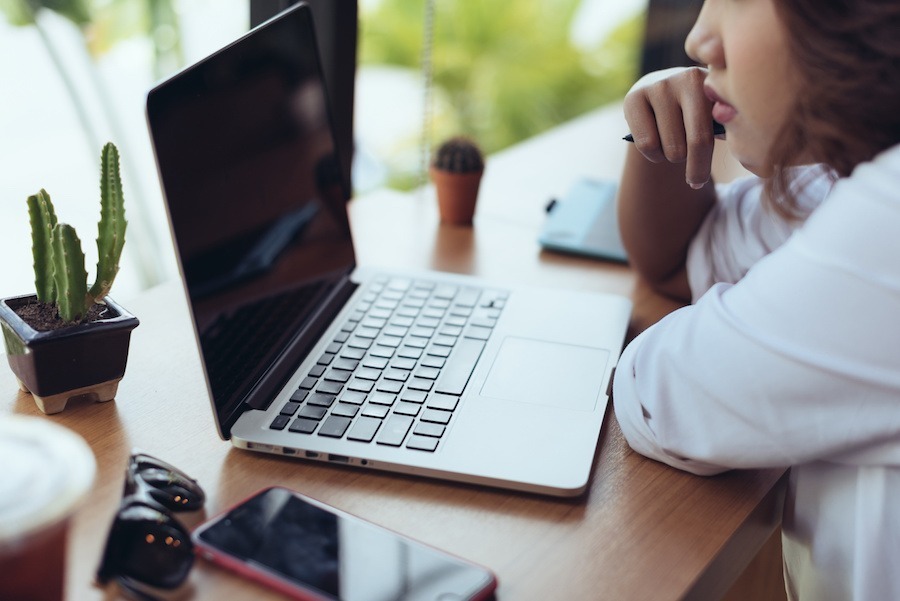 How do I choose the right eLearning platform?
The ideal type of learning platform for English teachers depends entirely on you. Your method of teaching, what your priorities as a teacher are, and what your budget is all factor into the decision to use an online learning platform. So, before you're introduced to some of the biggest names in the game, here are a few things to reflect on.
Teaching philosophy
The first thing to consider is what is at the heart of your teaching philosophy. Is your goal to help students overcome their fear of speaking English? Maybe you work with students seeking higher education abroad or visas. No matter what your motivations are, getting in touch with the core of your ESL teaching goals will point you in the right direction when choosing an online learning platform. If interaction and communication is your priority, then a platform with great video conferencing tools will be helpful. If you cater to young students, gamification of your content might be a great way to reach a larger audience. Get back to your why and let it lead the way.
Communication and accessibility
Next, consider how you prefer to interact with and communicate with your students. Video conferencing is great for small groups of live-streamed classes. Message boards are helpful for students who want to troubleshoot and brainstorm with their classmates across time zones. It's also important to consider how your students will be engaging with you. Mobile- and tablet-friendly interfaces, like Thinkific, make your course offerings acceptable to anyone with an internet connection.
If you like to give a lot of feedback, consider a platform, like iSpring, that offers features for reporting and analytics. This way, you'll know exactly what material your students are struggling with. On the same note, another concept to keep an eye out for is real-time feedback. This helps keep students engaged throughout their learning, even when you're not online!
Scaling and expanding
What does the future look like for your online teaching business? If you're looking at your budget and plans right now and considering scaling up your operation, that should play a major role in the platform you choose. Scaling your operation means adding new course offerings, finding a niche, or selling curriculum materials. Expanding your business will likely mean hiring more teachers to grow your brand and help bring in new students for your growing content and services. The right platform will be able to grow with you, but having the foresight to predict which tools will help you realize those goals will be an important part of choosing an online learning platform.
Want to get more tips for growing your online teaching business? Read Onward and Upward! How to Scale and Expand Your ESL Business.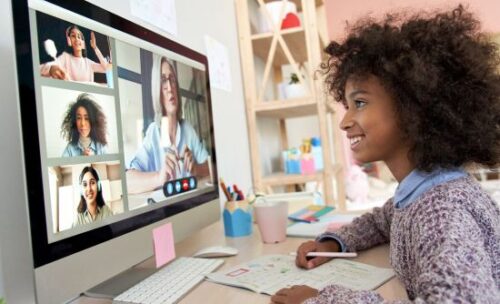 8 Top eLearning platforms and LMS for English teachers
Here are some popular eLearning platforms for online English teachers. These companies offer a wide variety of programs, support, curricula, and web-based tools at affordable prices.
A popular choice in the ESL world, LearnUpon stands out with its ability to converge course creation and business branding all in one place. LearnUpon is a great option for an online English teaching business that is looking to scale in size; you can assign roles to different teachers and keep track of how and when courses are being taught with their built-in tools. There is a higher cost associated with LearnUpon, so be sure your business can support the cost structure (which varies depending on your content and size). If you're looking to combine teaching, selling, and marketing all in one place, LearnUpon is an ideal choice.
Udemy is a widely popular site for both students and teachers. A major perk to using this site is its affiliation with large corporate companies all around the world. Adidas, Lyft, and Booz Allen Hamilton are just a few of the big names that use Udemy to train their employees. The more traction your course gets, the easier it will be for students to discover it in the Udemy marketplace. The biggest perk of all is that not only is Udemy free to sign up for, but they don't charge any fees for uploading your courses. Create and sell as many products as you'd like, all with a single educator account.
Once your courses are uploaded, share the link or download your content to use whenever you want during your regular teaching schedule. Your created courses will become a passive income stream once they're on the site!
The next free online learning platform is Moodle. An open-source LMS, it allows teachers to integrate already existing web content onto a single platform. There are tons of user-friendly tools and guides to help you along the way, and none of it costs extra. Moodle's tools can cater to highly complex teaching requirements, so you don't have to stick with video or slideshows if you don't want to. Its gamification tools and 3D learning environments really take lessons to the next level. If you're tech-savvy or looking to ramp up your teaching style, Moodle is your go-to.
Another subscription option is Thinkific. Geared toward adults, this site allows you to create courses and prerequisite lessons. All of the content created on Thinkific is already optimized for any digital platform. Ideal for a teacherpreneur focused on teaching Business English or specialized test prep, Thinkific allows for downloadable content. It incorporates discussion boards and threads so your students can interact on a single interface, making communication even easier. Teachers can have built-in payment processing, instant access to funds, and even options for selling to businesses rather than individuals.
Starting at $75/month, the Thinkific route isn't a cheap one, but the time and money you'd save by bundling these services makes it a very appealing option.
The Smithsonian Learning Lab is an online community of educators creating content on an incredible variety of subjects. The platform is free for educators and provides a library of resources for anyone with a creator account. The platform allows you to either upload your original content or adapt existing content to suit your needs, giving this site an appealing edge over other eLearning libraries. The tools are interactive and fairly simple to use, and your courses will be tied to the prestigious Smithsonian name.
This tech giant has made a name for themselves by having a massive suite of online content creation tools and software. Every edition of Google Classroom includes the usual array of email, calendar, word processing, and cloud space. The free edition has everything a tutor or teacher would need to run a successful online class. With forms, a presentation classroom space, a website building tool, and more, Google Classroom is essentially the bare-bones total package from a name you're familiar with.
TalentLMS is a paid platform that is able to scale with your business. It has five account tiers starting at $69/month. The basic plan allows for unlimited course uploads and email support as well as a custom landing page for your business. The tools are extremely easy to use and can be linked to external content like your YouTube account or Vimeo. Drag and drop your content, select your engagement preferences, and you have a course ready to go live. TalentLMS supports live sessions, as well as tests and quizzes, and creates detailed learning paths for your students.
Canvas is a huge name in online education and is used by higher education institutions all over the world. Teacher accounts are free to create, and Canvas has an active community of teachers posting on discussion boards throughout the year. The biggest perk, however, is Canvas Elementary. This simplified interface was created in 2021 and is tailored to young learners who may not be able to comfortably navigate more complex learning sites. Canvas provides a step-by-step tutorial to get started and has online support available 24/7.
Choosing an eLearning or LMS platform can be daunting, but knowing your basics and what direction you want to take your online business in will make it a breeze!