Become a Freelance Online English Tutor with the Newest Bridge Specialized Certificate!
By Jennifer Collis
May 1, 2020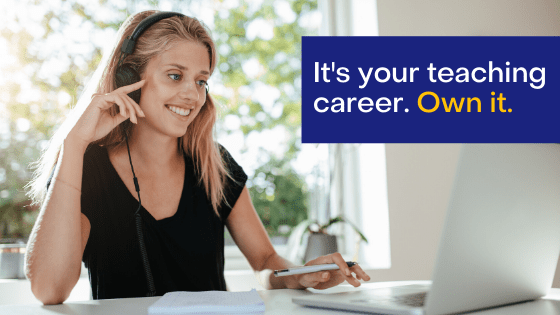 Do you have an entrepreneurial spirit and dream of having the freedom to be your own boss as a freelance online English tutor? Our newest Specialized TEFL/TESOL Certificate course, Teaching English Online as a Freelancer, will help you take the leap. This program is the fourth course in the Bridge suite of Teaching English Online certifications; it can be taken on its own or bundled with other courses in the series.
What is the Specialized Certificate in Teaching English Online as a Freelancer course all about?
Bridge Specialized TEFL/TESOL Certificates are short professional development courses that build on your existing certification and experience with targeted training. In this, our newest Specialized Certificate course, you'll learn the business and marketing skills needed to transition from teacher to "teacherpreneur" and successfully launch and run an online tutoring business.
What exactly will I learn in this course?
You'll master key components, outlined below, that lead to success as a freelance English teacher. Watch the introduction to the course to get a look at the course content!

Finding your niche: You'll start by learning the importance of choosing a niche, then compare different market niches, determine the right one for you, and find students within that niche.
Promoting your brand through teacher marketplaces, social media, and other channels: You'll develop a social media marketing plan and advertising budget, create engaging graphic content and videos to market your business, and compare organic reach versus paid marketing.
Handling time zones, payments, teaching platforms, and other logistics: You'll choose a teaching platform that's right for you, assess the impact that time zones will have on their business, and develop pricing strategies, profit and loss statements, and cancellation and refund policies.
Managing and scaling your business in a competitive market: You'll gain a better understanding of the shift in mindset required to transition from employee to business owner. Plus, you'll learn ways to manage, scale, and pivot your online teaching business in the future.
And more!
How does the course platform work?
Dynamic Content
Work from any device. The content is easy to navigate and fun, including videos, activities, and practice quizzes in every module to ensure you're actively engaged in your training. The course also includes useful resources you can download, save, and refer back to.
Interactive Discussion Boards
You and other trainees around the world will collaborate by contributing to course discussion boards, sharing ideas and experiences.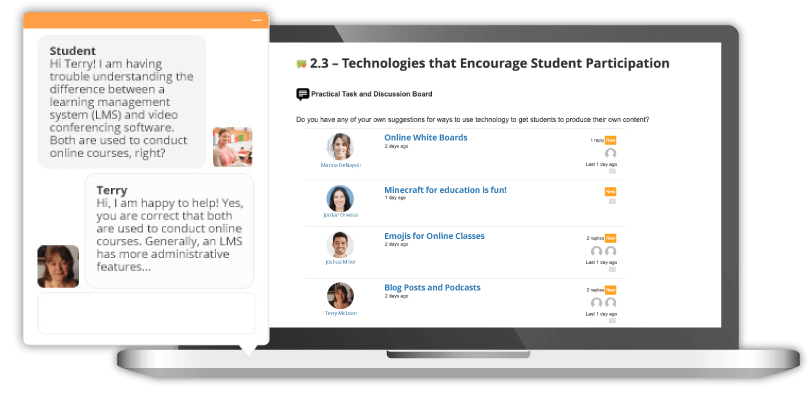 Practical Experience Creating a Detailed Business Plan
Apply the business management and marketing skills you've learned throughout the course in a practical way by developing a detailed business plan to kick start your career as a freelance online English tutor!
Who should take Teaching English Online as a Freelancer course?
This course is ideal for teachers who already have the skills to teach English online but are looking to learn the business side of becoming a freelancer or "teacherpreneur." Do any of these describe you?
You need the business and operational skills to successfully shift from employee to independent teacher.
You're not finding the online teaching job of your dreams, so you're ready to create it!
You're ready to transform your tutoring side gig into a lucrative career.
You want to learn strategies to manage, scale, and pivot your freelance teaching business.
You want to market yourself and your business effectively using social media, email, and other channels.
You want a better understanding of available teaching platforms, software, and technology used by freelancers.
What are the requirements to enroll?
Before taking the Teaching English Online as a Freelancer course, we recommend you either have been previously TEFL/TESOL certified, have experience teaching English online, or are a graduate of the Foundations and Advanced Methods in Teaching English Online Certification courses (you can also enroll in these courses as a bundle with the Freelancer course). We make this recommendation because the course is not focused on English teaching skills, but business skills.
You must also be at least 18 years old and have an intermediate or higher level of English proficiency (B1 level, according to the Common European Framework Reference for Language (CEFR).
Will I have a tutor in this course?
Yes! You'll be assigned an experienced personal tutor who is there to guide you and answer questions through the course. Your tutor will also provide detailed feedback and grades on your written assignments.
How long does it take to complete this training?
Most students finish the 30-hour Specialized Certificate course in 3-6 weeks but you'll have up to 3 months from the day you enroll. If you sign up for this course along with one of our other TEFL/TESOL courses, we recommend you first complete that course.
If you don't finish in time for any reason, you can purchase a 3-month extension to complete your Specialized Certificate course, either before it expires or for up to one year after expiration.
Is the course accredited and internationally recognized?
This course, like all Bridge online TEFL/TESOL courses, is accredited by the Accrediting Council for Continued Education and Training (ACCET), which is recognized by the U.S. Department of Education. The course is also eligible for 3 Continuing Education Units (CEUs), which teachers often need to maintain professional memberships, certification, or licensing.
What will I receive when I complete this course?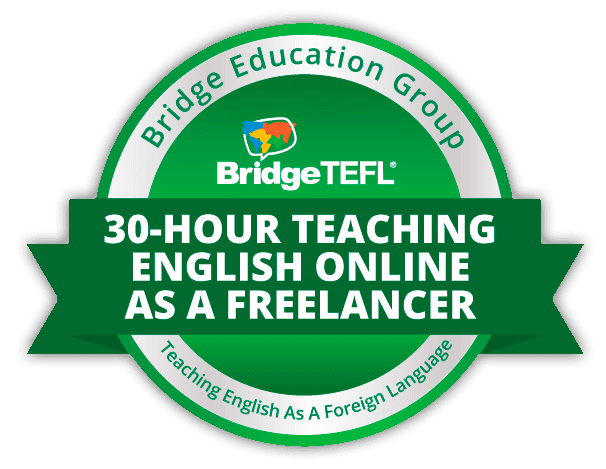 You'll earn a 30-hour Specialized Certificate in Teaching English as a freelancer, as well as a Bridge digital badge. Digital badges are 21st-century, stackable credentials that easily showcase your achievements. With just a click, the badges provide detailed, verifiable information about the programs you completed. Share your badges to market yourself as a freelance online English tutor, including on LinkedIn, your website, your email signature, and more.