Having started out as a Spanish teacher, Bridge grad Elizabeth Nostrant, from the U.S., began her path toward TEFL while earning her master's degree abroad. Currently teaching in Madrid, she now teaches young learners at a private school. She shares how she landed opportunities in Spain and online, her favorite techniques for teaching kids, and her tips for succeeding as an EFL teacher in this region.
Learn how the IDELTOnline™ can serve as a pathway to a master's in TESOL at more than 1,600 universities around the world.
Hi, Elizabeth! Can you tell us a bit about yourself?
Hello! My name is Elizabeth and I am a 34-year-old English teacher, teaching in Madrid. I am from Ohio, in the U.S. but I have been living in Spain for the past eight years. I've lived in different cities around the country but I am currently in Madrid.
What inspired you to become an English teacher?
Originally, I studied to become a Spanish teacher in the United States. I had been teaching high school Spanish for four years when I decided to start a master's degree in Madrid. While studying here, I began teaching English and have been doing so ever since. No matter the language I'm teaching, I'm motivated to help my students learn about different cultures, expand their social connections, and encourage them to take risks in their learning.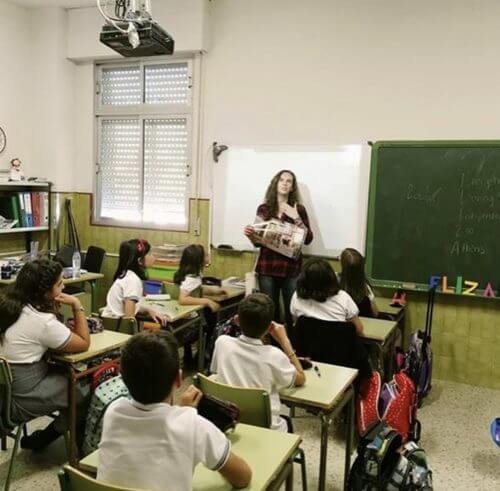 How did you choose to teach English in Spain?
I studied abroad in Spain in college and fell in love with the culture, people, and beautiful places. Immediately after college, I spent one year in Spain teaching English as well because I wanted another opportunity to hone my teaching skills internationally and explore life abroad.
Interested in living abroad and teaching online? Check out this article on the 10 Best Places for Digital Nomads to Live, Teach English Online & Travel.
You also taught English online when you worked with VIPKid. How was your experience switching to a virtual classroom?
Initially, I was quite nervous about switching from teaching in the classroom to teaching online! However, I quickly realized that, for me, it's not really all that different. I think flexibility is an essential skill for any teacher, and learning to make adaptations and not be afraid to try new things can make the transition a lot smoother. My online experiences have allowed me to meet hundreds of students whom I otherwise never would have had the opportunity to get to know. But I definitely missed being in the same place as my students!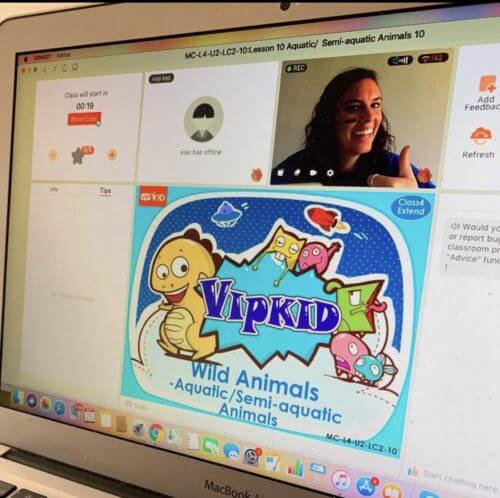 How did you land your current English teaching job?
I'm currently working in a great private school, teaching in Madrid. After several years in this city, I have made a lot of connections within the education world and ultimately, through networking, I was able to find this job.
Ready to look for a TEFL job? Visit the Bridge Job Board to find the English teaching job that fits your needs.
Can you tell us more about your job?
My students are between the ages of 12 and 16. My school is unique because we don't use any textbooks, so my classes are all based on the lesson plan materials I create. It's a lot of work but it's also really fun because I get to plan my classes based on my students' interests, current events/trending topics, and really anything else that comes up!
What do you do when you're not teaching?
When I am not teaching, I enjoy traveling, exercising, cooking, and reading.
What sorts of materials or activities do you like to use when teaching English to young learners?
In my 12 years of teaching, I've taught all ages. I've worked with students ranging from infants to adults in their 60s. With small children, I love to include as many props and real-life objects as possible. I additionally love including art whenever possible with them. Songs, dances, and books are always a go-to as well.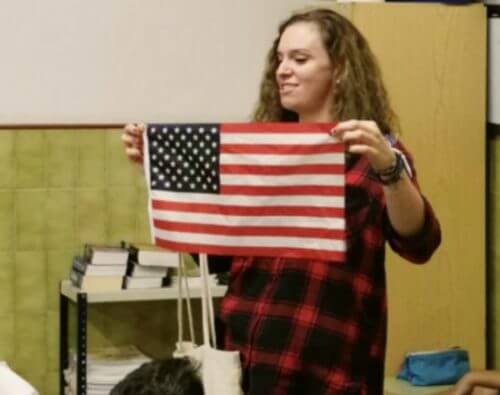 Can you share a memorable or funny moment that you had as an English teacher?
Something funny happens almost on a daily basis while teaching abroad and in another language. One memorable moment I have is from a 6-year-old in Madrid who, after four months or so of school, asked, "Miss Elizabeth, do you come here from your country every day?" I loved that question because I could tell she had really been thinking about it and I thought that was adorable!
I decided to take this course because even though I am a licensed Spanish teacher, I have only done individual workshops online for English teaching. The 120-Hour Master Certificate course was something much more official and meaningful to me. I'm always looking for ways to become a better teacher and I believe this experience has prepared me for new opportunities in the future.
How did this course help you professionally?
Most of the online workshops I've done previously have focused on teaching English in Spain or teaching English to Chinese students. The thing I liked about this course was that it generally referred to English teaching in the international world. Additionally, I greatly benefited from the Business English section as I don't have much experience there.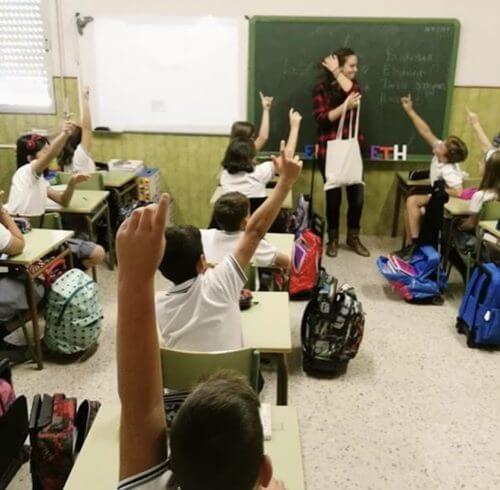 What's next for you after teaching in Madrid?
At the end of this school year, my husband and I are moving to Zurich, Switzerland, and I have just started my job search there. I would really love to work as a teacher trainer in the future because I think it would be exciting to accompany future educators on their journey to becoming professionals.
What are your tips for people who want to teach English in Spain?
If anyone is considering teaching English in Spain, I'd tell them: Don't even think twice about it! It could be the experience of a lifetime and you'd be surprised how much you'd learn from your stay here.
But there are some specific suggestions I would add:
Learn basic Spanish. There are lots of places in Spain where you need it to communicate, and the people appreciate it so much when you make an effort to speak their language. It will also allow you to communicate with other teachers at school, helping you to integrate with the staff.
Go to your school before the school year starts to get to know some of the other teachers and to learn how the school works.
Invest some time exploring and learning about Spanish culture, socially and educationally. For example, it is very common for students to address you by your first name here. By doing these things, you will feel more prepared and confident for your first few months of teaching abroad.