Teaching Online vs. the Classroom – How Do They Compare?
By Maggie Palmer
February 26, 2020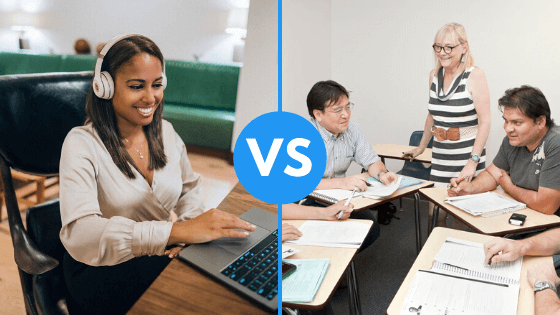 Teaching English online has seen incredible growth in popularity in recent years, which leads to consideration of the differences in teaching online vs. the classroom. Which is better for you – the virtual classroom or a traditional, brick and mortar TEFL school? Learning about the differences between these two options can help you decide which career path to pursue – or if you should pursue both!
What are the main differences between teaching English in the classroom and teaching online?
Work Environment
One main difference between teaching English online vs. the classroom is the work environment. Rather than the traditional face-to-face setting in a classroom-based lesson, teaching English online is in a virtual classroom setting. It requires a stable internet connection and a quiet, professional space to conduct classes.
Learn more about requirements to teach online in this article: How to Teach English Online From Home. 
For online teachers, the working space is determined mostly by the teacher, rather than the school or language institution, as in classroom-based teaching. The online work environment also involves using interactive teaching tools and software to engage your students as needed.
Schedule
Most teachers who work in a traditional classroom have set hours. Teachers at language institutes that accommodate students before and after school or work may have split schedules that require both mornings and evenings, or even weekends. Teachers in a K-12 setting, on the other hand, will most likely teach a standard 8-4 schedule.
Online teachers have the flexibility to choose their own schedules, but it's important to note that much of the demand for online English class comes from countries in Asia, such as China and Vietnam, so you as an online teacher, you may find yourself waking up at odd hours to teach a class in order to catch your students at peak teaching times.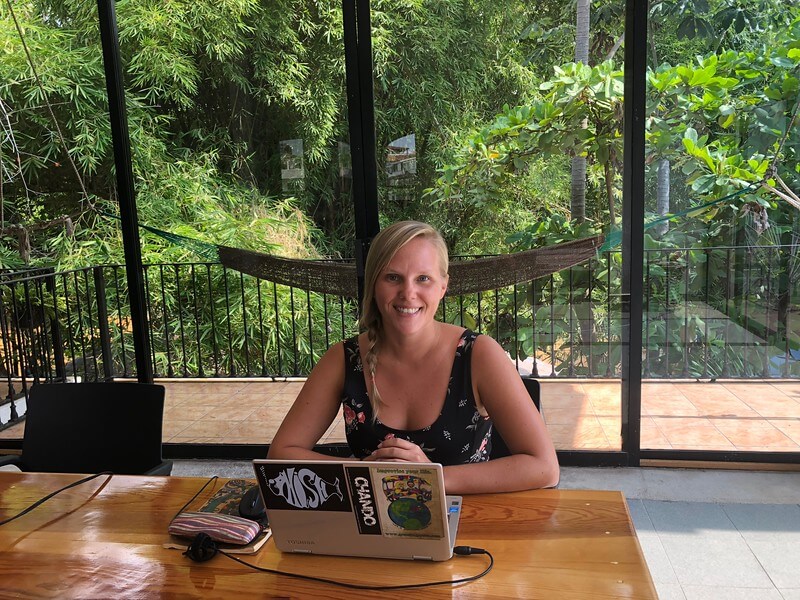 Learn what it's like to teach for a popular online tutoring company in China, VIPKid, in this interview with digital nomad, Rachel Story.
Salary
Salaries for classroom-based teaching jobs are set by the schools and generally align with the economic level of the country where they're located. Click here for average monthly salaries for popular TEFL destinations. 
Salaries for online English teachers, on the other hand, vary depending on the company for which you teach, your qualifications and experience, and how many hours you choose to work (many online companies let you work as many hours as you like.) An average hourly rate for an online teaching job at one of the major online English providers would range from around $14 – $25 USD.
If you work as an independent online English teacher, you are free to set your own rates and schedule with your students, which, for experienced and highly qualified teachers, could lead to higher income.
Learn about teaching as an independent contractor in a TEFL marketplace. 
Requirements
The recommended certification is similar for jobs teaching English online vs. in the classroom. For both, the international standard TEFL/TESOL requirement is at least 120-hours of certification. This can be earned online or via a classroom-based or blended TEFL course.
Additional requirements to teach in the classroom vary mostly by location, and can include a bachelor's degree or teaching experience. For a look at requirements for classroom-based TEFL jobs by country, check out the Jobs at a Glance Chart. 
For teaching English online, it's recommended that you take a certificate program focused on teaching in the virtual teaching space, specifically, such as the Bridge Specialized TEFL/TESOL Certificate in Teaching English Online. Online teaching jobs may also have additional requirements (a degree or experience working with kids, for example), though this varies from company to company and plenty of opportunities exist for teachers of all experience levels.
What are the pros and cons of teaching English in the classroom vs. teaching online?
Pros of teaching English online
Teaching English online can be an exciting way of meeting people across the world without having to leave your home. You'll learn about your student's culture, experiences, and perspectives in the lessons.
You will also have the opportunity to share your own experiences and way of life, contributing to the mutual understanding between cultures and building global bridges one student at a time
Besides that, the flexibility to set your own schedule whenever and wherever you are in the world (with a stable internet connection) is a wonderful convenience for all types of lifestyles.
Some teachers find teaching online a convenient side gig to their full-time job while others find full-time work as an online English teacher. Still, others, becoming known as digital nomads, use teaching English online as a way to support their travels around the world.
Cons of teaching English online
One of the cons of teaching English online is that it could take some time to grow a student base and to see the pay-off.
Typical lessons are 20-40 minutes long, so you will likely need to teach many students in a short period of time, which can be tiring.
Also, as most classes are one-on-one with a student and hosted on an online platform, it demands some extra creativity, energy, and adaptation to teach an engaging and fruitful lesson to your student.
You may also find yourself teaching lessons at odd hours depending on the difference in time between you and your student.
Finally, you won't have that immediate contact with the culture as you would in a traditional TEFL classroom setting.
Pros of teaching English in the classroom
That being said, teaching English in the traditional classroom setting has its own pros and cons.
Most classroom-based teaching positions offer a fixed salary and thus more stability on a month-to-month basis.
Depending on your employer, they may come with additional benefits such as health insurance and a retirement plan.
You'll also have a group of students to plan dynamic and interactive lessons that involve the whole class, which can make for a rewarding teaching experience to participate in your students' learning and growth.
You'll teach normal hours and likely have additional staff support from your school's administration.
If you're traveling to a new country to teach English, you'll have a first-hand encounter with your students' culture, which is not only an amazing experience but also helps to relate to your students on a deeper level within the classroom.
Cons of teaching English in the classroom
However, there are relevant cons to teaching in the traditional classroom setting.
Your salary is fixed, so unlike teaching online, you may not have the opportunity to work as many hours as you want.
Though you are teaching during a normal school day, you might need to prepare for classes or grade papers on school nights and the weekends.
Your classes may be large and involve more disciplinary action than in an online setting.
There is also the likely rollercoaster of culture shock in a new country, as you adapt to a new language and culture.
So, which is better, teaching English online or in the classroom?
You may find the benefits of teaching English online outweigh the disadvantages. Or, you could value the opportunity to teach in a classroom with a group of students more than any of the cons of the job. But for many teachers, there's a third option – a combination of teaching English online and in the classroom can provide the sweet spot between these two unique teaching environments.