Paul, From the UK – Dive Instructor Turned Online English Teacher
By Krzl Light Nuñes
September 8, 2020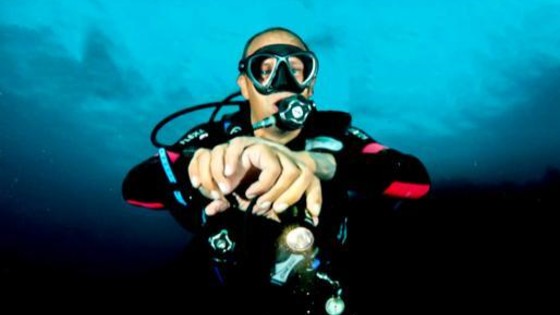 As the current pandemic has brought tourism in most countries to a standstill, Paul Cook, from the U.K., was forced to take a break from his scuba diving instructor job in the Philippines, so he transitioned to teaching English online. We interviewed him to learn about the details of this career shift and about his new teaching job with an online tutoring company based in Russia.
Hi Paul! Can you tell us a bit about yourself?
Before working as an online English teacher, I was a scuba diving instructor and diving manager. I'm also a father of two little monsters that mean the world to me. Before living in the Philippines, I traveled around the world and taught scuba diving in St. Martin, Thailand, Borneo, and Greece.
Why did you decide to globe-trot as a dive instructor?
I actually left the UK for a number of reasons, the first being that I was bored with office life. I worked with the same people every day and had very little in common with them. The other reason was that my uncle had an aneurysm in his brain when he was 40 and I decided I needed to know more about the world than the town I grew up in and I had to do this before I was 40 in case something happened to me.
You've been living in the Philippines for six years now. Why did you decide to move there?
I actually never planned on living here. I initially came for three months to do some technical diving training with a well-known instructor. While I was conducting the training, I met my present girlfriend and, well, six years and two children later, and we are still here.
You're currently living on the island of Cebu. What's it like?
We have actually settled in a small town in the north of Cebu. It's just a quiet, sleepy little town next to the coast and we have some amazing diving spots not far from here. The people are friendly and easy-going, but it's not a place to live if you are looking for an active nightlife. It is, however, a great place to raise children and enjoy the sunshine.
How has the pandemic affected the dive and tourism industry in the Philippines?
There is no tourism industry in the Philippines right now. Many people relied on the tourists for income and it's going to be a long time before people in any numbers start to travel again, meaning whole communities are suffering. Malapascua Island, located in the most northern point of Cebu, has been closed for six months now and every family on the island relies on tourists for income. It's a story being told all over the country now. I'm hopeful that things will change soon for the sake of the people of the Philippines.
How did this tourism shutdown affect you?
I was due to start a job in Coron with Club Paradise early in March. Coron is a small island close to Palawan, a beautiful location with many Japanese shipwrecks to explore. The country shut down I think three or four days after I had purchased my tickets so teaching scuba is not possible now.
What made you shift to teaching English online?
I was initially pushed by a very good friend of mine, who had been teaching English online and in the classroom before he retired. He put some considerable effort into convincing me that it would be perfect for me and I would be good at it. It was actually the coronavirus that made me take the leap.
With much encouragement from him, I signed up for the Bridge 120-Hour TEFL/TESOL course, having searched the Internet for the best course that would help me to start in this new career.
You've started teaching English online six months ago. How did you land your first job?
My very first teaching job was with a contact of my friend who runs a language school in Poland. The teacher there allowed me to join her classes as a guest speaker, which was amazing as I was able to get some real experience under the watchful eye of a seasoned teacher.
I found my current job at istudyonline.ru, which is based in Russia, by being in the right place at the right time: I made a post on one of the ESL groups on Facebook introducing myself, and I was contacted by Alexandra, the owner of the company I now work for. I had a very informal chat via Skype with her and her husband, and they offered me the opportunity to work for them on a trial basis.
See the latest English teaching opportunities by joining Bridge's Jobs group on Facebook.
Can you tell us more about your teaching job?
The online language school istudyonline.ru is a new company and they are currently growing and proving to be very successful in the Russian market. I mostly teach conversational classes using a range of materials, from books and online resources to lessons I plan from scratch. Just recently we have started to work with IELTS students, and we are now running IELTS preparation courses.
Enroll a free Bridge Micro-credential course to learn about teaching IELTS exam prep!
Who are your students?
The students are all from Russia and range from nine years old to 60 years old. They tend to be very well-educated people and are very good at English grammar as this is taught to them at school. However, they do not get the opportunities to practice using the language, which is where istudyonline.ru comes in.
What's your teaching schedule like? Do you make your own hours?
The teaching schedule is organized by the school and based around the hours the students are free to study. I generally get a schedule on the weekend for the up and coming week. There is some flexibility with the schedule and students are generally accommodating if you have to change a class time for a reason, but I would normally agree on this in advance with the school.
Were there any challenges you had to adjust to when you started teaching online?
One of the biggest adjustments was getting used to being on camera – you would normally find me behind a camera taking photos and making videos rather than being in front of it. Although I have done public speaking before and have a vast experience of dealing with students from every walk of life.
Get more comfortable as an online teacher with the Bridge suite of Specialized Certification in Teaching English Online, which includes a Virtual Teaching Practicum.
What do you like the most about your current online teaching job?
Honestly, there are two things: Firstly, I really like the company and the owners are very nice, genuine people. Secondly, the students are generally very well-educated and nice people, and I enjoy the time we spend talking with each other discussing the many varied topics we chose, from the high energy younger students to the older students who have great life experience and stories to share.
How have your experience and skills in teaching scuba diving helped you as an English teacher?
We have huge amounts of experience dealing with people and teaching a range of skills and subjects such as Physics, Physiology, Equipment, Environment and general safety as well as the practical side of diving. The ability to engage with people on multi-levels definitely helps when it comes to teaching English.
When it comes to skills, it's definitely the people aspect that has helped the most – being able to make a real connection with the students helps so much. if the student feels more relaxed and comfortable with you, they open up and are more likely to take an active role in the class.
This was the course that was required by most online schools to be able to teach through them. It's world-recognized and this is a concept I am familiar with, having worked through various agencies in the diving industry.
How has your certification helped you professionally?
The certification helped me to gain knowledge about teaching a language: the what, where, when, and how's of teaching. I also feel I benefited from this in preparing me to work with real students.
How have you used your Bridge digital badge for this course?
I have my digital badge on my LinkedIn account, my resume. I may also use it as an email signature.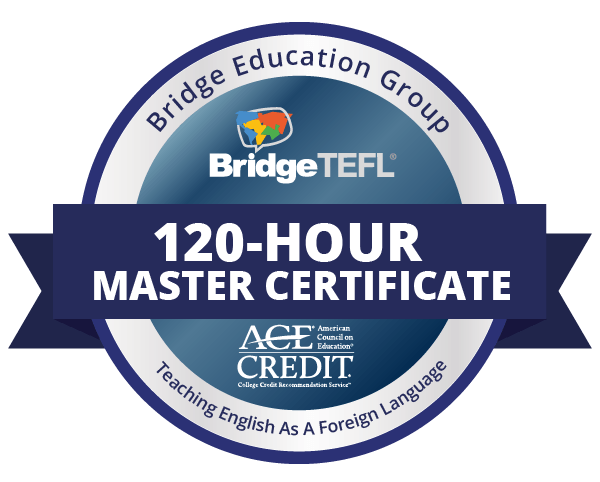 You've also started taking the Micro-credential course in Teaching IELTS Prep. How do think this specialization will help boost your teaching career?
I think it will be a good course to have on my resume and teaching status, as I am now working with IELTS students.
Learn 8 ways to boost your TEFL/TESOL resume with professional development such as Micro-credentials.
How would you like to develop your teaching career?
At the moment I am very happy working with istudyonline.ru but in the future, I may look to start my own school or work freelance. It's something I have been thinking about but am not yet ready to take that step. Learn before you leap, as they say.
What are your career plans when the dive and tourism industry rebounds in the Philippines?
I think I will continue to teach English for the foreseeable future, as it allows me to spend more time with my family and my children. Working as a scuba diving instructor allows me to do something I am passionate about and I get to dive in some amazing locations, but working as a language teacher allows me to continue to teach, which I love doing, and see my family grow at the same time. Plus, I can still dive for fun on my days off and I plan to buy a speed boat so I can go diving straight from our house.
Do you have any advice for people new to teaching, who are now looking at teaching English online as a possible job option?
Firstly, I would recommend taking the TEFL/TESOL course with Bridge. It's very well organized and you will learn a lot from it. I would also recommend if you have no teaching experience it would be good to try to find somewhere that will allow you to assist in some classes and gain some real-life experience.