How to Use Instagram to Grow Your English Teaching Business
By Krzl Light Nuñes
December 16, 2022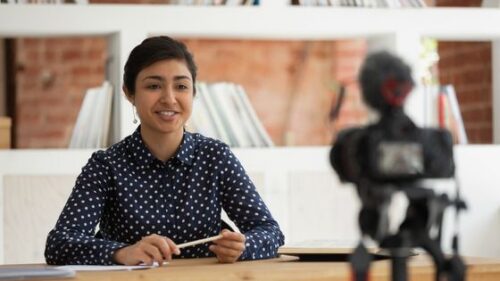 So, you've just launched your online English teaching business. You've got a handful of contacts and some potential students, but you're wondering how you can reach out to more. Does this struggle ring true for you? If so, using the social media app Instagram may just step up your marketing game – and it's not difficult at all! Let's look at the tips and tricks for how you can use Instagram to grow your teaching business and keep students coming your way.
Is Instagram good for teachers?
Aside from being a go-to app for sharing snippets of your daily lives and likes (e.g., your favorite dog memes), Instagram has also grown into a hub of tools for growing businesses. With its different features, you can:
Post a variety of content
Sell products
Interact with your followers and potential clients
Advertise to your target market
Track your business' performance through metrics like follower growth and audience profile views
Earn through subscription
These have benefited big and small business owners alike, and English teachers are definitely no exception to this!
Carla Martinez, an EFL teacher from Brazil, is one of these teacherpreneurs who have ventured into promoting her online classes through Instagram. "After a couple of months of marketing online, all my free slots were taken because people started to listen to me and trust me. Now, more prospects look for me than I can teach," she shared.
Online English teacher Vera Baranovskaya, from Russia, has also attested to how powerful Instagram can be. "An acquaintance of mine initially had around 700 followers on Instagram. In a couple of weeks, it grew to around 2,000! He got a lot of students and he works hard on his Instagram. For example, he always posts something about English. So, if you pay a bit of attention to your social media, it could be very useful."
How do I create a teaching page on Instagram?
The good news about marketing yourself on Instagram is that you don't have to be tech-savvy or hire a professional to build your own English teaching page. The app itself is also user-friendly – you can even set up your own business account in a matter of minutes! Here's how you can create a page for your online ESL business on Instagram:
First, make an Instagram account. You'll be asked to choose a username, which you can change later if you like. Then, complete the sign-up form.
Next, change your Instagram page into a business account. Your default account is a personal one, so you'll have to switch to a business account manually. In order to do so, open Settings, click Account, then tap "Switch to a free professional account." Then, you'll have to choose the category that best describes your business.
Complete your profile. You can add your contact details, a link to your website (if you have one) or your English profile, and a short description of your online teaching business.
Now, you can upload your first content! This could be a photo or video of you introducing yourself and your English classes.
Finally, start growing your network! You can invite your contacts or potential students, follow similar businesses or professionals, and promote your new Instagram page on other social networks like Facebook or LinkedIn.
How do teachers grow their audience on Instagram?
Do you ever get curious about how certain Instagram users have risen to become influencers or how their content gets a plethora of views? As an English teacher looking to market yourself on Instagram, you can skyrocket your reach on this social media platform too! Here are some ways you can do so.
Learn about marketing yourself as a teacher on other social media platforms!
Attract potential students through useful or relatable content
Whether it's about common expressions or how to use grammar tenses, English learners tend to get interested in Instagram posts that help them improve in the language. In most cases, they will like or save these posts too! And, chances are they will check out your Instagram page for more tips or information about your courses. So, the more relevant (and original) your posts are, the better!
You can also use humor to get potential students engaged. Memes or funny skits about the realities of learning English never fail to amuse students (and teachers) and remind everyone that it's normal to make mistakes and that studying languages is not an easy feat sometimes.
Learn the business and marketing skills you need to run a successful ELT enterprise with Specialized Certification in Teaching English Online as a Freelancer.
Post consistently
Let's face it, not all Instagram users use the app 24/7, and when they do, they only have so much content to see. Therefore, although your new posts may be seen by many prospective students, they may not be visible to those who are not online at the moment or who are not yet aware that your business exists.
Nevertheless, you can boost the chances of your Instagram page's exposure by posting regularly. Some teachers, for instance, have a schedule for uploading photos, videos, or stories (e.g., twice a week or every other day). By uploading content consistently, you can potentially engage more students, make them remember your business more easily, and keep them coming back to your page for more!
Give prospective learners a glimpse of your English classes
One of the dilemmas of English students when choosing an online class is whether they can entrust their learning to a new teacher. They may wonder, for example, what your methodologies are and which types of ESL lessons you give. Through Instagram, you can provide more information about your online English classes, give them an idea of how you teach, and even showcase your personality – you'll be surprised by how some students choose an English teacher because of his or her sense of humor or clear pronunciation!
Take advantage of Instagram's algorithm
Over the past months, Instagram has updated its system for determining which content gets to be seen first. Nowadays, Instagram's algorithm gives preference to accounts and posts with high engagement. This means that if your content generates a lot of views, likes, comments, and direct messages, it will most likely appear on other users' feeds or stories.
Instagram has also given significant priority to video content, particularly to reels (short-form videos), meaning more people may see them even if they haven't followed you yet. For example, if you post a reel about learning English, there is a high chance that the app will suggest your video to Instagram users who have shown interest in the topic.
Online English teacher Natalia, from Ukraine, has used this feature to attract potential students. "I'm also using reels as a tool. As far as I know, Instagram is promoting you actively if you're using this video content," she pointed out.
How can I use Instagram to promote my courses?
From video-making tools to fun elements like stickers and polls, Instagram has plenty of features you can take advantage of to spice up your profile page and posts in various ways. Let's look at some strategies for promoting your online English business on Instagram.
Share English tips
One way to easily grab potential students' attention on Instagram is by sharing English tips. You can put together an image with texts and pictures, for example, or record a video of yourself explaining a concept. With the variety of content you can create, you can give tips about many ESL-related topics! Here are some to help you get started:
Idiomatic expressions
Informal vs. formal phrases
False cognates
Phrasal verbs
Post reels
You can create 15- to 90-second reels about various themes too! Aside from giving quick English tips, you can also introduce your English courses and show fun scenarios like before-and-after scenes or how English words are pronounced in different accents. Having creative and relevant content is key to producing reels, so as long as your audience is entertained or inspired (or both), your videos will surely be a hit!
Utilize Instagram's business tools
You can make it easier for English students to reach out to you through Instagram's features for business. For instance, you can:
Add your phone number and email address.
Share links to your website and other social media profiles.
Add "highlights," which are Instagram stories that you want to feature on your bio permanently.
Offer subscription to exclusive material and benefits.
Live videos
You can interact with your ESL students or potential ones by doing a live broadcast on Instagram. You can hold English conversations with them, interview someone, or even just give your audience a tour of your workspace! During these Instagram live sessions, you can invite the participants in the room to join you. The audience can also send their comments while watching your video.
Advertise
If you want to invest a bit more in marketing your online English classes, you can also advertise on Instagram. Advertising on the platform is not complicated at all – you can select your ad budget and schedule as well as your target niche, location, and the age range of your potential learners. You can also choose the posts that you want to promote and track the number of views and interactions you've generated from them.
As a dynamic platform for sharing content and connecting with more people worldwide, Instagram offers teacherpreneurs a chance to get their businesses known and increase their student base. By applying the tips above, there's no doubt that you can start a teaching business with Instagram and produce content that will encourage many English students to learn more with you.