A job teaching English online almost seems too good to be true – can you really choose your own schedule, work from your living room, and make over $20 an hour – even if you have no previous teaching experience? In other words, are online English teaching jobs legitimate? In fact, they are, and as a virtual English teacher, you'll even have the chance to help people improve their lives along the way. Here's what you need to know about finding and landing online teaching jobs you can trust.
What kinds of legitimate jobs are there as an online English teacher?

Work with a company
Most new online English teachers apply to teach with companies since they provide the teaching platform, students, and curriculum. Each company has its own range of hourly pay for teachers, based on their requirements and other criteria. Sometimes you can earn bonuses and incentives to raise your hourly rate, but essentially, there is an upper limit to what you can make.
Post a profile via a teacher marketplace
Another option is to offer your services within a trusted teacher marketplace, meaning you post your profile on a portal where students browse through teachers and select the one they want. This model offers more flexibility, as each teacher sets his or her own rates. It's less common with new teachers since some marketing is involved and teachers usually have to create their own lesson materials and use an outside teaching platform.
Read more about the marketplace for teaching English online.

Start your own freelance ESL tutoring business
A third option is to become a "teacherpreneur" and start your own private tutoring business. Although working for yourself requires the most commitment, the sky's the limit when it comes to earning potential! This option is popular with experienced teachers who may have started out working for a company but are ready to break off on their own.
If you're interested in learning how to start your own freelance tutoring business, check out Bridge's Specialized Certification Course: Teaching English Online as a Freelancer.
How can you tell if an online English teaching job with a company is legitimate?
If, like most first-time teachers, you decide to teach online with a company, you'll probably use TEFL/TESOL job boards, such as the Bridge Job Board, to find potential employers. Or you can use more general job boards, such as Indeed.com or Monster.com, or even do a general online search using keywords such as "online English teaching jobs," to find potential companies. You'll quickly see there's no shortage of options!
However, when it comes to making sense of all these options and choosing the most legitimate jobs, there are some strategies for verifying the authenticity and reputation of online teaching companies.
Bridge has certain Preferred Employment Partners, which are featured on the Bridge Job Board. These pre-vetted, trusted partners hire qualified online English teachers.
Facebook groups are communities where people come together and discuss a common interest and share ideas. The Bridge TEFL/TESOL Jobs Facebook group is a great place for job seekers to determine if an online teaching job is legitimate. You can start by searching the company's name to see if teachers have previously commented on it, or you can post a question to the group asking if any teachers have experience working there.
The BridgeUniverse TEFL/TESOL news site has a section where alumni share their experiences teaching online and in the classroom. Read accounts from online teachers with reputable companies: Bridge Voices.
Job review sites, like Glassdoor, provide objective reviews of employers by people who have worked there. Not all online teaching jobs will be found on Glassdoor since it's not TEFL/TESOL-specific, but some of the bigger companies have often been reviewed.
A simple Google search can be surprisingly revealing! Search the company's name or, more specifically, "reviews for [company name]" and then dig deep into the results to see what teachers are saying.
If you have progressed through the hiring process and have been offered a contract, read it carefully. What are the details of the bonuses/incentives offered on top of your hourly base pay? Are there any penalties for working for multiple companies? What is the payment schedule and method? Is there a minimum or a maximum number of hours you can work each week?
Keep in mind that for most of these companies, you won't be hired as a traditional employee, but an independent contractor (i.e. paid hourly and no benefits offered). This is normal and not a red flag!
Can you really make money teaching English online?
Let's answer the question most people have – what are teaching English online salaries – how much can I make? The average hourly rate of pay for an online English teacher working for a company is between $14 and $25, and it's also possible to make much more. Where you fall on this range depends on factors like the type of job you choose, the company you work with, and the qualifications you bring to the table as a competitive candidate.
Learn ways to maximize your earning potential as an online English teacher.
What qualifications do legitimate online English teaching jobs require?
You don't have to have all of the following qualifications to teach English online, but like any job, the more qualified you are, the more options you'll have!
TEFL/TESOL certification
A TEFL certification is required to teach English online with most companies (120 hours or more is typically the standard). But if you want to stand out from other candidates with the most legitimate companies (and land on the higher end of the pay scale), add specialized training in Teaching English online to your credentials as well. Specialized in-person or online TEFL certification not only demonstrates your dedication to learning the specific skills and technology needed to teach in the virtual classroom but shows employers you're serious about being the best online English teacher you can be.
Find out what to expect in the Teaching English Online Certification Course.
A university degree
Not all companies will require that you have a bachelor's degree, but some will. Your degree can usually be in any field, and some companies with this requirement also accept applicants who are currently enrolled in university.
No degree? No problem. Check out online tutoring companies that don't require a college degree.
High level of English proficiency
Teaching English online requires a high level of English proficiency. Some companies only accept applications from native English speakers, while others are open to teachers of all backgrounds. Non-native English speakers may be required to show proof of their English level, such as by providing the results from English proficiency exams.
Read more: Can I Teach English Online If I'm Not a Native Speaker?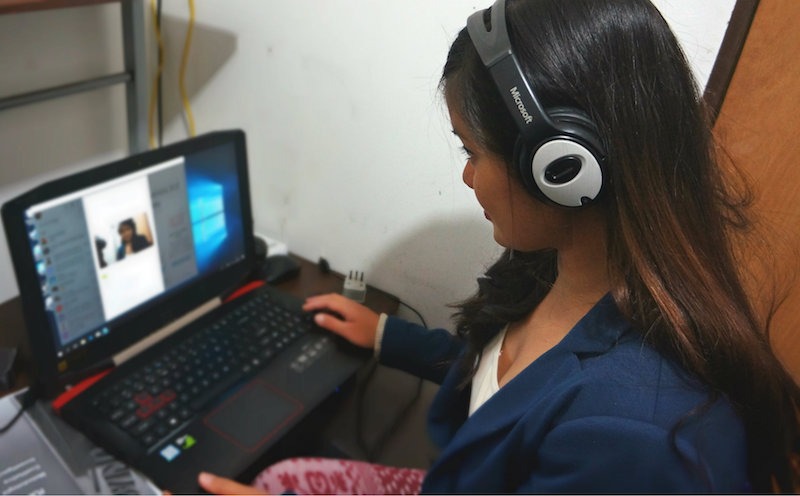 Experience
Some online teaching companies require a minimum amount of experience to qualify for jobs or to fall into a higher pay bracket. However, many different types of experience can count for this, especially work with kids, including tutoring, homeschooling, babysitting, or coaching.
Your non-teaching experience can transfer to teaching online. Learn how.
The good news is, most online teaching companies are, in fact, legitimate and a bit of research before applying can give you a sense of confidence. Ready to take the first step toward becoming an online English tutor? Visit our teaching English online information page to get started.