Behind the Scenes: Meet the Real-Life Grammar Advisor!
By Bridge
April 27, 2011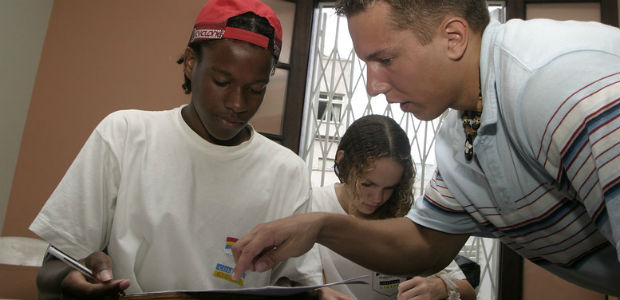 This post was written by Kaye McDaniel
Grammar. For most ESL teachers, it is our worst enemy!
Yes, teaching grammar is probably going to be one of the most difficult aspects of teaching English for you.  If you are a native speaker of English, you don't have to worry as much as you think.  Even though you haven't been formally taught grammar since middle school, you already know the rules and you know what is and is not correct.  Your ears are naturally tuned to it.
Nonetheless, you can't simply tell your students – it's this way because this way is right.  You'll need to brush up!  Teaching grammar can definitely be a daunting task, but it gets easier as you go along and begin to realize the patterns your students, too, will recognize.  A great way to get started is to get a basic grammar reference book, or subscribe to Grammar Advisor – which covers a great deal of basic grammar rules and proper uses for your review.
I'd like to introduce you to our own Grammar Guru, Susan Weymouth.  She is our curriculum developer, the BCELT course developer and trainer and, not to mention, the original expert behind Bridge's Grammar Advisor!  For those of you curious about Grammar Advisor or some aspects of teaching grammar, read on for some helpful insight…
Tell us about your background. What did you do before you became the Grammar Advisor?

I've been an English language and literacy teacher for twenty years with experience in public schools, colleges, and private language centers. I have a Master's in Education/TESOL, and I'm a CELTA trainer and an IELTS examiner. Currently, I'm Bridge's Director of Curriculum Development, and I work on the BCELT course. I was also a technical writer which was helpful in writing Grammar Advisor.
Did you ever have any bad or embarrassing experiences teaching grammar in the classroom? Tell us about it.

Sometimes there is a gap between the grammar rule and the common usage, which can be confusing to both the learner and the teacher. For example, should it be "His brother is as tall as…" he or him? To an American, "as tall as he" sounds wrong, but "as tall as he is" sounds fine. Explaining these gaps can be muddling, and being muddled is embarrassing for an English teacher.
What is the most common question people ask regarding grammar?

Teaching trainees have a hard time balancing the need for accuracy with the goals of communicative language teaching. They want to go to one extreme or the other: achieving balance is the key to me. It's important to teach ESL students the rules of grammar, but don't lose sight of the goal of communication.
What was the strangest part of putting together Grammar Advisor?

It's pretty weird to have my voice coming out of that 'Sandra Bullock avatar.'
Do you have a favorite grammar approach in the ESL classroom?

I think a grammar from text approach is usually the most effective. The text provides context and lots of information on meaning and usage plus models of the structure. Provide something interesting for students to read. Work on comprehension first. Then go back and get students to notice a particular structure in their reading and clarify it. Then provide a way for students to use that structure meaningfully in their working language, such as a discussion, role play, or debate. There are many effective ways to teach English grammar, but don't keep everything on a sentence-by-sentence or gap-fill level. Students need to learn how to be accurate with grammar as part of their regular language usage.
What should teachers do when they don't know an answer to a grammar question in class?

They should admit that they don't have the answer, promise that they will find out, do it, and report back. This process will increase the students' respect for the teacher.
What makes teaching grammar difficult?  What advantages do native speakers have?

Most native speakers have the advantage of many years of speaking and writing correctly. They have accurate ears for grammar. Unfortunately, most of them have never given much attention to grammar, and so they aren't sure how to clarify the ideas for learners. Non-native English speaking teachers have successfully learned English grammar which is their advantage. However, their instincts are often less accurate.
Do you have any advice for teachers who are afraid to teach grammar?

Students want to learn English grammar, so it's our responsibility to help them. Buy a good grammar reference book, such as Swan's Practical English Usage. Get some teaching resources, like Grammar Advisor. Then keep in mind balancing grammar or form work within student-centered, communicative teaching as you plan your lessons each day.
Want to know if you are a grammar guru like Susan or a grammar guppy like the rest of us? Take this grammar quiz to find out where you stand!